Who doesn't like a little bit of Acid (Mondays) and Soul of the Deep City variety, whilst supporting a poignant Ibiza charity and being fed some amazing food at the same time? As recently highlighted by Seth Troxler at the annual IMS Music Conference and adding voice to the island community echo's that have heightened over the past few years about the often overlooked homeless problem.
A staggering rise in the holiday population and major money players on the island has created an enormous housing issue in the world's most renowned party destinations. As publicised by the standard press there is currently a major blockage between income and availability of affordable housing, many clubs citing they are unable to take on new staff as they cannot either find suitable accommodation or afford to reside and work on a minimal wage favoured by clubland. Sadly, this is only the public tip of the iceberg. There are approximately 500 people, including families and children living rough as they cannot afford or have been left homeless due to the spiralling costs and greed of landlords.
This issue is deep in comparison to the thoughtless abandon of the islands party people primarily concerned with what night of the week is best to attend. The positive flip of the situation is it is still within that capacity to be addressed, early. Thanks to a recent collaborative effort from known Ibiza faces, Music Supper Club and their 'We Are Man-Kind' events are here to highlight and also spearhead support and change. Electric Mode will be supporting the campaign through their #houseibiza tag.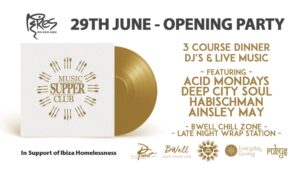 The much anticipated Music Supper Club (brought to you by BWell, Everyday Giving the charitable arm of The Everyday Agency and To The Point,Ibiza) launches this summer on the notorious white island of Ibiza. On 29th June, they deliver an experiential journey that will excite your senses and awaken your soul as you embark on the Music Supper Club experience at the infamous Pikes Hotel. A concept that brings both food and music together, making it an experiential event aimed at providing a 'feel good' factor with the fusion of food and music to nourish your soul, we suggest you earmark the date to check out the islands hottest social collective as there are some extra special guests planned for the summer.
Music is a great connector and motivator, whilst hearty food will not only rebalance and restore, it will also bring us together as a community collective to assist those immediately in need …
Music Supper Club promises to take you on a spice trail showcasing dishes from India, Pakistan, Jamaica and the West Indies. The meticulously curated procession of dishes have been sourced by Ruby's very own chef Abby and Selina Ingram from the Bwell Kitchen. Prepared with passion, guests will be presented with a three-course meal catering for both vegan and vegetarians, accompanied by boutique cocktails and hand chosen wines to top off the night.
The Music Supper Club wouldn't be complete without taking you on a sensory journey delivering funk, soul and disco poolside and whilst dining before relocating to the club for a selection of leading international talent across the house fraternity. Music will feature from the beginning you walk through the door and right through until the end. During dinner you will be serenaded by live musicians, singers and performers including David Devanagari on the traditional sitar who has recently featured at El Row, Amnesia merging the East and West seamlessly. The launch has a fantastic line up including DC10's homegrown heads Acid Mondays, Deep City Soul who are well known for a string of underground hits, Ainsley May (The Vinyl Factory) recently featuring at the newly opened Hi Ibiza and Habischman who is fast making a name on the international circuit, many more will be announced ahead of the night. There is already rumoured to be an inclusive Vinyl Fair for the follow up next month and a string of great additions as it grows.
With health and well-being at the source of this creative collectives hearts there will also be a Bwell Chill Zone set up to assist restoration and rejuvenation of reveller's alongside a special 'Jerk' wrap station that will run all night in case you miss dinner, everything from this will be donated to supporting Homelessness in Ibiza. Music Supper Club is more than just music and food, it's a movement of collaborative events that assists homelessness in Ibiza, by raising awareness and creating long-term sustainable solutions.
Paying it forward, through their events MSC aims to donate at least 25% of profits from their events, be part of the change and show how collectively we can all make a difference to those in need, whilst all DJs perform for gratis giving their time in full support. What's more any waste food from the night will be collected and be donated to MOJIs animal sanctuary, to feed belly's and not bins! If you would like to support the homeless in Ibiza, Music Supper Club have a Go Fund Page you can donate to http://bit.ly/2r29jC1
Join the Music Supper Club collective at Pikes Hotel, for more information visit www.musicsupperclub.com or to book your table call Pikes Reception +34 971 342222.