Listen up to some inspirational words and view a collection of some of last years most poignant pictures from one of Ibiza's most masterful musical industry creatives and photographic geniuses. His art adorns some of the islands best magazines and villa walls and we suggest you get to know a lot more about one of our favourite people and genuine artists.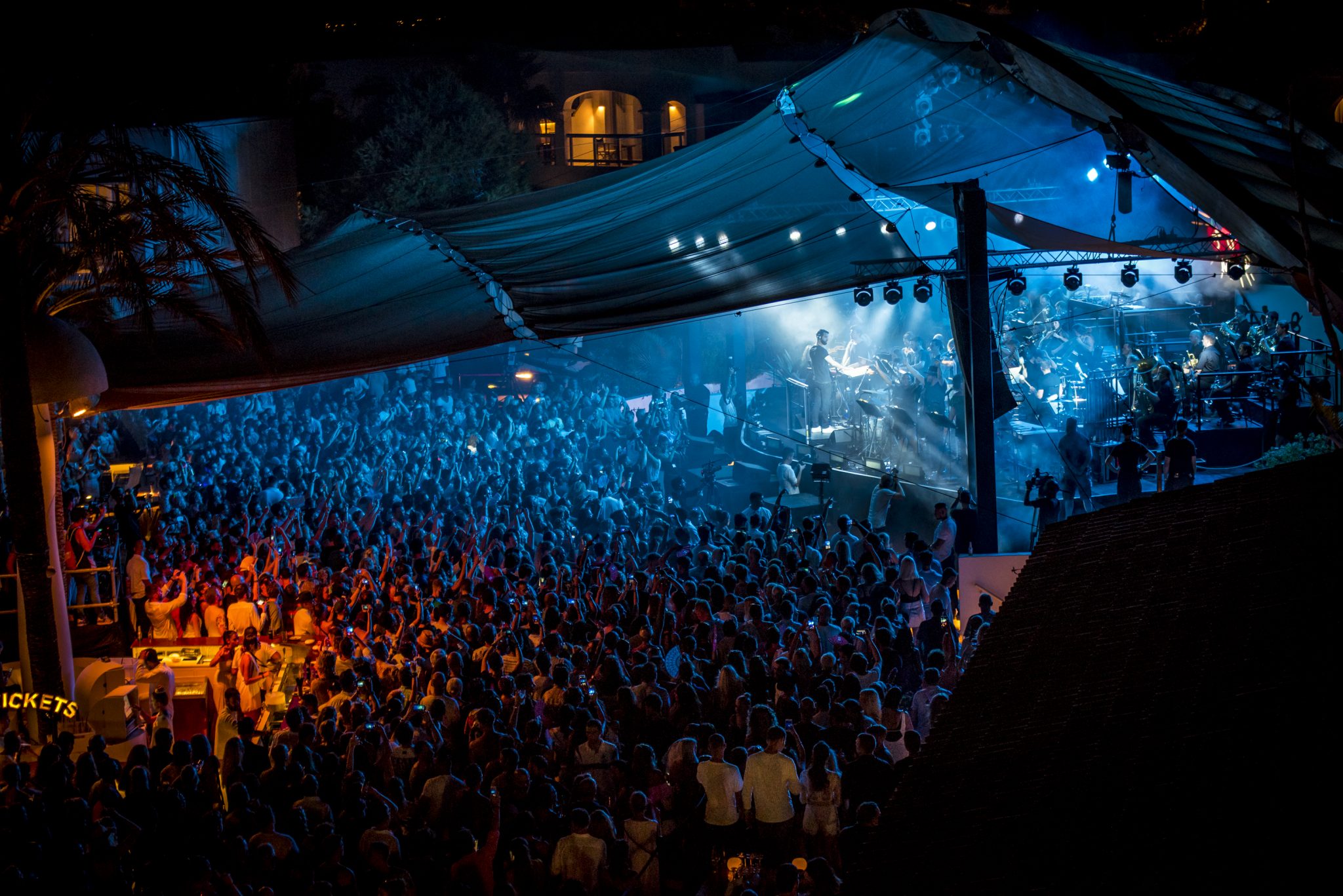 Destino Serenaded By Strings & Awash With Anthems
Probably the best place where to run a party as the sun drops down. Destino hosted an unique event this summer, celebrating 50 years of the Pacha group featuring Pete Tong and the Heritage Orchestra on Destino's ample stage. For me something really special you don't often see repeated on the island let alone the same season.
Lot's of iconic electronic and dance music hits were performed, played and sung by talented vocalists accompanied by live instrumentation, a great alternative to the usual synth or programmed overlays you often experience in the electronic platform of today. A really nice concept and the result stood out as one of my favourite memories… I truly loved it.
Ibiza Loves Alternate Spaces & Smiling Faces
B12 – What else to say other than I really like this venue!! The gallery hosts a variated artist range, with an excellent choice curated by its owner. In terms of events, I left suitably impressed many times : The night that shines brightest was La Troya's Christmas party, a Casa Por Navidad which was a unique island resident affair and treat to all in attendance.
I have to admit it was a long time since i'd witnessed so many people having so much fun … everybody was there to party without exception! Good moods, murmured laughs, people from all ages dancing until the early hours to the backdrop of abundant animation encouraging interaction, peoples excitement and the opportunity to watch and smile. A perfect mix for a great night in my book.
Hippies & Happiness Rule The Balearic Island
This is one of the nicest shots that represents the true spirit of Pacha, namely within it's flower -themed retrospective party known globally as Flower Power. The duo of 2ManyDjs were on duty that night. People turning out in full force to support and enjoy a night regarded as one of the best parties of the Island.
During Flower Power, you often step back through the years courtesy of their eclectic soundtrack, starting with the swinging sixties sounds and rounding up to the 80s and 90s club hits towards the end of the night. I really believe Flower Power holds a special soul and this always transcends the changes this immortal island has, bringing together people from all across the world and entertaining a vibrant mix of ages.
One of The World's Most Iconic Electronic Stages
IMS and its incredible energy are among my favourite events from last year. I really loved the energy. Such a big stage to a lot of people. A proper festival in Ibiza! This night I had the personal pleasure to be invited to photograph artists up close and of the highest caliber including Tale os Us, Nicole Moudaber, Maceo Plex, Miss Kittin, Seth Troxler, Pete Tong and many more.
There was a great mix of some of today's top names and many I have love and listened to long before I was even a party related worker. This location is an incredibly special one and exactly what makes it so unique. I felt for this shot I would step back and get a complete overview of the event making it more of a landscape than a powerful party going on. This photo is amongst my favourites and I have even printed it where it now sits proudly in my family home!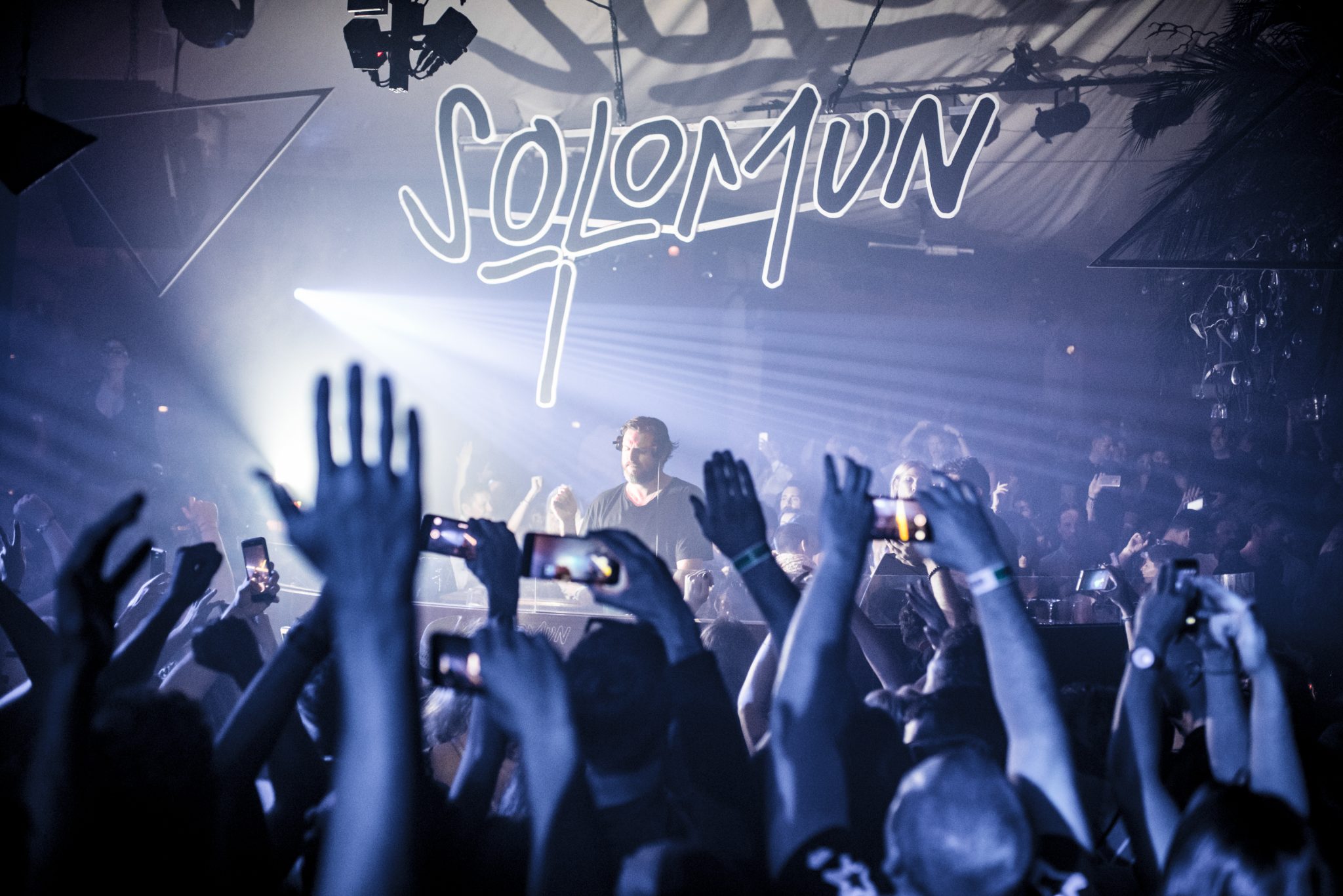 A Modern Day Motivator Breathes Fresh Air Into The Scene
Pacha, Solomun and Solomun+1 parties at Pacha have become a thing of legend and undoubtedly been the most crowded nights I have photographed. On an island full of top talent and discerning tastes it could be argued this night isn't for everyone but it is easy to suggest Solomun is currently one of the most charismatic party icons in the island.
Over the past few years we have all seen Solomun as a DJ and producer take centre stage at many of the islands most favoured parties … and his artistry is always a solid mix that both entertains with a precision and selection. To top it off, each and every year he presents a free party in the Harbour which is also listed as one of my seasonal highlights.
Learn more about David Holderbach art here http://everyday-giving.com/index.php/2017/03/17/art-creative-photography-david-holderbach/ or visit https://www.facebook.com/davidholderbachphotog/ to support his vision.