Summer often turns up the tempo on industry impacts within the global scene. Recently we connected with Afrojack – the multi-award winning DJ, producer, record label owner and also highly respected music mentor.
Calling all producers, DJ's and remixers!! We're looking for new talent to join our team!! GLOBAL REMIX BATTLE I. Visit afrojack.com/globalremixbattle to find out more. #remixbattle

Posted by Afrojack on Monday, September 24, 2018
Electric Mode were invited to interview, publish and share Afrojack's latest project, signifying yet another defining moment for the authentic profile player. His new platform for us, is an exact extension of his own direct beliefs and practices. We took some valuable time out, albeit brief, to discuss music matters and what makes Afrojack tick.
Electric Mode: It's an absolute pleasure to meet and have the opportunity to discuss your latest project. Tell me more about your current plans and the Global Remix Battle:
Afrojack: The Global Remix Battle is a Remix Contest, but that's more of a disguise. It's actually a talent scouting project where we're looking for new producers, remixers and DJ's we can work with. Over the years I have launched between 10 to 15 careers and have worked with some amazing talent including artists who are signed to my label right now.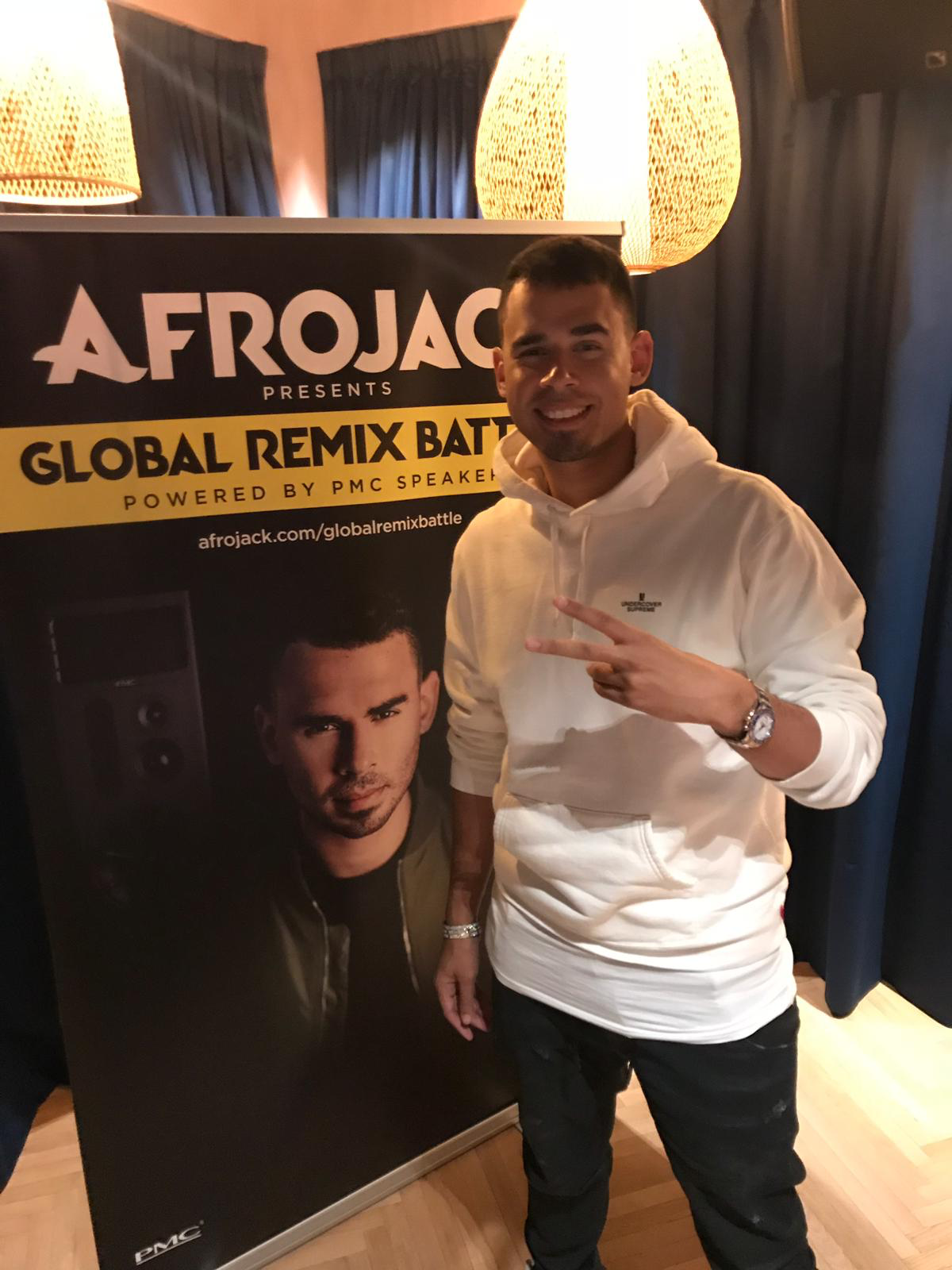 These signings were always from my own immediate network or from 'friends of friends' and this is actually the first time we are saying …"OK you know what, we think we can actually do this with someone from outside of our network" – so we want to give the opportunity to one or maybe even more people from across the world; You know the guy who everyone says "oh you got lucky" or "you got a break"… well we're trying to make people LUCKY RIGHT NOW! 
I have never felt in a better position to do this as you know World Recordings and LBH merged over the last year and since this happened, it has given me the base to structure this project properly. What we have here at LBH Europe and also World Recordings is strong, it gives us a stability to do this right. We have the theme, we have the ability, we have the mind set and the motivation! Basically we are all looking in the same direction for the future and now we feel we are ready to take on new talent.
"Actually, you know, I love people more than music!"
Electric Mode: Is the act of developing 'Up & Coming Artists' a personal or commercial approach? We see many major brands use certain tools to engage and promote, but I'm assured yours is a unique way of giving back to the scene and ensuring an open voice for fresh talent. What would you say to someone who disbelieves in dreams becoming true?
Afrojack: Well if you have a disbelief, then don't sign up because we don't want to work with disbelievers! You mentioned personal or commercial approach? Well we're taking a commercial approach but from my own perspective. My perspective of a commercial approach is also a personal approach, because I have experienced everything myself. I have seen everything and the reason that I am successful is because of my personal relationships that have built over all the years, versus commercial, or impersonal success. I don't just look at an artist and think – "what does it say, how many numbers can it move, what is the sum of the project".  I look at talent and artists and I focus on them. I want to know their name and how he (or she) can handle themselves. I ask, Who are you? Who do you think you are? Who do you want to be? … and that's what creates an artist! 
Within the music industry everything everyone wants is based on personality, 'people want people'. We don't think about the product (as a label), we think about the person and once they're onboard, we will think about what product they will become based on exactly who they are. Actually, you know, I love people more than music! I don't know if I even knew this before our interview, it's feels the first time I have said that, but I think I do love people more than music! Music brings out the best in people and that's why my love of music began in the first place. I went to a club for the first time when I was around 15 and I saw how the music brought everyone together. Now when I work with fresh talent the spark that was released in me, I can now activate in other people. You now, I never really thought about it like this – it's pretty cool!
For me, it's not really about giving back, I just want to do this because it gives me the most pleasure!  I love DJing and I love producing, but the only thing I like more is to see one of my artists up on stage and knowing that all I had to do, was call a friend. You know … I call my friend and I'm like "Yo, this kid is the next guy, he's sick" and he believes me, he trusts me and then the artist goes on stage and performs and is sick, amazing! Then the guy calls me back and says, thank you, followed by the artist and everyone is happy. The fans go "wow, who is this kid?"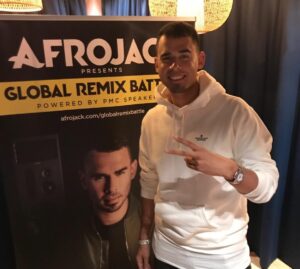 Flipping the standard is what we do.You know how you have the negative spiral, we basically find a way to fit that in to a positive spiral, and you know I don't know many companies who can actually afford to take big risks like this. It's a major investment from setting up a press day to getting the website and promotion together  – you know it requires a lot of effort to set this up, a lot of time and a lot of money. The marketing and promotion behind this project is gigantic and I don't think any company could even explain the reason why it would be worth pouring money into it. Luckily, I have my own company and I do well, so I do this for fun. If we make some money thats great, but most importantly it's my hobby.
Electric Mode: You're offering a rare opportunity to have Afrojack as a mentor, will this be a mix of personal and professional advice – including industry insider tips with production elements used by some of the worlds best?
Afrojack: It's a combination, but not only my skill set, it's also my networks and their experience. So we can use the LBH Studios, the World Studios, 4 or 5 studio complexes across the world. We also have very broad experienced people within our team, even my engineer has been working with me for around 5 years… he knows everything about studio life, lives and loves it. When somebody comes into the studio for the first time, they can freely talk to him for hours and expect to learn everything from the best sleeping pattern to maximise work, when to eat, what to eat, because – as you know, it's very easy to get lost when you're in a studio session and you loose track of time.
The same thing applies to tours, my team and I have been touring together for the past 5 years, so we know everything about the lifestyle and our immediate idea is to share that experience between us and constantly apply that experience to the artist. Sometimes I will simply take an artist with me on tour, even if they don't have to perform, just so they can be part of the whole movement, they see it, they experience the flying, the people, the promoters – they get a real feel for what it's all about.
"When it comes to touring, it's important that you trust your team as much as you trust your own family."
Electric Mode: You get to experience the worlds best locations, events, crowds and venues, what are your highlights over the past year?
Afrojack: Ultra Japan was a lot of fun! There was a thunder storm, and it was so bad at one point we had to set up a tent whilst I was DJing! I remember I was standing with the tent in my hand whilst my MC was shouting "Jump, Jump!!!" so naturally, everyone was jumping, around 35,000 people were there and I was also jumping with one hand in the air and one hand holding the tent!  The energy was amazing. I also loved taking my artists on tour with me and being in the studio the past year – that's the most fun for me! Studio life is like going on camp with all of your class mates – that's the real studio life! 
Electric Mode: So the Global Vocal Battle Auditions were definitely a marked success, how is this progressing and is what is the next step on the agenda?
Afrojack: It's going really well, we just had the final round in Tokyo and it was incredible! 1200 artists applied and we shortlisted them down to 15 through to the final round. We are now deciding who we want to give this amazing opportunity to and the public will find out when we release the first song – it really is exciting and I am so very proud of the project. 
The talent is outstanding, but more importantly the people behind the talent are outstanding. It's very humbling to find people who are both talented and smart, but also so humble and hungry for the opportunity. This combination is so important, especially today with the huge focus being on digital media. If you're not a great person on the inside, and are simply here for the spotlight, forget it! People will see straight through both you and your strategies! 
Electric Mode: As a producer that's delivered a long steady stream of hits, all consistently placed at the top of the charts, do you search for a unique sound or set your arrangement to reflect the energy whilst your writing?
Afrojack: Well, speaking of strategies, strategies play a big part when it comes to creating music. I used to create music on the the fly but these days it's very well thought out! It's very humbling to find people who are both talented and smart, but also so humble and hungry for the opportunity.
"When you're fortunate to do what you love for a living, work and personal life are not two differing things, 

everything is life!"
Electric Mode: Over the years you've worked with many major artists, what's the best approach to collaboration and also navigating through publishing rights outside of the production arena?
Afrojack: It's quite simple. I make sure I have a team of professionals for when I am both inside and outside of the studio.  I only work with people I like and get along with! 
Electric Mode: Your calendar is consistently full of release schedules and tours. Do you often get the opportunity for a work/ life balance and how do you achieve this? Do you agree with the current focus on mental health within the industry and media also?
Afrojack: I've actually studied a combination of subconscious physcology, neurology and philosophy over the years. I became aware that I needed to keep as wide perspective as possible, enabling me to put myself within the perspective of young artists. I think the most important thing for people to realise is when you're fortunate enough to do what you love for a living, both work life and personal life are not two differing things – everything is life!  
With this in mind, I write a weekly email to update my team, reminding them that communication is key. It's always OK to ask me for a top line or a specific beat, but it's also OK for them to ask me about their personal things. If they're in a fight with someone or if they're feeling uncomfortable about something, talk to me about it and we'll work to resolve the situation. I want my team to talk about these things because we're going to be stuck alongside each other for a very long time. No-one outside of touring actually understands touring life, so its very important that you trust your colleagues and your team as much as you trust your own family. It's all a little bit scary at first, but once you realise how much you can trust them, and in return they feel the same, it's a mind opening experience!
"Communication is the base, and one of the most prominent things we say internally. Communication is everything!"
With a firm approach to preside personal over commercial, coupled with a close and solid team relationship, we found our time with Afrojack an insightful pleasure to connect. The talent discovered within the Global Remix Battle and also Global Vocal Battle will definitely be in very safe hands whilst providing an amazing experience and platform for the future. A somewhat refreshing interview with this leading artist of the electronic industry, shows our Electric Mode community that your target and ascension to achieving goals, should include remaining healthy, happy and personable, whilst keeping both feet firmly on the ground.
Follow Afrojack:
https://www.instagram.com/afrojack/