On 9th October, Benny Benassi, Paul van Dyk, Anfisa Letyago and Luciano will share the world famous Terrace of Amnesia's virtual superclub and the new Arena Stage hosted by Djenerates in a virtual venue located in Decentral Games, the world's first immersive 3D metaverse experience of its kind on the blockchain. This is a mouthwatering event for fans of Amnesia who cannot travel to the much anticipated and upcoming closing party out in Ibiza.
Covid-19 or not, technology has come to transform our lives in ways we would not have imagined two years ago. Combine that with the metaverse built on the revolutionary technology that is blockchain and we now have a recipe for disruption in almost all areas of how we interact today, no matter who we are or where we are.
It's no surprise that Amnesia Ibiza, one of the most globally renowned nightclubs, has partnered in a world's first with the internationally known play-to-earn crypto and blockchain gaming and entertainment powerhouse, to build the first SuperClub in the metaverse for a historical event that brings together some of the best DJs from around the globe.
"We're excited to bring part of the heart of Amnesia and Ibiza into the homes of our fans thanks to this partnership with Decentral Games, allowing them to recreate a unique experience through the 3D metaverse. To be the first Ibiza club in the Metaverse is a big step ahead for our brand and thanks to the expertise of the Decentral Games and Djenerates teams we are now ready to spread the Ibiza vibes online more than ever." said Sergi Blaya, Brand Manager at Amnesia.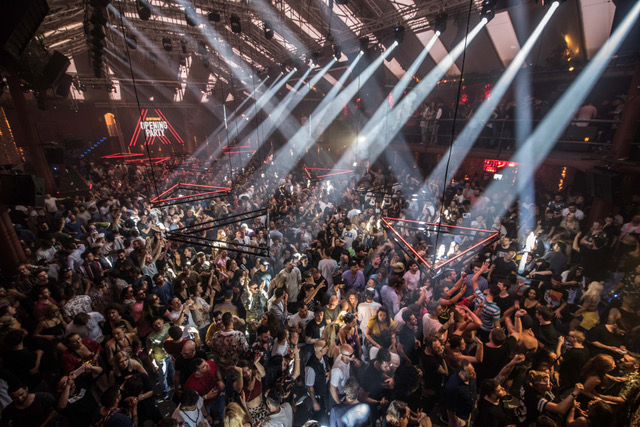 "The Decentral Games nightclub experience has provided the flexibility to attend immersive 3D live music events from anywhere worldwide with the artists they love while maintaining the feelings of immersion and interpersonal connection associated with real-world experiences," said Miles Anthony, CEO, and Founder of the play-to-earn metaverse gaming platform.
On October 9th, 2021, DG and Amnesia, a four-time Best Global Club winner, will proudly virtually present, in the Arena Stage hosted by DJenerates, the Grammy-winning and dance floor legend DJ Benny Benassi and the legendary Paul van Dyk, one of the first globally renowned DJs and the first to receive a Grammy Award nomination in the newly added category of Best Dance/Electronic album for his 2003 release Reflections.
Hipworth, the founder of Djenerates, added "This is the evolution of live streaming! Metaclubbing is bringing the audience closer to an experience that blurs the line between reality and imagination. We're extremely proud and excited to bring Paul van Dyk & Benny Benassi to Amnesia Ibiza's Arena hosted by Djenerates."
Also taking center stage but this time in the virtual Amnesia Terrace will be Luciano, a DJ, and producer who received the DJ Awards on five occasions while nominated ten other times, and the Italian techno icon Anfisa Letyago. Other of the most popular and prominent DJs are expected to be confirmed in the coming days.
During the event, DG and Amnesia will embark you on a futuristic journey from the comfort of your home during which you will interact through technology with thousands of like-minded people while experiencing a life-changing immersive 3D music event powered by Decentral Games.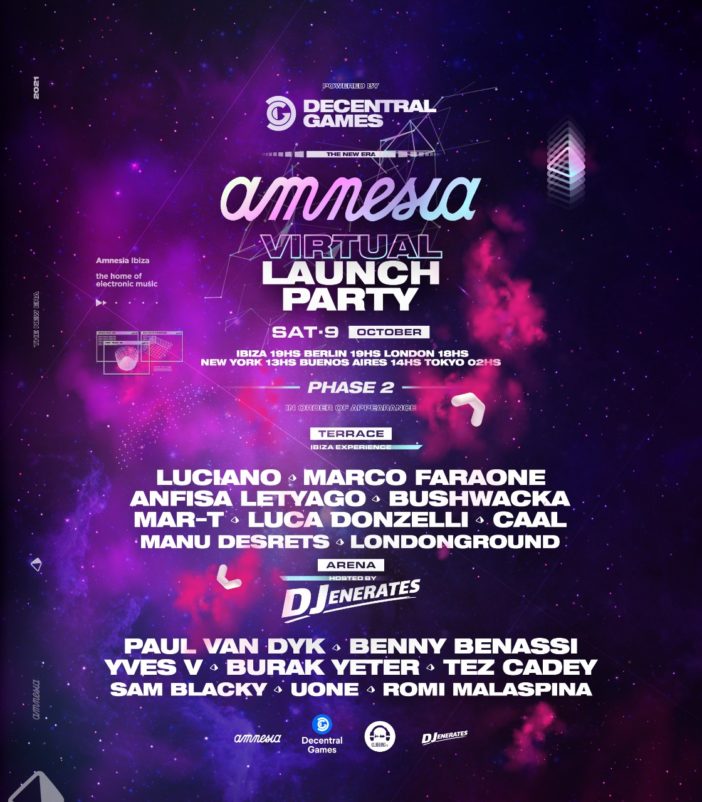 About Decentral Games (DG)
Decentral Games (DG) is a next-generation entertainment and play-to-earn GameFi "https://ethereum.org/en/dao/"DAO at the intersection of the metaverse and NFT. The company is backed by crucial investor Digital Currency Group (DCG), whose principal subsidiary Grayscale is the world's biggest bitcoin and cryptocurrency fund manager and manages $40 billion in assets. Decentral Games is a leading 3D virtual reality project and the world's first to provide metaverse employment opportunities. It is also the first DAO to own, govern, and monetize virtual land.
Decentral Games develops 3D metaverse games on blockchain for both consumer and business markets. The games include NFTs, play-to-earn models, wager-based games, and 3D virtual events games revolving around music entertainment with an immersive experience.
Website | Instagram | Twitter | Youtube | Telegram | Discord
About Amnesia Ibiza
Amnesia Ibiza has been a key piece in the success of the magic island since its foundation in 1976. Big names from the music industry have performed at Amnesia Ibiza such as: Jamie Jones, Steve Aoki, Ricardo Villalobos, Armin Van Buuren, Calvin Harris, among others and globally renowned alternative artists such as Snoop Dogg, Justice, 50 Cent that are part of the huge list of its history. Amnesia has also won the Best Club in the World award in 2007, 2008, 2009 and 2011 at the IDMA Awards in Miami. The electronic music scene and clubbing culture could not be understood without the existence of Amnesia Ibiza.
Website | Instagram | Twitter | Facebook
About DJenerates
Supported by legends such as Carl Cox, Paul Oakenfold, Paul Van Dyk, Benny Benassi, Sven Väth, Blond:ish, Luciano, Jamie Jones, Adam Beyer, Ricardo Villalobos and many more, the Djenerates NFT collection is the first to immortalize electronic music icons into digital collectibles on the blockchain. The collection not only includes Superstar DJs and clubbing icons but all the characters from the dance music world including DJs, clubbers, dancers, bar staff, bouncers and more, all uniquely crafted using a process called generative art that produces a set of unique character traits that determine the scarcity of each NFT collectible.