The most iconic album series in the world returns to the most rock & roll hotel in the world!! With free superstar DJ classic parties…
After the debut season in 2019, it was agreed that the meeting of the two brands was a match made in heaven; Pikes with its world famous Club Tropicana swimming pool, pink tennis court and secret Freddie's nightclub coupled with the unique Back To Mine soundtrack. Imagine the best house party you've ever been to with the world's best DJs. That's Back To Mine.
And how better to start than a FREE party with a SUPERSTAR DJ making his PIKES debut on Thursday, April 28th with a special Disco and House set!!!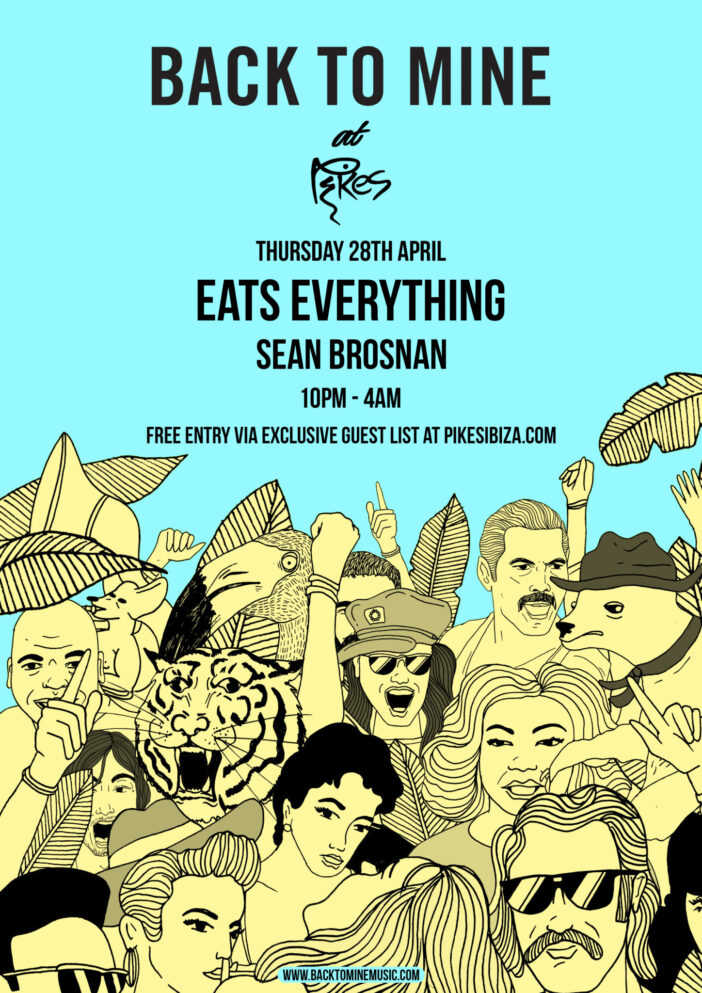 EATS EVERYTHING has a global reputation in both house and techno, yet his roots are firmly embedded in the garage, breaks and jungle of the music scene from his hometown, Bristol. A globetrotting DJ who can be found playing at Resistance, Elrow, Warehouse Project, EDC, Printworks, Boomtown and the odd very special b2b set with FatBoy Slim, usually at Glastonbury. An accomplished producer and remixer who is featured on PETS & Dirtybird, Desolat & Intec, Ovum & Kneaded Pains, Crosstown Rebels and both his own labels Edible and EI8HT. And not forgetting his duties as radio host and presenter on his own Edible Beats – his commitment to the dancefloor is unwavering.
BACK TO MINE has always been about the track selection that gets any after-hours gathering in the right frame of mind. With over 25 releases under our belts from the likes of Fatboy Slim, Groove Armada, New Order, The Prodigy and Everything But The Girl, our albums have always been essential listening for every late night and early morning grooving. So what more famous after-hours house is there than the legendary Pikes, the iconic finca founded by the late Tony Pike in the hills of San Antonio in the 70… where everyone from Freddie Mercury, George Michael and Grace Jones partied in years gone by.
"This is the longest I haven't been to Ibiza since I first went in 1998! I got married there, I holidayed there all the time before I became successful as a DJ and I cannot describe to you how much I've missed the place! I literally cannot wait to get back on that island and where better to party that Pikes with the Back To Mine crew! Freddies watch out, I'm coming for you!"

Eats Everything
"I cannot wait to get into the famous Freddies booth once again at Pikes for the Back To Mine party. I shall be delving deep into my record collection from the last five decades to ensure another late night journey into the dancefloor unknown! Get ready for something very special…"

Sister Bliss, Faithless
"If you love dancing and have an open mind, when it comes to music then everything falls into place – especially with Disco which is about love, and as we all know, love is timeless. We cannot wait to get into the Freddies' booth for some proper party grooves."

Horse Meat Disco
Back To Mine at Pikes. An unmissable night where the finest purveyors of the house music party sound touch down in the ultimate late night venue on one of the most famous dancefloors in the world. Just don't get caught talking to strangers in the kitchen for hours and miss all the action…
Entry is free on the Pikes Guest List
Back To Mine at Pikes Ibiza: Eats Everything April 28, Faithless July 27, Horse Meat Disco August 11th 
More Info