They often suggest 'you are what you eat' so if you were to consume only quality House Music then in theory, you would not only represent a defining genre, but also become part of a complete musical movement with a close community that believe in something far greater than the whole, and performing as a unique yet collective soul. 
After listening to the latest Dopewax release we proudly recite the themed title as often and as openly as possible. The best way to show your support of the genre, the artists involved and to fight for what has provided an unadulterated freedom for millions of clubbers since its inception is to hit the download store and proclaim your place on the closest dance floor poised and ready to party. In the colourful words of the Dopewax label manager Joe Berinato, KEEP ON DANCIN'…

When it comes to House there are only so many labels and artists that hold an immediate rapport with DJs regardless of style. Dopewax serves as a poignant division of K-Dope Productions, which is a veritable treasure trove of musical history holding up a catalogue frequented by the biggest and undoubtedly the coolest producers that dominate the scene. Needless to say when they release a new single it always means business and regardless of format immediately finds favour in all the right hands.
Following each and every promo run there is a long stream of underground support, prominent festival plays and amassed media attention. For Sted-E & Hybrid Heights feat. Crystal Waters "I Am House" they cleverly bring into the fold one of dance music's greatest ever vocalists and a resilient remix and production team that would whet the appetite of even the most ardent purist, here we can easily smell another hit from a million paces away.
Who's Involved?
STED-E & HYBRID HEIGHTS ft. CRYSTAL WATERS "I AM HOUSE"
Phase 1 – ORIGINAL by STED-E & HYBRID HEIGHTS ADDITIONAL REMIX & RADIO EDIT by MASTERS AT WORK (KENNY DOPE & LOUIE VEGA) Phase 2 – KENLOU (KENNY DOPE & LOUIE VEGA) DUB, KIDZBLOCK (pka Mr. V & William "Reelsoul" Rodriguez)EXTENDED & RADIO, JACOB COLON REMIX, RADIO & INSTRUMENTAL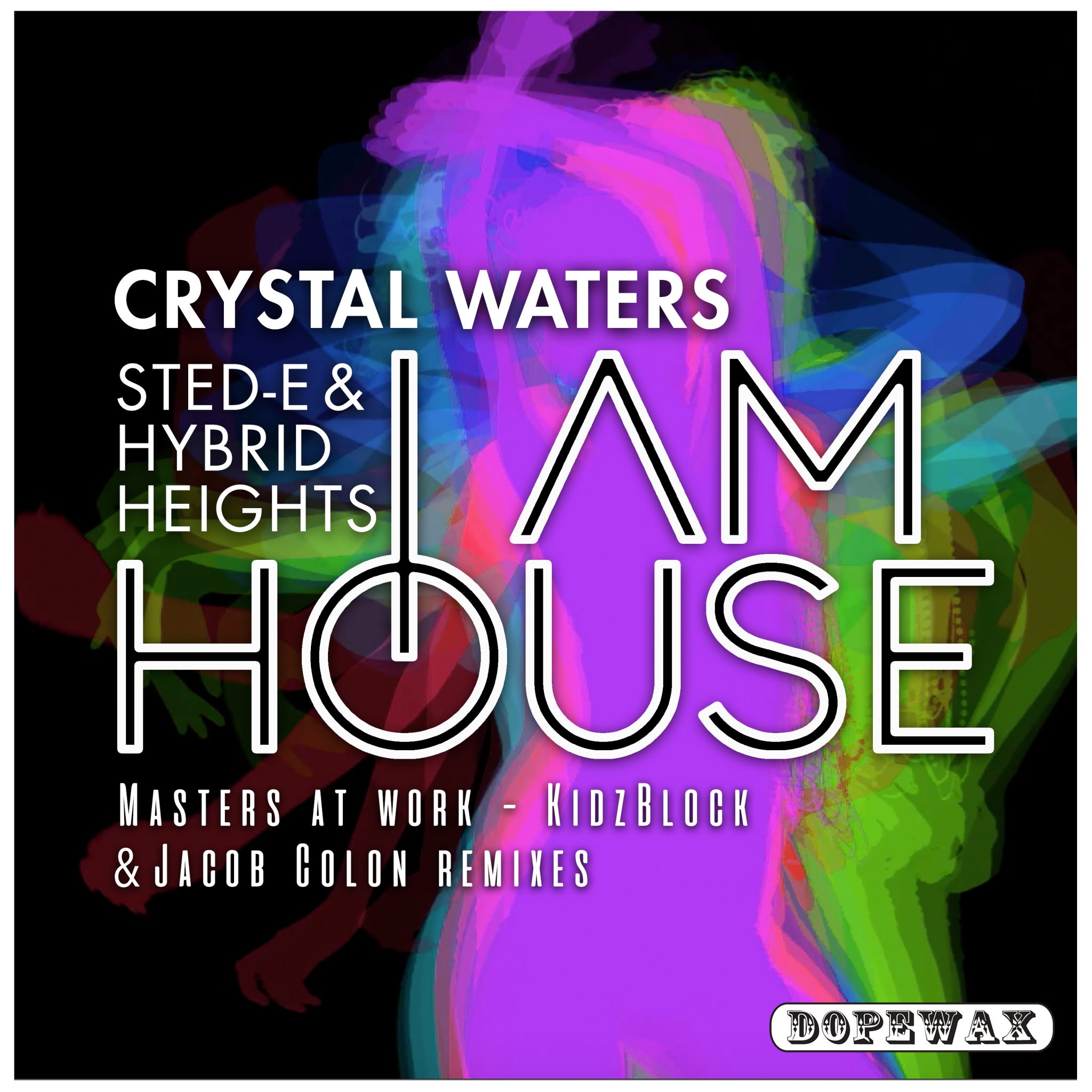 What Does It Sound Like?
In this package we hear a trademark MAW mix & KenLou Dub which instantly denote a clever 90's throwback which will engage floors and fans alike. A deep interpretation by raw house heroes ReelSoul and partner Mr V (aka Kidzblock) with a masterful rap caressing the groove plays part before moving into a Tropical House vibe courtesy of Jacob Colon and club mixes by Norty Cotto. As a production unit, Sted-E & Hybrid Heights have quickly ascended into the upper echelon of dance music producers with multiple heavyweight releases. Their ground breaking sound lead them into remix work, and earning the catch-phrase "as the go to producers" for some of dance music's most respected artists and record labels.
Do you know house? When the dancefloor educates, you won't get homework, you get House-werq'd. Bring on the lesson!
Did we mention the feature vocalist that will have house music fanatics jumping once they recognise the iconic tones of Crystal Waters cut through with her meteoric return to modern clubland. Globally she is already recognised for her monumental contribution to the scene with an extensive list of dancefloor hits and mainstream albums alike. It goes without mention, that Waters has consistently delivered a monumental impact on the airwaves over the past few decades. Her song writing skills have earned her the enviable honour as "one most successful dance artist of all-time" (stated by Billboard Magazine). Her standout vocals are unavoidable and reverberate comfortably atop radio plays, club sets and within all the social media feeds she features, with effortless hooks that will keep you singing for hours to come.
The Foundations Run Deep
A quick flashback to the history of Crystal Waters and not only was she discovered by the revered Basement Boys after working behind the scenes and turning in an demo assignment where she penned the song called "Gypsy Woman" for diva Ultra Nate recording the original demo herself igniting the producers with her rendition. Needless to say she was immediately offered a recording contract for the song featuring her and it never made it into Ultra's hands. The song became a widespread global hit with it's memorable "la da dee, la dee da" refrain. Many suggest her writing capability was born from her early forays into poetry which led to the induction at the American Poetry Society when she was only 14 (the youngest person to ever receive the honour).
What We Think
The Electric Mode team, listened extensively to this promo as it found it's way into our inbox, each of editors finding a favourite mix but fully appreciating the cohesive offerings as a collective. Each of the well placed remixes aptly pronounce the "I Am House" assertion in the full knowledge this will cut across the dancefloor with the crowd screaming in celebration. There is a vibe that will sit across most floors and suit most tastes, for us without question is a combo between MR V & Reelsoul (Kidblock) and naturally the multi-award winning duo Kenny Dope & Louie Vega, aka Masters At Work, implanting a 'no-holes-barred' behemoth that is a resounding crowd pleaser. The advance promo swiftly took over clubland and it's pertinent release has already hit the Top 100 Traxsource Chart. Knowing the revival of the Soulful side of house is well and truly underway we foresee this one holding some very extensive legs on the circuit and heralding plays well into the forthcoming summer ahead.
Things You Should Know
Release: Dopewax Records, Street Date FEB 9, 2018
Purchase Here: https://www.traxsource.com/artist/88714/sted-e-and-hybrid-heights
More info: www.kaydeerecords.com
Producer: Sted-E & Hybrid Heights
Remixers: Masters At Work, Kidzblock (aka William Reelsoul Rodriguez & Mr. V), Jacob Colon, Norty Cotto
Writers​: (C. Waters, E. Alcivar, C. Rosillo)
Published by: Sted-E Rockin Music, Rosillo Entertainment, C-Waters Publishing, K-Dope Music
Executive Producers: Kenny Dope & Tracy "Treydawg" Moralez
Artwork Layout: Tracy Moralez
2018 Dopewax LLC a Division of K-Dope Productions LLC