Exciting times ahead as IMS launches their 10th International Music Summit tomorrow. The final touches are going ahead to their Ibiza base Hard Rock Hotel in preparation for another monumental music conference. With a solid agenda of keynote talks and presentations IMS has firmly become an annual calendar date for anyone serious about the industry from innovators to insiders and newcomers alike.
Less than two weeks until the global electronic music community unites in Ibiza. Learn, connect and together we shape the future of our industry.Explore the full schedule: http://bit.ly/IMSIbiza17Schedule? by www.ShadowVision.co

Posted by International Music Summit on Thursday, May 11, 2017
Founded by figureheads Pete Tong, Danny Whittle, Mark Netto and Ben Turner in 2007 this has evolved into IMS College, IMS Engage, IMS China and IMS Asia-Pacific variations. Not only is this a fantastic and insightful showcase and open channel to discover more about the movers, shakers and learn from the mistake makers but also a heavily sociable networking event considered "The Premier Platform for Thought and Leadership in Electronic Music."
Think sponsors, partners, DJs, producers, press, media and market leaders from across the music world including the audio outlet and multi-media spectrum, this is an essential event that spearheads the Ibiza summer season launch and culminates in one of the most spectacular finales in Dalt Vila UNESCO World Heritage Site overlooking the sunset above the Ibiza marina and driven by the crème de la crème of the DJ fraternity.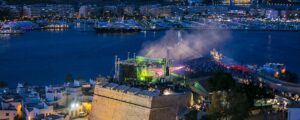 This year will see a very special footnote to lost Ibiza icons that have since passed Mo Chaudry and Robert Miles, who have left an ongoing impression on the islands clubbing scene and will be sorely missed this season. The IMS family and guests will partake in a very special Legends Dinner, a celebratory banquet that invites our community together in honour of leading pioneers of the scene which has previously included Nile Rodgers, Fatboy Slim, Pete Tong and Carl Cox and this year in honour of Ricardo Urgell owner of global brand Pacha currently celebrating a commendable 50 years at the helm of the clubbing world.
If you already have a delegates pass we will see you there. If not, we strongly suggest you make your way across to IMS to listen, learn and love the following days ahead at one of the electronic music industry's most influential and important events. May 24-26th, 2017 – Dive in, share the vision and explore the talks that shape electronic music! www.internationalmusicsummit.com