The Ibiza 2019 Season is upon us and if you are here on the Island, you can feel the anticipation of what is about to unfold. With a host of parties to choose from, we've shortlisted a mix of new parties and returning nights to whet your party appetite.
IMS Dalt Vila – 24th May
This year's 12th edition of the highly anticipated International Music Summit is approaching quickly, with the IMS Dalt Vila Grand Finale regarded by many as the official start of the summer season on the island. The ultimate under-the-stars party will take place on Friday 24th of May, in the Old Town of Ibiza, declared as a UNESCO World Heritage Site. Voted by DJ Awards as the 'Best Ibiza Music Event', the event will unite electronic music industry and its fans together for a remarkable night with a world-class DJ line up including Adam Beyer B2B Ida Beyer, Joseph Capriati B2B Pete Tong, Nicole Moudaber B2B Sama', Charlotte de Witte and more. Not to be missed!
Find out more and get your ticket here.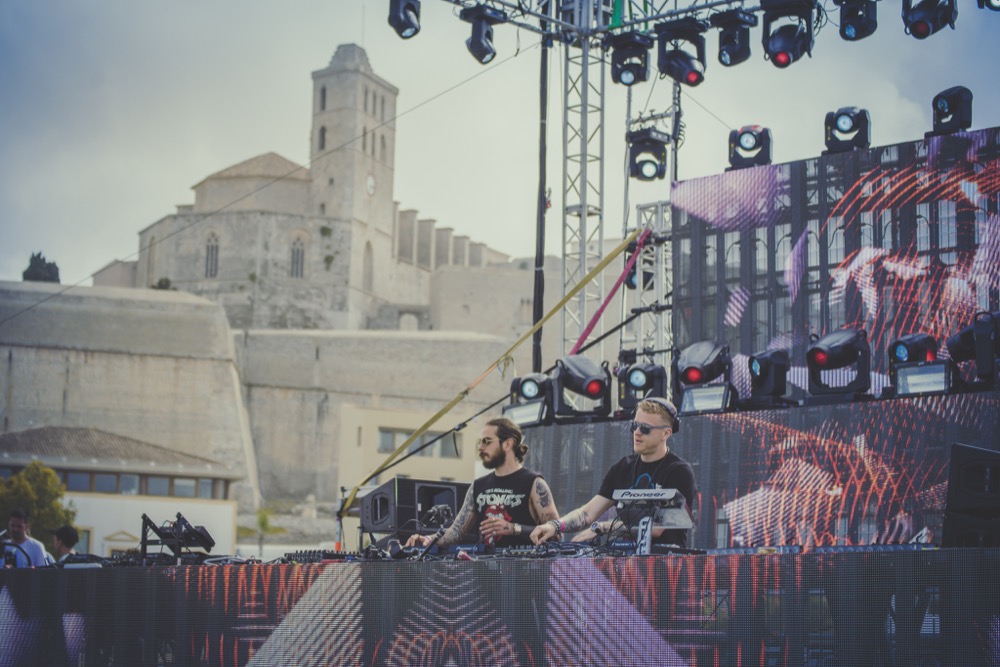 Circoloco – DC10 – 20th May
Without a doubt, DC10 is one of the most iconic clubbing experiences in the world. Housed in an old farm in a former aircraft hangar, close to the airport but perfectly secluded, the club is definitely something every raver relishes. Starting from 1999, the venue is home for Circoloco with its iconic Monday session that started a clubbing revolution and made an enduring impact on the shape of modern club culture. Since then, the ubiquitous Crazy Clown face has become a symbol for the underground spirit of dance music culture. On Monday 20th of May DC10 will open its doors for the Circoloco Opening Party beginning their 21st season on the island. 24 DJs will play the 15-hour session on that date, including The Black Madonna, Seth Troxler, Midland, Gerd Janson, Ellen Allien and Kerri Chandler. Be sure to expect the party will be as spectacular as previous years openings with an even more impressive line-up.
Solomun +1 – Pacha  – 26th May
Officially now the longest running residency at Pacha, after the famous Flower Power night, Solomun +1 kicks off its seventh season on May 26th 2019 for 21 electrifying weeks until 13 October. If ever you had the opportunity to invite each and everyone of the following acts as your personal +1, a lot of us electronic music lovers lives would be made! Acts lined up to join the Diynamic label boss include: Peggy Gou, Denis Sulta, Tijuana T, DJ Seinfeld, Maceo Plex, Mano Le Tough, Tale Of Us, Dixon, Luciano, Chloé, Âme, DJ Koze, Moscoman, DJ Tennis, Adriatique, Joseph Capriati, Elax, Fango, Denis Horvat, & Gerd Janson.
Click here to find out more and get your tickets.
Paradise – DC10 – 12th June
Jamie Jones iconic Paradise night returns to DC10 Ibiza for another season. The 2019 edition promises to be the biggest yet, with 17 weeks of parties unveiled instead of the usual 15. This year's theme is a 'Colour Odyssey' centred around the play of lights and colours. Opening its door every Wednesday from 12th of June until 2nd of October, Paradise is set to be clubbers favourite night on the island once again this Summer.
One of the most recognisable party brands on the White Isle, there are Paradise debut slots for Charlotte De Witte, East End Dubs, Archie Hamilton, Rossko, Nastia and Len Faki, while Chaos in the CBD, Krystal Klear, Anna Wall, Bobby and Big Miz will all play DC-10 for the first time. As always, the season opener will kick off at the earlier time of 6pm, with Jones and The Martinez Brothers pencilled in for an extended back-to-back on the fabled DC-10 terrace. The final three parties, on 18th September, 25th September and 2nd October, will also feature garden sets with 6pm starts.
Visit Paradise website to find out more.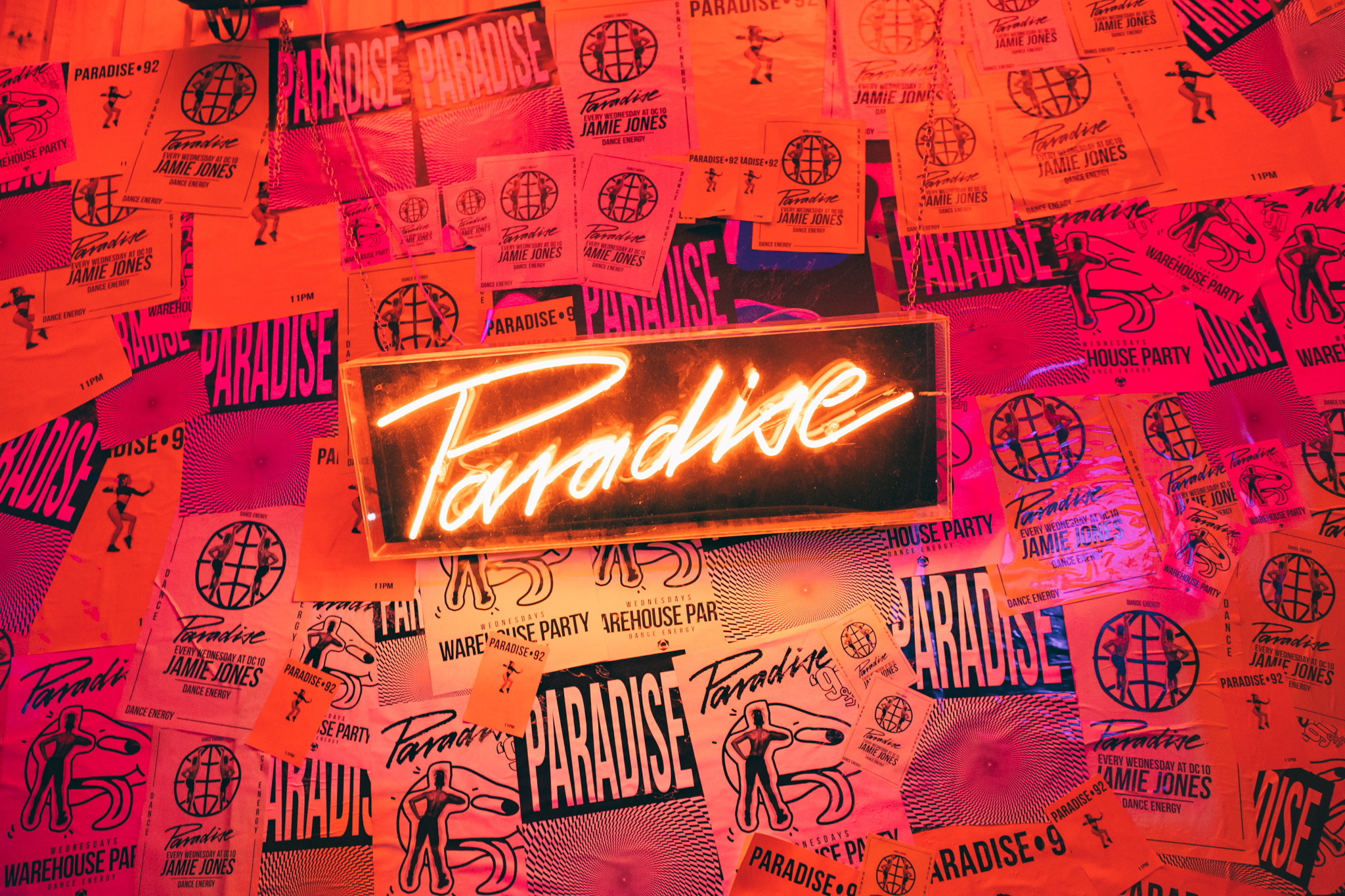 Resistance – Privilege – 23rd July
After its recent debut at the Ultra Music Festival in Miami, RESISTANCE, which also took home the award for Ibiza Night 2018 at the DJ Awards, is set to launch its third season on the White Isle from 23rd July 2019 and will run every Tuesday at Privilege Ibiza until its HUGE Closing Party on 17th September. 
The line up is a Tech lovers dream with Global Ambassador Carl Cox headlining alongside Adam Bayer and  Charlotte de Witte, Eats Everything & Hot Since 82 heading up the Terrace residencies. Other names confirmed
are: Pan Pot
, Dubfire, Jamie Jones, Joris Voorn, Richi Hawtin, Nicole Moudaber, Nic Fanciulli and many more.
WILDCHILD – Heart Ibiza – 25th May
Having already put on some of the most talked about events over the past few years such as One Night Stand, Pure Carl Cox, Lift and more – Game Over now bring us a fresh new concept with WILDCHILD. This new offering will see the brand dig deep into the core eclectic roots of our favourite tracks from classic house to hip hop and everything in between.
The freshest party of the year kicks off on 25th May at its new home of HEART Ibiza and runs every Saturday through to 28th September. No other decades encompass this untamed sentiment better than the 90s and early 00's and no party will represent its soul better than WildChild at Heart. Moreover, the creative and innovation DNA of Heart Ibiza, makes it the perfect place to host a multi-sensorial experience that goes way beyond music.
Line up TBA. For more information click here.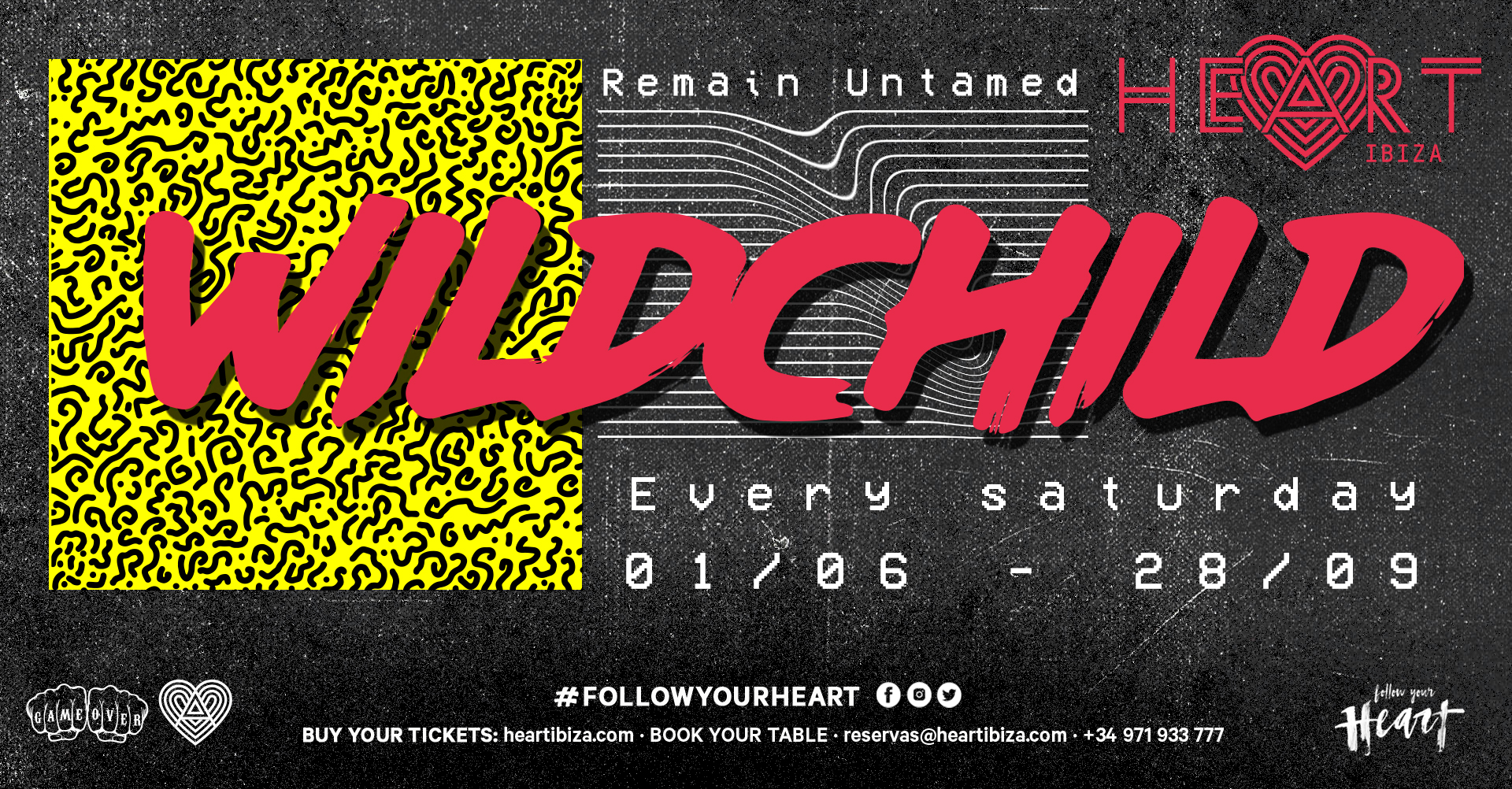 MUSE at Heart Ibiza – 4th June
There is a new party hitting Ibiza! The MUSE project is born from the intent to give a "place" to the musical vision of Lehar and Musumeci. A place to share the sound that distinguishes them, characterised by a holistic spirit and by the continuous search for a synthesis between tradition and modernity within the history of electronic music. A combination of Music and Art will assist you through HEART Ibiza into an immersive and unique experience with a stellar line up and of course with Lehar and Musumeci playing back to back each week. Acts set to join them include: Âme (Live), Jennifer Cardini, Phunkadelica (Dj), Marcus Worgull, Eagles & Butterflies, Toto Chiavetta, Underspreche (Hybrid Dj Set), Jimi Jules, Pional, Enzo Elia, Aldebaran, Agents Of Time (Live), Stereocalypse, Murat Uncuoglu, Alican, Trikk and Dodi Palese.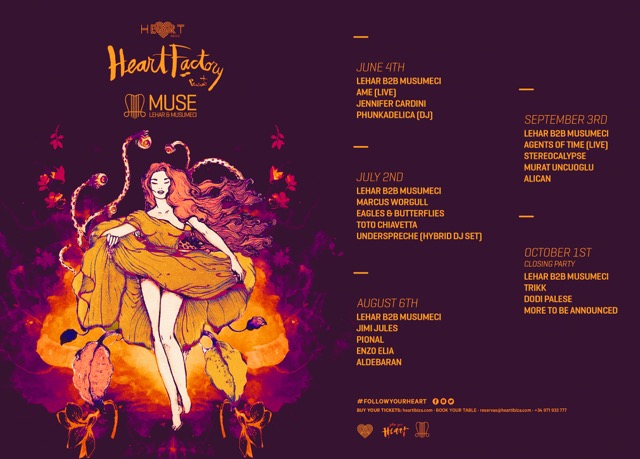 WOW! With so many parties to choose from, which one(s) will have the pleasure of your company? Wherever you end up, we are sure with the above lineups and productions that you are going to have an unbelievable time!
If you are passionate about electronic music industry we are always on the hunt for fresh news and cutting edge content from additional writers and contributors. If you live and breathe clubland, music, DJ's and the electronic community, then we want to hear from you … regardless of experience your love of the industry must shine through and what better way to start than with an article on Ibiza 2019 Openings? 
To apply or submit your article please email us at contact@electric-mode.com.