An homage to an inspirational figure from the war in Ukraine, 'The Ghost of Kyiv' is the hot new track from Electronic duo RED & TED. 

The Ghost of Kyiv is the nickname of a MiG-29 ace credited with shooting down six Russian planes during the Kyiv offensive on 24 February 2022.
OUT NOW
Inspired by this story of courage, RED & TED have bottled this fighting spirit and have played it out in their new single. 100% of artist and label proceeds will be donated to benefit charities helping with the humanitarian crises in Ukraine including Stand With Ukraine and CARE.org. This is a fast paced track that captures the adrenaline and outstanding bravery that we have seen played out on the news.
RED & TED are two best friends who got engaged & started spinnin' together during the depths of quarantine. AJ RED brings her deep connection to humanity and spirituality through yoga and music that instantly makes everyone love her and life itself. TEDDY BREWSKI contributes his relentless optimism and experience as former manager/agent to Pan Astral and Paris Burns (EDC and Electric Forest alumni). This match made in heaven has so far released one single and have two bootleg remixes available exclusively on Soundcloud. Together, they form a yin-and-yang duo known for their dynamic sets that build energy levels and dance floors from one to one thousand. 
 Since releasing their first single in October 2021 they've taken their home town by storm, sharing the stage with The Sponges, DJ Susan, Not Not, and many of San Diego's finest DJs.
Getting To Know RED & TED
Artist name and location?
RED & TED (AJ RED & TEDDY BREWSKI)
San Diego, CA, USA
Introduce yourself in one paragraph:
We are producers and DJs who play and produce a variety of music including house, disco, tech house, techno, deep house and electronica. Our new release, "The Ghost of Kyiv" is our most bass heavy track to date, and it showcases a bit of our production range. We are also co-founders of a dance music collective, it's just noize, that has put on 20 events in the past year and a half in the San Diego area. Next month we will be releasing an EP from the first international artist signed to our label, it's just noize records. Last fall we launched the label with our first single, and the following week we got married and made this B2B for life!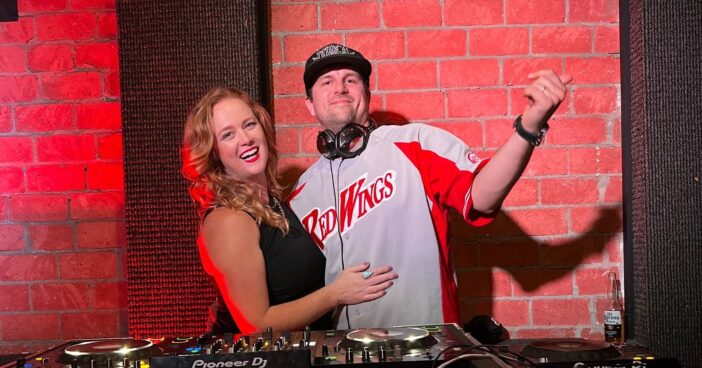 Were you connected with music from a young age, or anyone in particular inspired you?
TEDDY BREWSKI: Absolutely. I've been cutting mixtapes (literal cassette tapes) since I was 5 and was entrusted with DJ'ing my older brother's high school hockey games for several years growing up. In part because of my grandpa, who recently passed away, I've always been fascinated with the technology side of music. In fact, I'm kind of surprised Metallica didn't sue me with how much of their music I downloaded off of Napster back in the day. I think the statute of limitations has passed on those crimes hahaha
AJ RED: Oh yes. I've always had an ear for music, playing tunes on the piano (to my family's dismay) over and over again until it sounded right. The one thing ive always wanted to learn is to read music, which seems to be inevitable at this point. I've always loved watching movies about music, from Almost Famous to Selena. I think these movies show us why music is so important and how deeply rooted it is in all walks of life and as a way of communicating through the soul.
What first kickstarted your musical career?
We've been doing it a few years ago, and it started not long after we moved in together. A friend gave us some ancient CDJs and a mixer. After digging DEEP in the closet for some blank CDs we were off and running. The casual hobby took on a larger part of our lives with the lack of live music during the 2020 lockdowns. Prior to that, we had been going to see DJs and bands for 3 or more nights out of the week. By week 4 of quarantine we started live streaming our new Saturday night ritual, and by month 4 we purchased our first modern professional DJ setup. It was during that period we began production on what would become our first single. Shout out to Mazo Books who allowed us to join his Safety Dance live stream for so many editions in 2020.
Tell us a bit more about your sound and how it has evolved.
Our first few productions were house, but deeply rooted in disco. We've found that our productions follow the kind of music we're playing out at the time. And lately that sound has been a bit darker. I think that just kind of reflects how we're seeing the world. We've been playing out a brooding tech house original lately that should be ready to share soon. We don't ever want to get pigeon-holed into any one genre, so you can certainly expect a wide variety from us in the future.
Any words you want to share to encourage other artists and producers?
Just start. Whatever you do, however terrible you or others may think it is, just keep trying to get better. There's an infinite amount of resources out there for next to nothing or flat out free. Use it! If you like a sound, look it up on YouTube and work to emulate that until you can make it your own. Also, Keep knocking on doors. Eventually someone will answer. 
Networking, consistency, character, approach… what and how do you initiate your Industry relationships?
This is an ever evolving answer for us. Consistency in production is certainly important whether it be playing shows or releasing music. The most important thing is to be a good person and enjoy your time. No one wants to work with the back-stabber or hater. Show love whenever you can. Being an artist can be an insane emotional rollercoaster, so we all need a little support or even just a hug every now and then. If you are good people and honest with others about your goals, they'll usually try to help you achieve them.
Is there anyone specific you'd like to thank that has helped you evolve and why?
There are a few folks that gave us incredible feedback on our productions this past year that directly impacted all of music moving forward in a positive way. Sreyas fka Hollidayrain is a mixing and sound design genius, among other things, but he helped us understand how to really push our mixes into a cleaner, fuller sound. 1788-L, Dave Winnel, and Not Not are a few others who helped us here with impactful advice. We should also mention the gents of Merger, who gave us a little tip for our percussion that has developed into a signature sound of sorts for us.
Name 3 albums or labels that have inspired you the most.
"Worlds" by Porter Robinson always inspires us to make the most beautiful music we can. Even in chaos there can be beauty. "2001" from Dr. Dre is still one of the best hip hop albums of all time and Dre really shows how much you can do without making the beat overly complex. Last but not least, Tycho's "Awake" brings out a lot of emotion for us. There's a certain type of inspiration and admiration for the way that he produces and performs the music with a group. The 2015 Bonnaroo performance was so good that we found a recording and listened to it almost weekly for years. In fact, I think we'll revisit that set while we answer the rest of these questions!
What's your favourite piece of studio equipment or software?
We're going to get so much hate from our closest friends and collaborators on this one, but we've been using Logic Pro since day 1 of our project and TEDDY BREWSKI has been on it for over a decade. We're actually about to start the process of transitioning to Ableton for composing, but the stock plugins in logic allow you to do pretty much everything that any aftermarket plugin can do if you're willing to put in the time to learn how to create that sound.
Name your favourite club or festival in the world, and how does it make you feel?
Electric Forest is definitely THE happy place when we can get there. But, living in San Diego we are lucky enough to have CRSSDFEST pop up twice a year, and we've gone to all but two of them at this point and are looking forward to the fall edition!
Name an outlandish rider request?
If we are so lucky to be able to request it some day, ours would be 2 of every flavor of Topo Chico that's available within a 20 mile radius of the venue. 
Favourite clubbing memory, who or what did it involve?
The ones we don't remember… hahaha but for real it has to be New Years Eve of 2015 when we saw Bixel Boys and Boys Don't Disco at Bang Bang here in San Diego. It was kind of the night we fell in love. Boys Don't Disco is the best – always responding to the DMs, and he even supported our first single, "We In The House."
What quote represents you best?
"Follow your butterfly"
-This is our mantra. In many ways it's our way of life. It's normal to get caught up in routine and walk around with tunnel vision sometimes, but breaking that up can be a lot of fun and lead you places you had no idea you wanted to go!
If you could play any venue, where would it be and why?
TEDDY BREWSKI: Red Rocks. It is the most sacred site for live music in the States if you ask me.
AJ RED: The Belly Up in Solana Beach because it's where I've gone to see all my favorite bands while growing up.
Music is….. (explain more)
Oxygen. Besides each other, our family, and our friends, it is the most important thing in the world to us.
One song you really couldn't live without?
AJ RED: It would have to be a song by either Empire of the Sun or Tycho. There's about five from each that I could play on repeat forever if I had to.
TEDDY BREWSKI: "Old Time Rock & Roll" by Bob Seger would have been my answer from birth until I was 10 and then "The Crossroads" by Bone Thugs n Harmony until 8 years ago when Porter Robinson played "Sea of Voices" at the Fillmore Theater in Denver, CO, USA. My friends still make fun of me for crying at that show. It was pure emotion. It still is.
Name drop your favourite tunes, artists or DJs (past or present)
TEDDY BREWSKI: I definitely look to Fatboy Slim for DJ inspiration – he is a constant reminder to have fun up there and not take it too seriously. In the studio James Egbert will always be my measuring stick for production quality and right now Casmalia has the catchiest beats. That said, Robbie Rivera has been absolutely crushing it the last couple of years. Multiple projects dropping hit after hit. Another producer to watch out for is DJ Susan, who has been prolific this year along with his label Hood Politics. One guy we've seen several times that will be someone to watch out for next year is our fellow San Diegan, Attenboro. His productions are just pure tech house fire and I'm sure he'll be on some big labels soon.
AJ RED: Nora en Pure is definitely on that list. A UK artist that many may not know is ESSEL. Her disco house vibes inspire me to create fun upbeat sets. A song that is on repeat right now is Azzecca's new release "I've Been Waiting."
What was your first music opportunity and how did it fuel your fire?
Our first real opportunity after getting our start live-streaming was from some folks we've known for a while who owned a community market. We played every week for about four hours. It was not the typical venue for a club DJ but it gave us a ton of experience and taught us how to read and interact with an audience. We just drove by that space today and it still brings back fond memories every time we see it.
Tell us more about your plans for the future.
We have multiple productions that we'll be sending out to labels this summer while we continue to build our own imprint, it's just noize records. We signed a couple artists from different sides of the planet this month and look forward to cultivating their success while giving more fresh faces a chance to shine. There will likely be a release or two from us on the label later this year as well. We've played a bunch of new venues this year including Insomniac's newest club, Nova. We have a few more shows booked for later this summer, and are looking to build on that with more debuts in late 2022/early 2023.
Any worldly advice you'd like to share?
Always bring your own toilet paper to music festivals. This simple thought has saved us and many others from certain doom. We once traded a roll for backstage access!
Support RED & TED on Social Media 
Facebook | Twitter | Instagram 
Listen to more of RED & TED