Time to tune into some brand new Electronica courtesy of Silvermouse featuring Monroe Sound Science. We took a little time out to fire in some quick questions and get to know a little more about this exhilarating act, and their latest release out on all your favourite platforms.
Can music be its own psychedelic? This is the question that Silvermouse is searching to answer with latest single 'Imagining Revisited'. Created in collaboration with the Monroe Institute, the electronic duo is re-releasing their 2020 single 'Imagining' with the addition of Monroe Sound Science; a set of signals designed to move the brain to creative places through the use of brainwave entrainment technologies. This single is the first installment of the 'Psychoactive' project, with which Silvermouse are looking to experiment with sound as a medium for human consciousness.
In partnership with the Monroe Institute, one of the longest-standing research organizations dedicated to the study of the esoteric edges of what is possible through the use of brainwave entrainment technologies, Silvermouse is breaking new ground by exploring gamma stimulation as a mode of reaching ecstatic states in a live sound (no headphones required) setting. "Like all of our music to date, the song was recorded live with very little post-production (musically that is, adding in the MSS is a post-production process) – a big part of our sound is capturing the magic of live improvisation." explains Justin – one half of Silvermouse. Filled with pulsating rhythms and swirling textures and sounds, 'Imagining Revisited' is an intriguing new release from this hugely talented duo, and could prove to be a reset moment for the Electronic music scene.
Silvermouse have been part of the underground Livetronica scene since 2007, when they first brought their spiraling psychedelic soundscapes to desert partygoers in the US southwest. Their work is born of their diverse influences in the UK rave culture and the US jamband scenes of the nineties, and, barring a couple of studio projects, has typically taken the shape of psychedelic odysseys – non-stop, live sets, played and recorded in captivating outdoor locations.
Their latest project, 'Psychoactive', is a deep journeying dive into the potential of music as a psychedelic entity. The first single from this project, 'Imagining Revisited' dropped on all major platforms at the end of February 2022 and receiving widespread global support.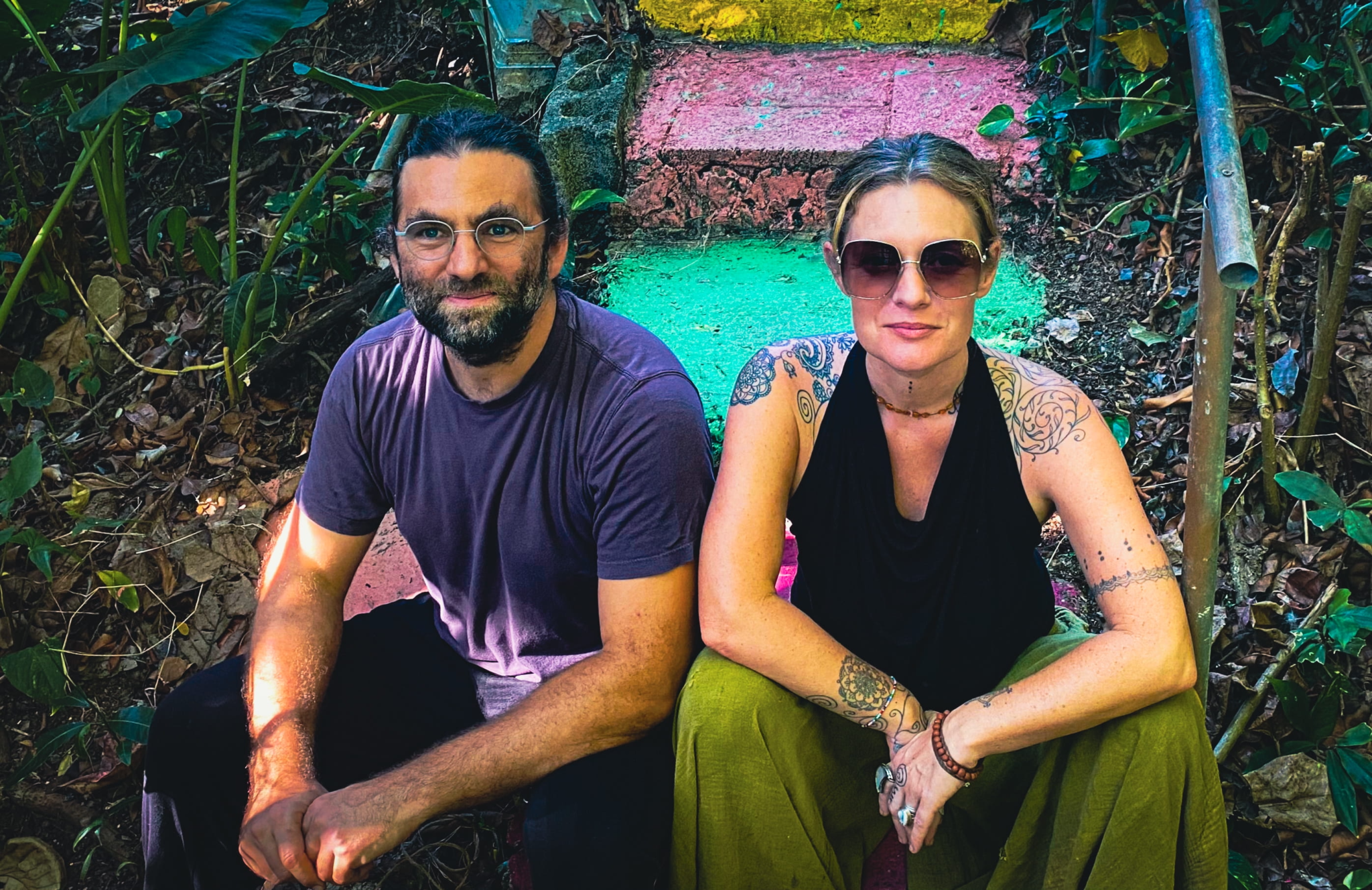 Interview With A Breaking Act : An Insiders View
Let's start with where you are in the world…
Aguada, Puerto Rico
Tell us a some more about who you are…
We are a livetronica duo, creating original, avant-garde, psychedelic electro-acoustic music, using live multi-instrumentals, spiraling live electronica, bass, and – in our most recent work – featuring the audio frequency brainwave technology of Monroe Sound Science.
Were you connected with music from a young age, or anyone in particular inspired you?
Justin: I've been playing violin since I was three. I tried several other instruments in elementary school (flute, trumpet, and drums) and then picked up guitar when I was 12. My first real exposure to music that I remember was a Beach Boys tape I got when I was six. I actually struggled with being a musician through school, hated lessons, and mostly just played Grateful Dead songs on acoustic guitar for fun – it wasn't until college when I was looking at my future that I really understood my life was going to be about making music. I was fortunate to be able to study under Dr. Yusef Lateef, and he changed the depth of my relationship with music in profound ways.
Jo: I didn't grow up playing music. I grew up with music as soundtrack, inspiration, and escape, long before I had any connection to music as a practice or as an art form that I was engaged in. For me, that progression from consumer>participant>producer was a surprising and yet extremely natural flow, that arose primarily from my love of beats, techno, house and garage back in the early to mid-nineties. I was switched on to something bigger than my physical, mental and social landscape, by the unselfconscious freedom and release of 90s UK rave culture. The community, the sounds, the reclaimed and occupied spaces, and the psychedelic possibilities.
Making music came in my late twenties, when my writing, visual art, theatre work all merged in this one place of expression and the total of all that felt like music. I began exploring with a computer program, and found a freedom to create in sound and music that I had previously experienced as unavailable to me, given that I had not been raised or trained or encultured in a musical social environment. It felt like I found a kind of 'impulse braille', where the tools to access an entire language and expression system were suddenly at my fingertips and a new world – with no boundaries really, and no restraints, other than those that were self-imposed. I learned a lot about myself as a creator through this process of learning, unlearning, and emerging. I found myself becoming the artist that I am meant to be.
What first kickstarted your musical career?
Justin: I took an office job at Double Edge Theatre, an experimental theatre in Western Massachusetts. When they found out I played violin, I started getting involved in their training and shows. Within six years I was the musical director and was composing original music for their shows and touring internationally. Then, all within a pretty tight timeframe, I decided I wanted to leave the theatre to pursue a career in music without the constraints of theatre, I met Jo who became my life partner and bandmate, and we formed Silvermouse and never looked back.
Jo: Our first shows were playing art openings and events in the gallery scene of Santa Fe, New Mexico in the 00s. During this time of playing to what was then our local crowd, we released our first album, Silvermouse, and then shortly after, were invited to play at the fabulously psychedelic Rabbit Hole Stage at Glade Festival in 2009. This show kickstarted a decade-long dance around the UK summer festivals, over the duration of which we sought out wilder, quirkier, more anarchic pagan gatherings, where we could share our sounds in natural settings away from the unrooted frenzy of commercially-sponsored events. That seeking path has become our journey and our method-mission.
Tell us more about your sound and how it has evolved.
Jo: I kind of feel that our sound has spiralled up and out, growing from our roots in the earth, out into realms beyond the physical. So, our first album, Silvermouse felt to me the most 'folk'. It's not folk, but it has a lot of old-world instrumentation, influences from music that we both worked with and related to in theatre, and that Justin had been composing and learning from masters and influences in Eastern Europe, Argentina, West Africa, Ireland, and the Appalachias. The first album was that world meeting the pulse and 'square' beats of house music and minimal techno, they kind of met on the dancefloor in this psychedelic-barn-dance-in-a warehouse moment.
Our second album – Space Country – was just that, it was physical space in open country that sometimes felt like we were on the moon. It was a journey up and out from self and experiences or influences, and into the realm of relationship to place – and of expanse, and our relationship to one another within that. We lived in a very remote valley in the high desert of northern New Mexico at the time, and we were touring the desert and the west in our converted Greyhound bus. Life and vision felt entirely emergent from that place of desertscape, desert mountain vistas, huge skies, millions of stars, lightning storms, full moonlight across hundreds of illuminated desert miles.
Third – Earthadelik – came from transformational earth forces of destruction and renewal: clearing, rebirth, and emergence anew. We created and recorded Earthadelik at our farm in Puerto Rico, where the landscape and world of plants and elements could not be more contrasting to the desert southwest. We experienced the changing and transmuting qualities of nature as Fury (in the form of Hurricane Maria). The earth recovery and the healing pathways that came in that sweep and regrowth – the mushrooms of transformation and cleansing and regeneration – they shattered, blessed, and changed us forever. It was an intense, overwhelming and soulful time of growth and change. Our music reflected those vibes in ways that I cannot articulate, and came from our core, creative, sacral being and through mycelial connections to our plant kin. It's a trip in a different way.
Now, with our emergent fourth album, we have somehow gone beyond. Beyond space, time, place, and past, and into a realm in which that mirage exists as a well-worn tome of a favorite story. We have surrendered, I suppose, and we have begun to play with the entirely dephysicalized, psychedelic aspects of music and sound, as experienced in elevated brainstates.
We have been engaging in work with brainwave activation frequencies in collaboration with Monroe Sound Science technology. It's far out and entirely psychedelic, to create, play and share music in this beyond space where 'we are more than our physical bodies', while creating and playing with the Sound Science frequencies that are establishing those very circumstances. It's a really powerful space.
Our first public performance of this new work is this full moon, on March 18th. We will know more about the community implications once we have played lived – because this hasn't happened yet. No one has used this Sound Science in live music before, and we are psyched to explore with our most adventurous and psychonautical fans.
Any words you want to share to encourage other artists and producers?
Jo: Play! Play and play and play, until you lose yourself, and then play and play and play until you find yourself again. And then keep playing. Play when you think you're shit, and play when you think it is pointless. Play when you are inspired and play when you are dead inside. And when it is not time to play, because life has other plans, paint your life with the sounds of your lived experience, live and create in whatever way life is requiring of you. Be total. And respond every single time you feel the desire to create. Every single time. Trust in the validity of the language of your own unique expression. There is a place for all of it.
Justin: Never give up. Persistence is a creative force. If you aren't talented, with persistence, one day you will be. If you aren't good at the business side of music, with persistence, you will find the right people and situation to make it work. If you really want something, stick to it. Don't let time break you and make you believe that because you haven't made it yet, you never will. Also, hopefully you are doing something you love, so even if you never achieve your huge fantasies about where it could go, you have fun getting where you do go.
Networking, consistency, character, approach… what and how do you initiate your Industry relationships?
Jo: We have been supporting one another's development as artists for the past fifteen years and in terms of consistency, we have always been authentic and true to our work, but industry relationships have often proved a challenge for me, honestly. Mostly due to my own areas of neurosis – like imposter syndrome; and an almost neuro-divergent experience of music within my own brain and being, with zero ability to discuss what I do in 'establishment music' terms with other, 'proper' musicians, while also feeling repelled by the macho culture, which tends to lurk about much of the electronic music world. There are some serious and extraordinary women badassing about in that space, and I love them, and there are some wonderful men, but overall I do find the industry space can tend to be misogynistic and overly male dominated.
Our best shows and opportunities have usually come through congruent and positive relatedness with other artists and promoters and organizers – the folks who dwell in the world that the mainstream doesn't see. When a connection feels aligned and comfortable, we nourish and maintain and honor it until the end of time. When the scene feels aggressive, testosterone-heavy, ego-driven, overly commercial, or disrespectful to artists, we tend to let it go.
Justin has more of a plug-away marketing approach that serves him well in his approaches to individuals in the industry, so I am going to leave that to him to discuss….
Justin: Honestly, this is something we are still working at. We've gone very indie to date – doing our own artwork, our own releases, our own publicity and PR. For booking, a lot of it goes on intuition. We played a festival a few summers ago because Jo pulled over while driving and sent them an email telling them the fairies had told her to reach out and get in touch. They basically wrote back and booked us. Believe in magic. Fifteen years in I actually feel like we are right at the beginning of trying to network with industry contacts who can help move us to bigger audiences.
Is there anyone specific you'd like to thank that has helped you evolve and why?
Jo: Hamish for giving us the Glade gig. I'll never forget that cheerful pink bunny on a bicycle and his fabulous introduction on stage. Our children, for myriad, limitless reasons, the evolution is constant. Justin for having my back always and holding me accountable and believing in me consistently and totally. The ylang ylang tree on our land, for being my muse and guiding tree deity.
Justin: Dr. Blue has been an unwavering supporter of our music from the early days. We learned a lot about what authentic community looks like at Three Sided Whole. And Jo. It is magic to have a big beautiful vision and to be lucky enough to meet a person who can see the same thing.
Name 3 albums or labels that have inspired you the most.
Jo: The Orb's adventures beyond the Ultraworld. Everything Simon Posford. Rising Appalachia, especially the album LeyLines.
Justin: Queen 'The Platinum Collection', Phish 'A Picture of Nectar', Grateful Dead 'Grayfolded'
What's your favourite piece of studio equipment or software?
Jo: Propellerhead Reason.
Justin: Boss GT-100 Multi-Effects pedal
Name your favourite club or festival in the world, and how does it makes you feel?
Jo: It isn't a concrete or a solid, defined place, although it used to be many moons ago. It's an undetermined outdoor space, among trees, with a glade, like a fairy land for revellers to gather. The lights are dancing and the air is whirling with electric energy, love and the ecstatic mischief that exhales from a space when wildlings gather with the intention of communing with music and self and each other in space. It makes me feel more alive than anything – as alive as the dawn chorus, the moment of birth, with the intensity of orgasm and the lightness of soul-flight.
Justin: I have a spot in my heart for the Tribal Vision Festival in New Mexico. We played there when our daughter was three weeks old and breastfeeding, tied to Jo on stage (with ear protection), while we played. We played there again on my birthday a couple of years ago, and I had one of the most beautiful nights of my life sitting around a campfire with Fantuzzi, Andy Babb, and a few other fantastic musicians playing song after song about the power of love. This festival always feels like a little taste of home away from home.
Name an outlandish rider request?
Justin: When our son was a baby we did a tour of the West Coast US – mostly small venues, theatres, bars, etc. Venues were required to have a space where our baby (again, with ear protection) and babysitter could hang out during gigs.
Jo: Yeah, other than what Justin said, I can't think of anything other than sufficient protein, water, tea, and authenticity.
Favourite clubbing memory, who or what did it involve?
Jo: My favorite club memory was probably in the main room at Cream with Paul Oakenfold, one Friday All-nighter in 1995. The build, the keys, the light, the drop, my rise, the energy in me, my friends, the room all merged and dropped away and soared at one moment of intense and orgasmic union. I laughed / cried / saw a massive light / exploded my brain / rippled with ecstasy in the most intense way I had ever experienced up to that moment. It was pivotal. I was about 18.
My first rave experience was in a warehouse in Aldershot, called the Rhythm Factory in 1993, and that blew my mind. I was hooked – all in. Then ensued a few of those raves where someone got an address and we all piled into a Ford Fiesta and headed to some damp and forgotten field where the sounds reeled you in and the universe twisted on her axis for a mind-bent and undeterminable period of time. Then I was up north and all into Cream and Garlands in Liverpool, Gatecrasher in Sheffield – the 90s super clubs and the flamboyant gay club scene, before the k and coke takeover.
Clubland lost its appeal for me after that point, and then the music in my head took over, and traveling. I was looking for the freedom those early experiences gave me, and seeking places where the scene was still vibe-strong – Goa, Thailand, Eastern Europe. I found some good parties in the 00s, but nothing lived up to those 90s days for me.
And I haven't really been a punter in a full-on way since then, I've been creating where I want to be, both in terms of the sound and the space. It's still a work in progress, in terms of place and scene, but we get closer to the center all the time. Justin's earlier experiences were so different to mine, and that was a breath of fresh air. I found that a dream-space made of the most magical aspects of both our well misspent youths has become the place we both want to be, it's the best of both worlds.
Justin: I literally was only ever in one club that we weren't playing in , and that was when I visited Jo in England right after we'd first met. We went out with some of her friends to some place near Brick Lane – that is about all I remember. From the stage side, I really loved playing Public Works SF – for a pre-burn party – and watching the crowd not entirely understand why there was a guy with a mandolin shoved into the tiny DJ booth.
I grew up on Phish – from 14 I did everything I could to make it to local shows, and by the time I could drive at 16 I was going further afield. My scene wasn't clubs and raves, it was stadiums and after-show parking lots. I had some of the most transformative experiences of my young life in parking lots outside Phish shows.
What quote represents you best?
Jo: If at first you don't succeed, try, try again.
Justin: We need to stop focusing on healing the earth, and start loving the earth. The love will create the healing.
If you could play any venue, where would it be and why?
Justin: I've always been kind of attracted to Red Rocks – it's a beautiful outdoor setting, and because Phish screamed, 'This is Red Rocks, this is the Edge!' in their 1993 recording of Icculus, and that somehow stuck with me.
Jo: I second Red Rocks – also Boom Festival in Portugal. I love remote, outdoor locations, with deep earth-medicine. I'm also drawn to the idea of tiny, uninhabited island, leave-no-trace, weekend-long shows.
Music is….. (explain more)
Jo: when it hits just right, it's sex and shamanic work, dressed as a painting for your ears that you can taste and makes your soul come alive.
Justin: I love this one. Music is the art of arranging sequences of audible vibrations in space and time in a way that, ideally, impacts the hearts of people who have the ability to perceive those vibrations. Since vibrations are energy, and musicians craft these energetic experiences, I'd say that, in its most pure form, music is a type of energy work.
One song you really couldn't live without?
Jo: too hard! Maybe, the beautiful folk hymn, 'I'll Fly Away', if I could only have one.
Justin: Jane's Addiction's cover of Ripple
Name drop your favourite tunes, artists or DJs (past or present)
Justin: The music of Phish basically took me through most of my youth and played a huge part in my desire to play music professionally. I probably shouldn't admit this in an interview with an electronic music publication, but I never really listened to any electronic music until someone played some Fatboy Slim for me when I was almost 30.
Jo: Carl Cox, Jeff Mills, Richie Hawtin, Paul Oakenfold, they have always been beacons in the scene for me – and Frankie Knuckles, of course, so much respect due to him. I've loved house and garage, and minimal techno since the early 90s, and got more into psytrance in the late 90s, though it never hit me the same way a killer house tune could. Fave house tune for years (and probably still) was / is Camisra's 'Let Me Show You'. It gets me there every time, and the Klubbheads remix – sick! I listened to Mateo & Matos' 'New York Rhythms' every day for a few years! It was my walking/stomping soundtrack for getting about town sanely.
Today in the electronic music world, I admire many female artists who are playing and carving it up on their own terms: The Blessed Madonna, Nina Kraviz, Peggy Gou, Amelie Lens, Charlotte de Witt, I put them solidly in this category. I adore Rising Appalachia, the folk songs of Mamuse, Queen have always rocked my world, always loved The Orb, The Prodigy, Aphex Twin, Hallucinogen, Shpongle, and the sweet vibrations of reggae artists Garnett Silk and Beres Hammond. Got to also mention Elton John, Tina Turner, Mick Jagger, Tom Jones, Diana Ross, Willie Nelson, Madonna, Celine Dion. I love these folks because they're still at it. The older I get, the more I appreciate what a feat of raw and potent personal and creative power this is and I will forever be inspired by these legends' energy.
What was your first music opportunity and how did it fuel your fire?
Justin: I played a violin recital at the West Virginia capitol building when I was four or five. When we were done, everyone clapped, and I bowed. And they kept clapping. And I kept bowing. And finally someone had to come drag me off the stage because everyone else had left and I hadn't even noticed. At some point I was in a conversation about how clapping clears the energetic space, and that you can build more energy by avoiding situations that let people clap, and that kind of stuck with me, but from that first moment I was hooked on the energy flow between audience and performer and to date that is still what drives me. I like listening to music. I like playing and producing music in a studio. But I absolutely love the blessing of getting to play live for good people.
Jo: I sang in a choir when I was about 14. It didn't really fuel my fire necessarily because the teacher was horrid and the songs were strange, secular, British school anthems, but it got me out of hockey, and at moments made my head blow open and light blast out the top, which I enjoyed.
Tell us more about your plans for the future.
Justin: We are pretty excited about our current collaboration with the Monroe Institute and incorporating Monroe Sound Science into our music. The possibility of being able to create psychoactive music, and to put our audience into trance and bliss states by combining brainwave entrainment signals with our already pretty psychedelic music has lit a fire under us recently. We are just starting down this path, but are hoping that if all things work out we'll be able to take it to bigger and bigger venues around the world in the next couple of years.
Jo: what he said. It feels like we are in a great spot right now, creatively, and in terms of community and collaboration, and the scope of potential feels vast and exciting.
Any worldly advice you'd like to share?
Jo: Follow what feels right in your belly step by step. Do not engage in anything that doesn't sit right with your soul. Get out of toxic relationships – now. Throw away the ciggies. Eat your greens, drink your broth, and keep your teeth clean.
Justin: when in doubt, cuddle a baby bunny. It will cure most ills.
Support Silvermouse on Social Media
Twitter | Facebook | Instagram
Listen to more of Silvermouse