There were no social distancing rules, no face mask requirements and no vaccine passports at the UK's first experimental clubbing event since the beginning of the pandemic – just good old raving your heart out!
The day we have all been waiting for finally arrived during the May Bank Holiday weekend: proof that we can dance together once again without worrying about social distancing or wearing face coverings!
Thousands of revellers were dancing shoulder-to-shoulder, hugging and kissing at 'The First Dance' pilot event in Liverpool that took place in the Bramley Moore Dock warehouse. A total of 6,000 people, split into two groups of 3,000 over the course of two nights, attended the experimental event organised by nightlife promoters Circus. With no mask and no social distancing required for the first time since the UK lockdown began in March 2020, emotions were running high as eager clubbers piled into the venue to dance to the likes of Sven Väth and Fatboy Slim. 
In association with the NHS Events Research Programme, the two-day rave was held to assess whether it is safe for large-scale, non-socially-distanced parties to return – in the hope of helping clubs and venues to reopen safely. As part of the protocol, attendees had to be based in the Liverpool area and registered with a local GP, so any potential Covid-19 outbreaks could be monitored post-event. A negative Covid-19 test had to be shown before entering the venue, and clubbers were required to take another test five days after the event.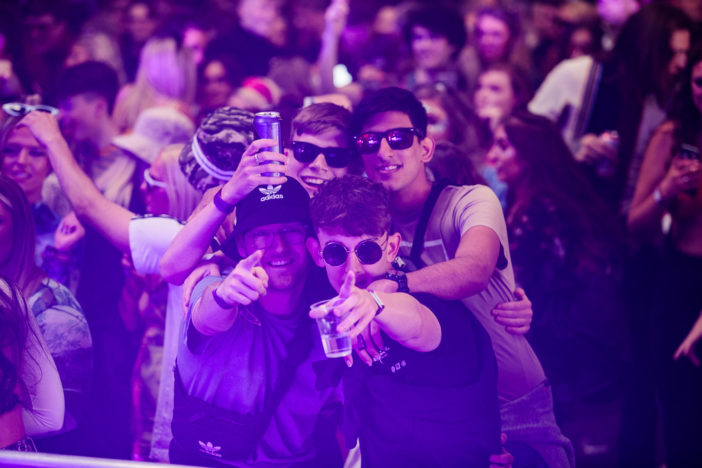 As well as electronic music heavyweights Sven Väth and Fatboy Slim, the line-up featured Circus founder and DJ Yousef, Jayda G, Lewis Boardman, The Blessed Madonna, Hot Since 82, Jaguar, Heidi, Enzo Siragusa, Lauren Lo Sung, and James Organ.
Event producer Sam Newson said, "The pilot was 'vital' after the events industry had been 'decimated' over the last year. For the last 12 months, it has been a disaster. People have moved on, I've got colleagues who have lost houses, it has been incredibly hard and so to try and get this back up and running is incredibly important.
"I stood on stage early on and I had a little bit of a teary eye, I'm not going to lie, it is very emotional. Any event is special, but with the amount of work that has gone into this and to be the first in the country in over 12 months, it is very special." 
Data from The First Dance event will be submitted into the NHS research programme to provide insight into how events can be held on a large scale, and how a range of venues could be permitted to safely reopen as part of the UK government's de-escalation roadmap. As it stands, all restrictions on nightclubs in the UK are set to be lifted by June 21.
A big shoutout to everyone who was involved in taking this first step towards restoring hope and normality within the music and events industry. Who else is missing the excitement of dancing the night away? Let us know in the comments below!