International Music Summit (IMS) recognised and paid tribute last night to an electronic music act that have helped write British dance music history and propelled the global electronic music scene over many decades; Underworld, true pioneers have made an outstanding contribution to the genre.The IMS Legends Dinner this year laid homage to Underworld at Heart Ibiza, featuring an exclusive live performance from the artists alongside iconic figureheads Sven Vath and Pete Tong. 
Sven Vath taking centre stage:
Ibiza has long been a hotbed of great talent and it openly celebrates the worlds most cutting edge artists and alternate lifestyles. As a resident I have experienced an ongoing selection of top international talent within intimate spaces as well and as some of the most amazing clubs in the world alongside thousands of other ravers. Last night was truly one of the pinnacle moments alongside Laurent Garnier, Green Velvet, Richie Hawtin, Sven Vath, Carl Craig, Carl Cox, Luciano and a very long list of impeccable performers.
As a prominent electronic music conference IMS continuously strives to ignite , support and progress the industry in a positive process, whilst also reflecting back on the many people that have collectively helped build the beloved scene into a global behemoth. Previous recipients of this tribute include, Nile Rodgers, Fatboy Slim, Pete Tong, Sven Väth, Carl Cox, Space Ibiza founder Pepe Rosello and Ricardo Urgell founder of super brand Pacha Ibiza and the worldwide Pacha Group.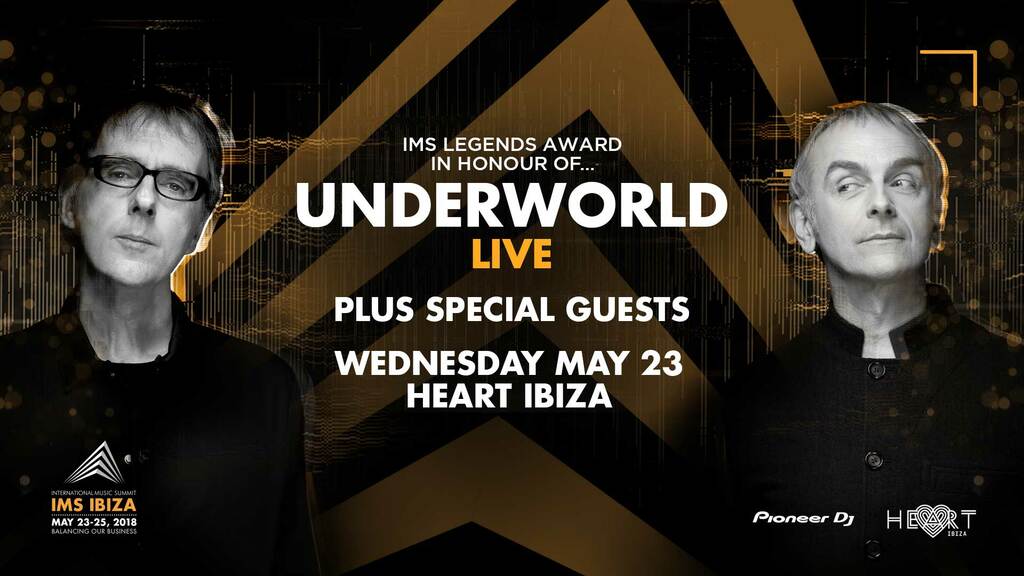 IMS Legends Award recipients Underworld comment:
"It's a huge honour to join our fellow IMS Legends awards recipients and for the recognition from IMS. We look forward to an evening of celebration and to doing what we love, playing live."
Underworld are a true one-off – at home headlining the world's biggest festivals and events, playing underground techno clubs and warehouses, sound-tracking theatre productions or taking over art galleries, disused shoe shops and Japanese department stores their story and impact is phenomenal. Having cemented their place in the early '90s underground techno scene, the group's definitive breakthrough came in 1996 when their timeless anthem 'Born Slippy (Nuxx)' became the soundtrack of a generation after it was featured in the legendary film Trainspotting. The success of the feature single catapulted the band from the underground directly into the heart of the mainstream. The following two decades saw them build solidly upon that success, whilst never compromising on quality and sound; selling millions of albums, performing countless sold-out shows, providing scores to productions by Academy Award-winning directors Anthony Minghella and Danny Boyle, exhibiting in galleries, and sound-tracking the Opening Ceremony to the London 2012 Olympic Games. The critical and commercial success of the band's Grammy-nominated 2016 album 'Barbara Barbara, We Face a Shining Future' saw them headline stages at Coachella, Glastonbury and Summer Sonic, their reach is huge.
Crowd favourites reverberated through the sound system including this gem:
' Fusing together elements of techno, dub, trance, Krautrock, drum 'n' bass, ambient house and even blues, the rave-inspired and acid glazed duo are known for their prolific creativity and appetite for breaking fresh artistic ground at every opportunity
Underworld have gained a well deserved reputation for their live shows and will be brought an intimate version of their exhilarating and dynamic live experience to their exclusive Ibiza performance following the celebratory dinner. Held at leading venue Heart Ibiza, the creative experience of Albert & Ferran Adria and Cirque du Soleil, the IMS Legends Award guests experienced a multi-sensory evening of electronic entertainment, in a setting where art, music and gastronomy normally collide.
IMS Co-Founder Pete Tong says:
"My relationship with Underworld dates back in 1992 when Steve Hall, Andy Weatherall and the Boys Own crew signed  "Mmm Skyscraper I Love You" and released it via their deal with my label FFRR/ London Records. From day one the band radiated a very special aura. The music, the art, the videos and the live performances elevated the genre to a whole new level. When they remade a vocal version of their 95 instrumental track "Born Slippy" for Danny Boyles iconic film "Trainspotting" in 1996 – "Born Slippy (Nuxx)" they refused to release it as a single. I publicly 'berated' them for weeks on my BBC Radio 1 show to change their minds. Eventually they relented and it went onto become their biggest hit reaching No 2 in the UK charts and a worldwide anthem in the process.  25 years later they are still surprising and innovating and delivering top quality art. It's a great honour to be celebrating their groundbreaking career at IMS Ibiza 11 in this unique manner."
Karl Hyde captivated the thriving Ibiza crowd from beginning to end:
IMS Co-Founder Ben Turner says:
"In 1993, Underworld's debut 'Dubnobasswithmyheadman' completely changed the direction of electronic music. I was 19 years old and working inside a hugely influential rock newspaper called Melody Maker – pre-internet! – fighting for this unique fusion of electronic and indie rock music to be championed. I found my voice and wrote the Album of the Month review and campaigned for my bosses to put them on the cover the week of their album release. The album went Top Ten that week, and combined with the emergence of the Chemical Brothers, Leftfield, Orbital, the Prodigy and then Faithless, a new kind of dance act was born and a new audience engaged with the genre. Fast forward 25 years and the band continue to lead the way in our genre – composing music for Hollywood films, Olympic ceremonies but, more importantly, still owning dancefloors with new recordings, headline festival shows but also still making some of the most tender, and heartfelt music the genre has ever heard. I am proud all these years later to honour them at the IMS Legends Dinner with Pete Tong and my partners… This will be a night to remember."
A defining moment in the Ibiza clubbing landscape:
The celebratory banquet honouring a long musical and cultural legacy took place at Heart Ibiza on Wednesday May 23 at 9pm, followed by a live show from Underworld supported by special guests including the above mentioned artists and also Toolroom's own Mark Knight. IMS Ibiza delegates who purchased Delegate Plus or All Access badges received entry to this event, with separate tickets to the IMS Legends Dinner also on sale in advance. This was a full capacity and will be lauded as one of the best events to kickstart the 2018 season. For me this was one of the very special memories that defines what we all love about Ibiza as the world's most important electronic platform!
Follow and find out more here: 
http://www.underworldlive.com/
https://www.internationalmusicsummit.com/ibizalive/