German producer HOSH kicks off his new label fryhide with a free to download continuous mix that is made up of all his own tracks. Called Stories From Sa Talaia, the album will be released on 25th May. Yesterday at the top of one Ibiza's notorious hills HOSH kicked off his Stories from Sa Talaia release at the spectacular venue La Finca.
With a need to know, clued up crowd which was serenaded by the sounds of DJ Buda and then HOSH himself. The Ibiza inspired album was suitably saluted until the sun went down. The evening was presented with a fantastic procession of food from Noma's ex-chef Boris Buono who has also become an island icon himself. The great combination of food and music set the scene for the elusive villa parties that lead the adventurous global crowd come local clubbers in the world's most respected electronic music terrains.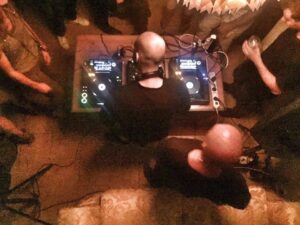 'Stories from Sa Talaia', will be free to download via his new label and set to feature collaborations with Pig & Dan, Mia Lee, Johannes Brecht, Karmon, Tim Engelhardt, SONO, Lehar and ABBY. Get your hands on this great production from HOSH on 25th May. After witnessing the preview first hand, we can assure you it will deliver all year long and further implant his deserved rise in the electronic music scene.