The Melon Bomb Beach Party event is planned to hit Tanit Beach, Ibiza on 18 June 2017; in collaboration with Last Night A DJ Saved My Life. They will be raising money for the foundation's new fundraising project that has seen support from acclaimed British DJ, Eats Everything. The 'Have A Drink On Us' campaign aims to raise £30,000, within a year; to help fund clean water projects in countries that need it the most.
Alongside the Melon Bomb crew – Ben Santiago, Scott Gray, Corbi, and Paul Reynolds – are special guests Luke Solomon and Nightmares On Wax; as well as Jo Mills, Nicc Johnson, and Belle & Bex. The beach party will run from 2:00 pm, all day long.
'Have A Drink On Us' Campaign by Last Night A DJ Saved My Life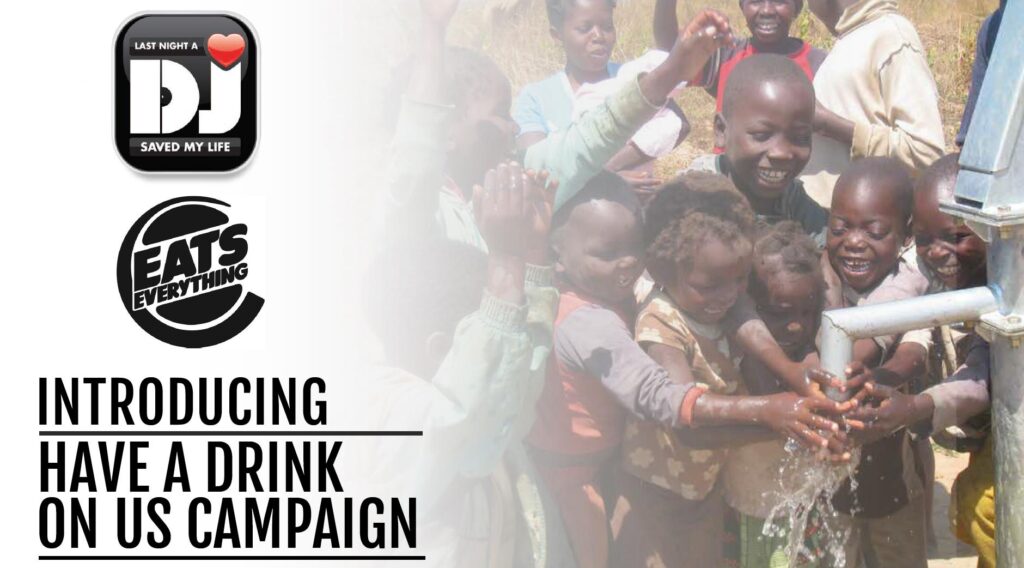 Last Night A DJ Saved My Life launched the 'Have A Drink On Us' campaign on 27 April 2017; Eats Everything completely endorses the campaign. The project will finish on 20 February 2018, with the hope to raise £30,000. This money will go out to construct bore wells in parts of Africa and India.
According to the JustGiving page description: "At present 663 million people in the World do not have access to safe water. This equates to roughly 1 in 9 of the world's population. Women and Children walk miles each day just to provide water for their families which is often collected from dirty and unsafe sources."
As an ambassador of the campaign; Eats Everything took part in the launch video to help support the 'Have A Drink On Us' project.
View The Last Night A DJ Saved My Life & Eats Everything Video Below:
The campaign was first announced at the Brighton Music Conference. The money raised will bring a clean and sustainable source of safe drinking water in disadvantage communities. Every single year, up to 1.5 million children die from water related diseases; clean water to these people has the potential to save many lives. Just one bore well costs £2,400, which will provide 10 years of clean water to 1,000 people.
Of the campaign, Eats Everything said: "Clean water is a basic human right, but sadly millions of people around the world are denied it. Raising £30,000 could literally benefit thousands of people and save lives, so I'm really pleased to team up with Last Night a DJ Saved My Life and launch 'Have a Drink on Us', which we hope will help some of the communities that need it most."
The founder of Last Night A DJ Saved My Life, Jonny Lee added: "We welcome such a motivated and socially responsible artist to join the growing ranks of our supporters, and act as an Ambassador for the 'Have A Drink on Us' water campaign. Eats Everything is a shining example to our dance music industry of how easy it is to make a real difference."
Supporting the campaign is Loopmasters, Nightmares On Wax, Melon Bomb, and Brighton Music Conference. To pledge your support Electric Mode encourages you to donate at the JustGiving page. If you'd rather donate another way, you can text EATS20 £3 to 70070 to donate £3.