House is a feeling and Techno is a lifestyle; here at Electric Mode we'd love to share the Best Beats of 2020 with you across the genres that we hold close to our hearts.
It's safe to say that 2020 was a challenging year for most of us. An unprecedented time that saw live performances cancelled and clubs shut, it hugely impacted on the music industry. But with all this extra time at their hands while staying at home, many of our favourite producers stepped up to the challenge and into their home studios with new energy to express themselves. 
From House to Techno, we take a look at Traxsource's genre-spanning Top Artists of 2020 list to celebrate the hottest releases of this remarkable year…
Top House Artist: Mousse T. 
Sitting at the top with the top-selling track of 2020 is no other than prolific German DJ and producer Mousse T. Known as one of the first producers of House music in his country, he has delivered a string of phenomenal successes including the iconic I'm Horny and is represented across some of the industry's most renowned labels. 
Check out his tasty offering of 2020 releases below and you'll see why he is number #1 on the list:
If I Can't Get Down – Mousse T.'s Funky Shizzle Remix

by Mike Dunn for Defected Records. Laying down his signature melodies and funk-filled beats for this track, it's no surprise it was on heavy rotation. [Most Played Track]*

Testify – Mousse T.'s Funky Shizzle Extended Remix

by Brooklyn artist DAVIE for his Defected debut. A deep, powerful chord and rhythmic claps, bringing a snapping groove to the cut. 

Tell The World – Mousse T. Nineties Shizzle – Extended

by Norman Doray and Sneaky Sound System for CR2 Label. A total House banger, to say the least.

Overboard -Mousse T.'s remix ft. Chaney

by the world's finest trio Better Lost Than Stupid for Skint Records. A true dance floor stomper with a futuristic twist. 

The Weekend – Mousse T. Disco Shizzle Remix

by Michael Gray for Altra Moda Music. A classic, relentless boogie to get you through the week!
With music so saucy, we can't wait for the 2021 spread! Grab all off Mousse T.'s latest tracks over at Traxsource.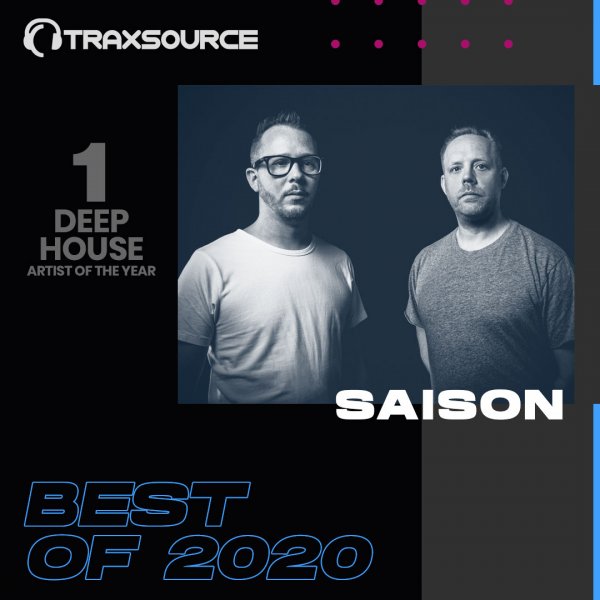 Top Deep House Artist: Saison 
Standing strong for three consecutive years, the dynamic Deep House duo from London has maintained their timeless quality and firm focus on groove. 
Bringing their intricacy and sophistication to the production, check out the magic the No Fuss head honchos worked in 2020 below:
Vibin – Saison Remix

by N-You-Up for No Fuss Label. Injecting their signature clean-cut energy into this standout production. [Most Played Track]

Benirras Nights – Saison's Model 1 Remix

by Roy England ft. Dovetracks for their own No Fuss Records Label. Balearic beats intertwined with soulful jazz and a euphoric groove. 

Soulmagic – Saison Extended Remix

by Danish Duo Soulmagic for Soulfuric label. Dropping a Funk-laden mix nearly two decades after its original release – and securing dancefloor magic for all eternity.

Sounds So Good

–

Saison Remix

by Kevin Yost for i! Records. Keeping it real and deep with a futuristic beat that makes you want to move!

Ride The Storm – Saison remix

by Akabu ft. Linda Clifford. Sublime vocals and Dave Lee's pounding House production for Z Records. A true gem found between the warm chords and intricate drums blended to a masterful effect.
We can't wait to hear what mesmerising grooves they produce this year! Meanwhile, grab Saison's freshest tracks here.
Top Soulful House Artist – DJ Spen
A well-deserved rank for the man with a pure passion for music, Baltimore DJ Sean Spencer otherwise known as DJ Spen! His Quantize label has been flying the Soulful House flag for a decade and finally made it to the top this year, affirming his legendary status even further.
Gracing us with his soulful and infectious foot stompin' spirit, check out the anthems that took him right to the top below:
God's Got It – DJ Spen ft. Troy Morton

by DJ Booman for Quantize Recordings. One word, genius! Spen took it to another energy level mixed with a gospel vocal remix that needs to be played at max volume! [Most Played Track]

Never Fall in Love With A DJ – DJ Spen and Reelsoul Disconovo Full Vocal Mix ft. Carla Prather

by Emmaculate for Nervous Records. Music that's so sweet, it brought the night to a crescendo. A true dancefloor masterpiece.

Till You Get There – DJ Spen and Sean McCabe Unreleased Vocal Mix ft. Tasha LaRae, Jihad Muhammad

for Quantize label. The sweet delivery of Tasha's vocal talent laced with an uplifting groove! 

Stand On The Word – DJ Spen ft. Gary Hudgins remix

by the iconic Elements Of Life x Jasper Street Co for Vega Records. A banging remix with pure soul to say the least. Simply spectacular. 
Thank you Spen for blessing us with these mighty sets, head over to Traxsource for more! We are eager to hear his 2021 releases!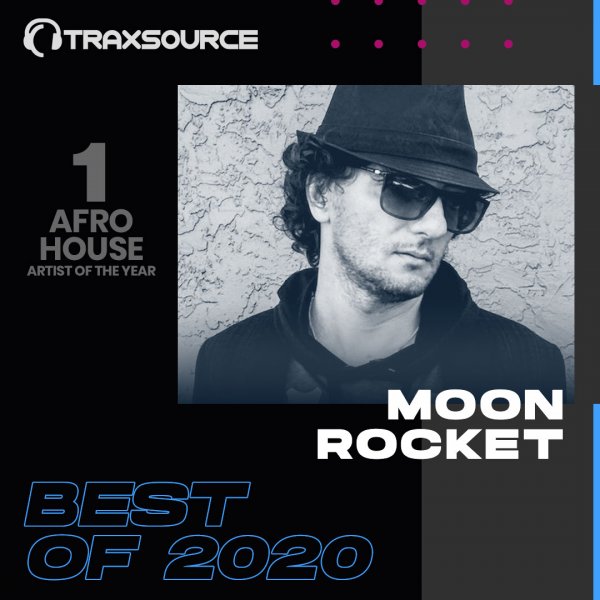 Top Afro House Artist – Moon Rocket
Shooting to number #1 is New York DJ Raffaele Scoccia or, as you might know him, Moon Rocket. Awarded the title of Best Young Composer back in 2005, the cutting-edge talent has been releasing some successful little numbers across a range of sub-genres – one of them being Afro House.
Raising the bar ever higher throughout 2020, continue reading to see the beats that caused a scene below:
Reciprocity – Moon Rocket ft. Paula

for Foliage Records. Dishing out a new Afro House sunset vibe with Paula's infatuated vocal, percussion and Moon Rocket's signature melodic keys. [Most Played Track]

Arproador – Moon Rocket Remix

by Mattei & Omich Label. Expect a deep tribal groove tangled with spellbinding organ keys blended perfectly with that cymbal sizzle that makes you want to MOVE!

Unclutter Your Mind – Main Mix ft. Raffaele Scoccia

for his own label Moon Rocket Music. It's an uplifting, shoulder-shaking, happy vibe filled with spiritual mindfulness.

Vazilando – Moon Rocket Remix

by Oreja for Papa Records. A mix of Caribbean Afro beats so groovy, you just can't stop dancing!

Klop – Moon Rocket ft.TSOS Live Mix

for Moon Rocket Music. Imprints so fly, you can't deny!

The Bull – Moon Rocket Remix

by Kevin Yost for TSOY Label. Breaking the atmosphere with this rocket-fuelled mix. 
With a vibe this high, 2021 is looking mighty fine for Moon Rocket! Listen to his latest tracks here.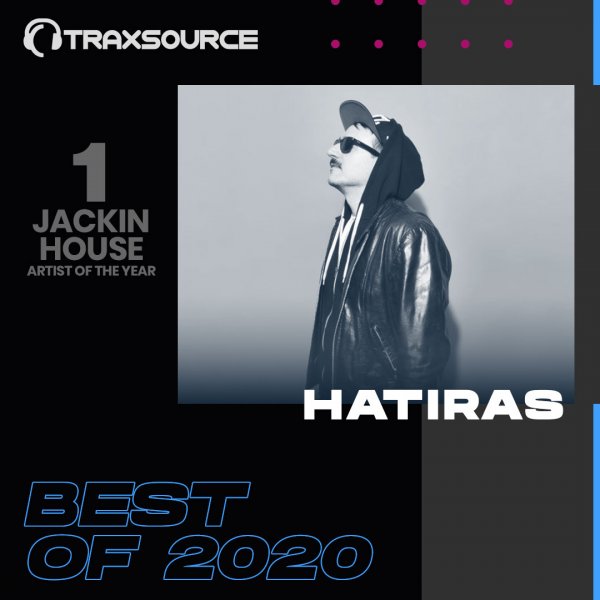 Top Jackin' House Artist – Hatiras
When it comes to Jackin' grooves, legendary Canadian Housemaster George Hatiras always means business. The prolific owner of Spacedisco Records relentlessly continued to produce hundreds of Top-Ten-smashing tunes with not only bigger, but harder tracks than ever before!
 Dominating the setlists of the biggest DJs for two years in a row, check out his fire 2020 releases that made it to the scene below: 
Toronto Nights – Hatiras Original Mix ft. Angelo Ferreri

for Mood Funk Records. An irresistibly funky banger! [Most Played Track]

I Love You – Hatiras

for Juiced Music Label. Quirky beats with a Balearic twist that let the music speak for itself. 

Sex Machine 1 2 3 4 – Hatiras

for his Spacedisco Records. Big, hard-hitting Jackin' grooves ready to wreck the floor!

Pimp of the Year – Hatiras ft. Sammy Deuce

for Spacedisco Records. Another high-quality original track that keeps it deep and disco.

Number One – Hatiras ft. DJ Dan and J Paul Getto

for his label. When three titans of the funky house music world unite in the studio following a big vocal sample, this is what you get! 
Go to Traxsource for more and play it out loud! We have boundless enthusiasm for this year's releases!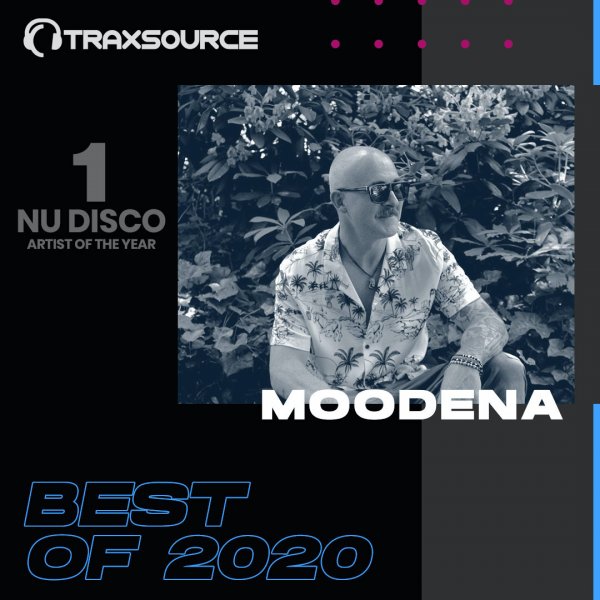 Top Nu-Disco Artist – Moodena
Shimmying into Disco vibes, here is another sub-genre we just can't wait to share with you! 
Crowned #1 Nu-Disco artist for another year is one of the masterminds behind Tropical Disco Records, Tim Burnett a.k.a the renowned Moodena from London. 
A producer that just keeps on giving, he has managed to combine everything from Disco to Deep and Jazz in one soulful fusion! Let's dive into the outstanding tracks from last year below:
Jezebel – Moodena

for Tropical Disco Records. Sending the mood through the roof with these naughty beats, ready to slay any dancefloor. [Most Played Track]

The Rattlesnake & The Ant – Moodena

for Tropical Disco Records. This is one sassy number with loads of jazzy sax hooks and funky guitar licks.

Got That Feeling – Moodena and Sartorial

for Tropical Disco Records

.

A total disco-funk jam, taking us to piano-riffing Jazz heaven. 

No More Sushi – Moodena

for Tropical Disco Records. Bringing a sound full of '80s energy and melodic keys with that nifty Moodena touch. Let's GROOVE!

Deep Fried Funk – Moodena

for Tropical Disco Records. Swinging back to Disco heaven, you just can't help but feel good. This one is essential! 

Papi Chulo – Moodena

for Tropical Disco Records. Sweet nostalgic jubilation provides the perfect antidote for the winter blues.

Big Blow – Moodena remix

by The Sunburst Band and Dave Lee for Z Records. Taking it downtown with sizzling disco-funk fuel.

Dancing Stuff (I Love The Way) – Moodena remix

by Massiande for Midnight Riot. Thumpin' vibes are just what we need to dance the remnants of 2020 away!  
Congratulations Moodena! We can't wait to find out what he has got up his sleeve for 2021! Grab all his latest tracks at Traxsource.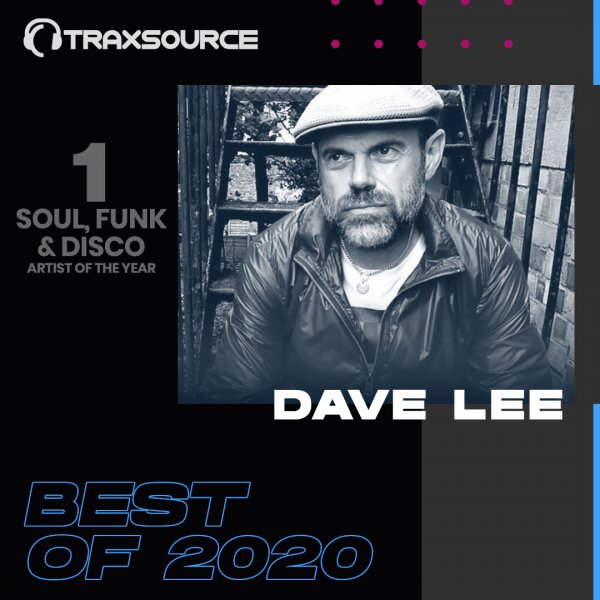 Top Soul / Funk / Disco Artist- Dave Lee
The undefeated Dave Lee is holding the number #1 spot for yet another year with the kind of outstanding productions that have led his Z Records label to fame. 
Dedicating his life to music, his pristine original and remix releases are on a legendary scale! Keep reading to find out which tracks wowed last year:
Everyman – Joey Negro's Salsoul Strut

by Double Exposure for Salsoul Records. Injecting new life into these seminal '70's beats, this is a simply spectacular sizzler. [Most Played Track]

Reflections of a Disco Ball – Dave Lee remix

by Mother's Favourite Child ft.Tanya Tiet for Z Records. This relentless boogie is an oldie but a goodie, not least thanks to Tanya's harmonic vocals. 

Manhattan Skyline – Dave Lee ft. JN Spirit Of '77 Extended Mix

by AC Soul Symphony for ZR Label. A stunner that takes us back to the golden era of Disco and builds to a climactic end. 

Perdoname – Dave Lee's Latin Escapade Instrumental

by The Sunburst Band ft. Sunlightsquare for Z Records. Lee provides a tight slice of funk with a heavenly Latin groove combo featuring salsa-style vocals.

You're Gonna Want Me Back – Dave Lee Disco Blend Unreleased Instrumental

ft. Horse Meat Disco for Z Records. An energetic, high-end production that is pure dancefloor fire. A reinvigorated disco essential!
Here's to another incredible year ahead! Meanwhile, let's revisit his irresistable releases so far here.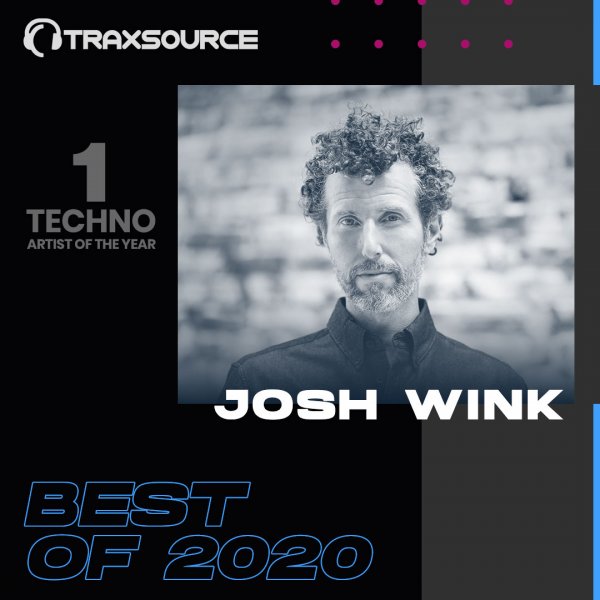 Top Techno Artist – Josh Wink
Landing on the top of the Technosphere is the pioneering DJ that blasted his way through the American rave scene in the early '90s, Josh Wick.
Over the past 25 years, the Ovum Recordings don has been growing tremendously in his House and Techno creations, so let's see the highlights of Wink's 2020 Techno tracks:
Higher State of Consciousness – Josh Wink ft. Tweekin Acid Funk

Mix for Strictly Rhythm. Leading us straight to that euphoric feeling! [Most Played Track]

Destination Mars – Josh Wink ft. Maceo Plex

for Drumcode Records. A slick low-end bass with multi-dimensional synth work and hypnotizing vocals allure. 

Chrysalis – Josh Wink

via Tale of Us imprint Afterlife. A futuristic mix to lift us to a higher state.

Control – Josh's Interpretation

of Harry Romero for Bambossa Label. Spiralling out of all control into a cascade of flickering beats, it's the perfect stomping workout. 
We're certain there's only more magic to come next year! Make sure to follow him here and keep up to date with his latest releases. 
Top Minimal Deep Tech – Toman
A new genre that was added to the list last year by Traxsource, dominating the stage is talented Dutch-born DJ, Toman. 
Championing a minimal yet groovy Deep House and Tech House sound, let's check out his refreshing releases below:
Hindsight Bias – Toman Original mix

out on Tamango Records. Hypnotic, fat beats that will mesmerise and entrance you! [Most Played Track]

No Strings Attached – Toman Original mix

for Drumma Records. Bringing the energy with tasty layers of bass, percussion and rhythmic effects, this is bold, original excellence. 

Surfin – Original remix

for the

5 Years of PIV

compilation. An upbeat strut filled with loose-limbed tech-house-funk. 

Feel For You – Toman

for Moscow Records. Bumpy basslines and downright irresistible grooves!
Be sure to preview his 2021 releases on Traxsouce. We predict a bright future for Toman!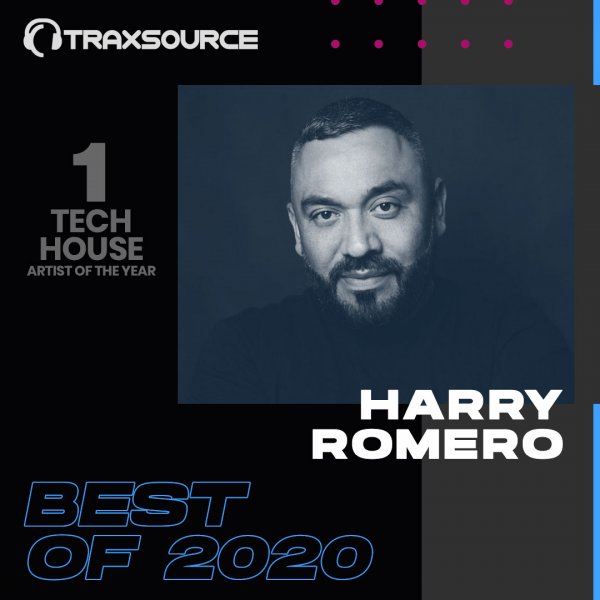 Top Tech House – Harry Romero
Last – but by no means least – Harry Romero finally claims the crown of the Tech House category. Coming through with even bigger basslines and drums, the Bambossa imprint lord has been treating us to some seriously sexy, unapologetic sounds that will be setting dancefloors alight for years to come!
Read on to see the tracks that lead him to the top: 
You Da Shit Girl – Harry Romero Extended Remix ft. Sam x LATASHÁ

for Classic Music Co. The number one favourite of the year thanks to that juicy Hip Hop beat. [Most Played Track]

Control – Harry Romero original mix

for Bambossa. Leading with a quality beat that makes you want to MOVE!

Shake Your Hearts – Harry Romero Remix

by Scavazza for Dirtybird Records. A throbbing bass line with a new Levity synth progression.

Dibiza – Harry Romero remix

by Danny Tenaglia for Stereo Productions. Paying homage to those iconic Balearic beats with intense and euphoric builds! 
Keep it coming Romero! We're looking forward to his output for 2021. Click here for more.
Let us know what genres YOU would like to see more of in the comments section and stay tuned for next year's edition!
* Figures according to SoundCloud and Spotify