Stamping his record label Gun Raven into existence, the 'Stealth Mode' EP marks the start of an era for DJ/producer Swim the Shine. The idea for the EP dates back all the way to 2017, when he made the draft on a plane to Moscow. What was then known as 'Stealth Mode Moscow', has now blossomed into this three track EP with the help of the German techno legend, DJ and producer Timo Maas.
The EP kicks off with the original mix of the song, a subtler, stealthier track, introducing the basis of the factory conveyor belt fx and eerie tubular bell synths. Next we hear Timo Maas' Dub Remix, the track pulls us through a powerful bass drop and magnetic four-to-the-floor rhythm that you can't help but replay. As we move through the project, we delve into a new and darker world of techno, as if increasing difficulty in a video game. The last Timo Maas remix blends together glitch, dubstep, techno and house sounds to the most distorted yet ultimately danceable level. There's a real sense of progression on the EP, and a perfect launch into Swim The Shine's new venture. If you're looking for the freshest sounds in techno right now, you won't want to miss out on this project.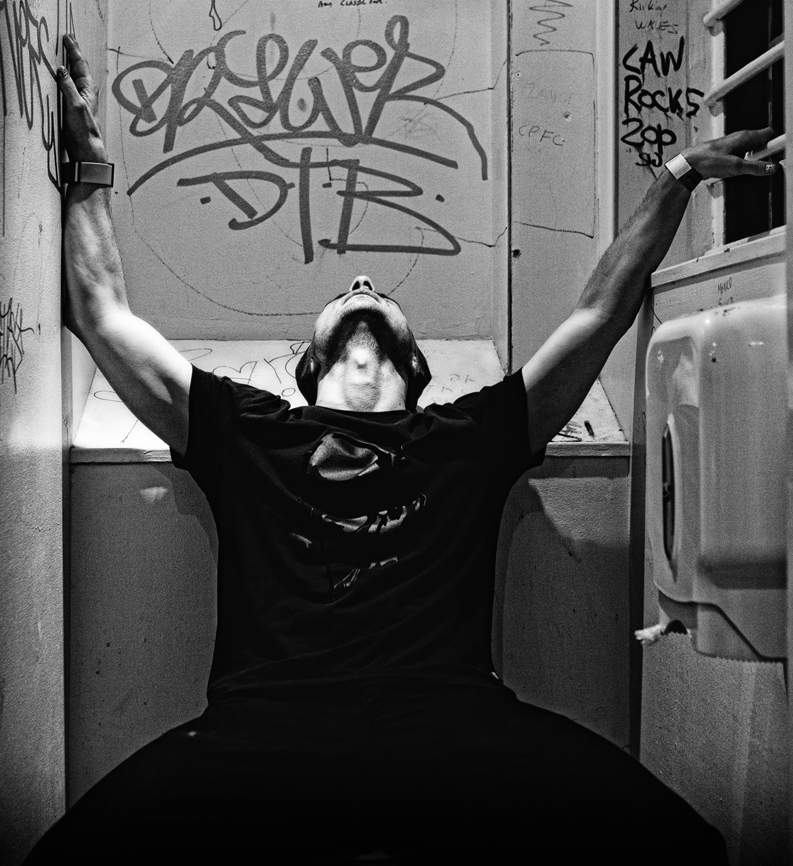 Budapest born Swim the Shine has spent many years building and establishing himself as musician and all-round music entrepreneur. He spent his adolescence playing the drums, piano, and guitar and performing in countless bands, showing off his already wide skill set in music. His talent in drumming even led him to performing at the opening ceremony of the London 2012 Olympics. It wouldn't be long after this success until Swim the Shine would shift to work as a DJ and producer, a path that would eventually lead him to explore the world of VJing and the art of audio-visual performances.
Since making it to the finals of Moscow's Circle of Light Festival with his visual sets, Swim the Shine is set on pathing his own way in the audio-visual realm. Gun Raven is what's next for Swim the Shine, a budding new platform and label dedicated to audio-visual arts and performance with the philosophy of '21st Century Rock n Roll' – embracing the transition from the analogue age to the digital future! He hopes to grow the label by raising awareness and meeting new artists. There's much more in the pipeline for Swim the Shine, and if it's anything like 'Stealth Mode', it's sure to raise attention.
Interview Mode : Talking Music & Influences 
Quick intro… who are you?
Swim the Shine from Zurich, Switzerland. My label is called Gun Raven.
Interesting, tell us more…
Scientist by (week)day, audio-visual artist otherwise. My pursuit of an artistic endeavours was delayed, though not extinguished, by studies in physics and medical sciences. I would not trade my research career, but I need to balance it out with more unconstrained creativity. I was born in Budapest, Hungary and had the chance to live, study and travel all over the place. Currently, I live in Zurich Switzerland where I immerse myself in the bubbling underground community – organizing small events with friends, founding a record label (Gun Raven) and DJ or VJing whenever I can.
Were you connected with music from a young age, or anyone in particular
inspired you? 
I don't know if any one person inspired my foray into music – but as it happens, as soon as I could make my own decisions, I started taking drum and piano lessons and simultaneously picked up the guitar. I'm not a virtuoso by any means on either of these instruments, but the music theory and wide variety of compositions that I was exposed to is my foundation for producing electronic music now.
What first kickstarted your musical career?
Genetic code! I guess. Though my career wasn't as much kickstarted as molded over an extended period. Music is a constant fixture in my life, and it has always been. I might mix for half an hour before going to work in the morning or write some code while on a holiday to create visuals for my next gig. I guess I subscribe to the l'art pour l'art ideology. I just love it, I do not need a reason or an aim.
Tell us a more about your sound and how it has evolved.
Perhaps because I come from a background of playing instruments, I enjoy listening to and making melodic electronica with a bit of breakbeat to it. At first, I had a dream of becoming a rockstar and founded or joined countless bands. But as my studies intensified and then got busy with my research career, I had to put bands on the backburner. That's when I started DJing, which then was a natural segway into producing electronic music.
Any words you want to share to encourage other artists and producers?
My advice for everyone, musician or otherwise, is to watch Spinal Tap (the movie) and let it sink in that very few of us are in any position to give advice to others. 🙂 We have to forge our own way, I guess. The opinions of others seldom apply to our unique path.
Networking, consistency, character, approach… what and how do you initiate
your industry relationships?
Party! In my experience, better things happen at an afterparty while sitting on the couch of somebody you didn't even know 24h ago than in a planned meeting.
Is there anyone specific you'd like to thank that has helped you evolve and
why?
As corny as it may sound, I would always want to thank my mom, who, like a lioness, protected me from anyone who dared to question my unconventional life path.
Name 3 albums or labels that have inspired you the most.
Did you say 300 albums? How could I reduce all the genius the humans have created to only 3? But okay, I'll play.
1 – Loud by Timo Maas
2 – Hair (the musical), I mean, have you heard the bass in the opening track Aquarius?
3 – Hmmmm, TBC
 What's your favourite piece of studio equipment or software?
I guess my 50th  anniversary remake of a 1952 Gretsch electric guitar. Although I produce electronic music, a lot of my top line melodies I still write on guitar.
Name your favourite club or festival in the world, and how does it makes you
feel?
My birthplace, Budapest, hosts Sziget Festival. I was born, and my mom still lives, walking distance away from the site of this festival. Although by now it's a massive 1-week event with a dozen stages, some of these stages serve only electronic music. I've seen many of the greats here.
Name an outlandish rider request?
Haha… let's have another interview sooner than when I have a rider.
Favourite clubbing memory, who or what did it involve?
With a few friends we organize underground parties here in Zurich. These parties are small, but when we manage to assemble the right ingredients of location, people, and performers the feeling is overwhelming and unforgettable. For example, every 3 years there is a 3-day event here, called ZüriFäscht, which is a celebration of the city. In 2019 I befriended the manager of Rathaus Café, which is a great downtown location with a big terrace on the bank of the River Limmat. With his help we held a 3-day rave with about 30 local and international DJs on the line-up. At the time, I couldn't see how life could get any better.
What quote represents you best?
If our small minds, for some convenience, divide … this universe into parts – physics, biology, geology, astronomy, psychology and so on – remember that Nature does not know it." by Richard Feynmann, Nobel Prize winning physicist.
Although it's a science quote, it always reminds me of two things:
1) to keep the whole picture in focus rather than get lost in the details
2) while my own world view is only one version of the truth
If you could play any venue, where would it be and why?
Truthfully, I do not aspire to play big, faraway venues. I'd rather have my music and my visuals played by other DJs in clubs and festivals around the world. It's also the more environmentally conscious choice. 🙂
Music is….. (explain more)
Music is balance. I may listen to heavy metal (e.g. Metallica) when I need to let off some steam; electronica (e.g. Jean Michel Jarre) when I realize I forgot to be open to the world around me; or techno (e.g. Gui Boratto) when it's time to forget about the mundane day to day stress…. Whatever the mood that would knock me out of my groove, music serves the occasion to find myself again.
One song you really couldn't live without?
Apologies, but I struggle with making such selections…. Too many to mention. But I discovered Sam Shure only recently. There is some sensitivity in his music that I really appreciate and resonate with. Currently his track, Attenuator, is on repeat but I bought many of his tracks.
Name drop your favourite tunes, artists or DJs (past or present)
My transition from writing rock music into producing electronica was hugely influenced by Timo Maas' albums 'Loud' and 'Pictures'. I am over the moon that he agreed to make two remixes of my track, Stealth Mode, which appear on the first release on my label, Gun Raven.
What was your first music opportunity and how did it fuel your fire?
My first live performances came at open mic events, where I showed up with my acoustic guitar and played covers and originals. I'm blessed with an overabundance of positivity, so the fact that I wasn't booed off the stage was enough to count these occasions as success and keep learning/writing more songs and going out to the next open mic event.
Tell us more about your plans for the future.
I have two targets in my cross hairs. One is Gun Raven. Starting a label made me appreciate the responsibility I have toward other artists who entrust me with brining their work to the world. I want to grow this label into a platform that springboards both producers of electronic music and visual artists that produce content for the raving culture. The rest of my time I spend improving my own DJing and VJing skills with my other target being an audio-visual performance.
Any worldly advice you'd like to share?
Watch Spinal Tap twice!
SWIM THE SHINE – STEALTH MODE | OUT NOW
Buy https://www.beatport.com/release/stealth-mode/3922605
Stream https://ditto.fm/stealth-mode-swim-the-shine