Vibrant Tropical House single 'Summer Swing' marks the latest collaboration between Spain based DJ/Producer St. Desmen and Filipino artist Nino Obenza. St. Desmen recalls receiving Obenza's poem and springing to craft this cheerful dance track, consisting of acoustic guitar finger-picking, cheerful marimbas and classic four-to-the-floor kicks. This short and sweet earworm has even been nominated to represent Sweden at the 2023 Eurovision Song Contest. If you're ready to delve into a summer of fun, 'Summer Swing' is the perfect track for your playlists.
After years of what he calls "working and helping others", Argentinian born St. Desmen is finally ready to shine a light on his skills as an emerging DJ/producer. He has dedicated his life to music, co-producing and performing as a drummer for Spanish artist Billy Mandanga. This time around, he has his own sound to share and taps into a range of genres including Dub, Deep House, Minimal, Techno, as well as Melodic EDM. "My goal is naturally to be one of the greats in the music industry, but we all have to start somewhere". Boasting a relentless drive and shining enthusiasm, St. Desmen is here to stay – catch him on the journey to success now.
The latest release from Saint Desmen is Summer Swing.
Getting To Know Saint Desmen
Introduce yourself to the Electric Mode audience
My name is Kevin Mendes. Since I was 7 years old I became interested in music, especially percussion. The drums were my first instrument with which I started this beautiful path. Time passed and with it I learned to play different instruments like the guitar, the piano, and above all to feel the melody and the rhythm. I went through various groups and projects, which allowed me to create my own project under the stage name (Saint Desmen), focused on electronic music.
Explain what musical genre fits you best
I don't have a specific genre. Yes, club music always caught my attention and it's what I'm trying to grow with in this project, but at the same time I really like rock, ballads, jazz, I love Brazilian music. I like to create what I feel and express how I feel at that moment, especially in melodic music or compositions with the guitar; then with club music I try to get into the heads of the people who will be on the dance floor and what they would like to hear or feel at that moment. Ultimately, my genre is music.
Were you connected with music from a young age and did anyone inspire you?
I have been connected to music since I was born, my biggest influence were my parents. They were always surrounded by musicians, my father is a guitarist, composer and singer.
What kickstarted your music career?
Percussion.
Tell us more about your sound and how it's evolved over time
My sound right now is like none at all. I try to create and play all branches within electronic music. Yes, the melodic progressive is what I feel most identified with when composing, even though most of my productions tend to be more towards tech house, or tropical house with its dark nuances…
Any words you want to share to encourage other artists or producers?
Perseverance, patience and faith.
How do you nurture your industry relationships?
Listening to new productions from friends and producers that I admire, being humble and always wanting to learn, especially sharing.
Is there anyone you'd like to thank that's been crucial to your journey?
Well, to all the people who support me in this project, to my partner for betting fully on me and helping me grow as an artist. To my parents of course and family in general.
Name a song you love and what it means to you
I have many songs that I really love, but there is one in particular that accompanied me at a difficult moment in my life.  
What's your favourite piece of studio equipment or software?
Ableton live.
Name your favourite club or festival and how it makes you feel
Pacha Ibiza and Caliope Nuits from Argentina, for the lighting, sound, staging and audience.
Name an outlandish rider request?
I do not understand the question.
Favourite clubbing memory and who or what did it involve?
My time at Usuahia Ibiza. Oxa Tailandia. Pacha Ibiza. Caliope Nuits.
What famous quote represents you best?

"Not before, not after, everything comes when it has to come".
If you could play at any venue, where would it be and why?
Tomorrowland, just because it's fantastic
Music is..
A FEELING.
One song you really couldn't live without and why?
More than a song, without music I could not live.. why?? because it is my life.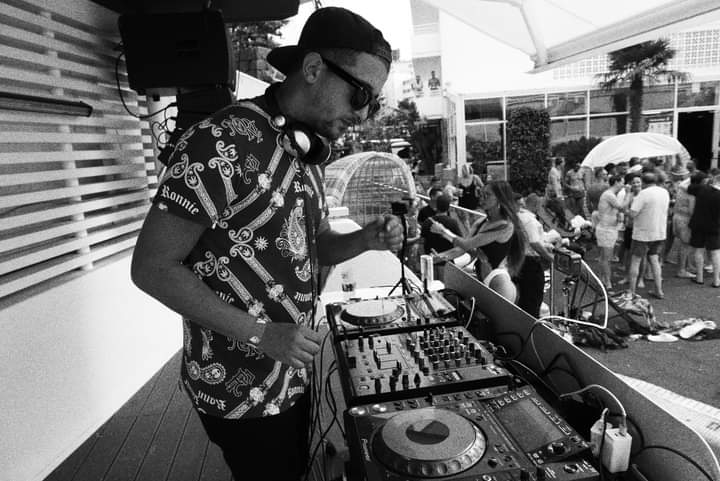 Namedrop your favourite 5 artists or DJs (past or present)
Solomun
David Guetta
Avicci
Michael Jackson
Freddie Mercury
What was your first music memory and how did it fuel your fire?
My first memory and what kindled my fire was when I first saw my father sing live when I was barely 5 years old. That generated my desire to be on stage one day. Nowadays I can say that I went through so many that I don't remember the number.
Tell us more about your plans for the future
Continue to grow as a person and as an artist.
Any worldly advice you'd like to share?
Travel and get to know new cultures.
Saint Desmen is Summer Swing.
Support

St Desmen

on Social Media
Instagram | Twitter | Facebook
Listen to more of St Desmen