Put your hand up if you love sitting back in your comfy armchair with a beer!
Once in comfy position you may look for the latest episode of your current favourite gritty, dark, drama. If you've watched Narcos, Breaking Bad or The Wire you'll  know where I'm coming from, yeah?
Brilliant acting, amazing story line, twist & turns, but all with an element of realism that captures your imagination.
But what if I told you the most bizarre story is yet to be televised. Netflix are you ready?
Whether you are knee deep or not into the disco funk sound of the late 70s and early 80's, one thing is for certain you will recognise the work of Change, and in particular the men behind the group Petrus & Malavasi. Change delivered such as Lovers Holiday, Searching, The Glow of Love, Miracles, Paradise, Heaven Of My Life, You Are Melody, Change of Heart. In the mid 70's, the meeting of  Jacques "Fred" Petrus and Mauro Malavasi was to become one of the most productive musical collaborations from that era.
Guadeloupe born Petrus moved to Milan to DJ in 1974 and was playing the latest soul and funk tracks of era from labels such Salsoul, GoldMine and TK. Soon he started to develop connections with people in both his local record store and in New York. His entrepreneurial skills began to appear and started to import the latest disco records to Milan himself. But that wasn't enough for him and in 1978, himself and Malavasi created Goody Music Productions and the journey began.
So that's the scene set. Seems all very upbeat and optimistic so far, yeah? OK pause the soundtrack, were going dark and moody from here on in.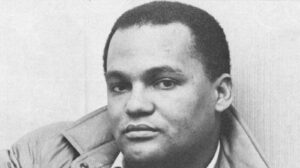 Petrus had another side to him, a darker side and some of the contacts he had made to this point were of suspect credentials. He had a fiery temper and had little respect for the musicians used to create such wonderful music. He was abrasive, abrupt, and awkward and maybe this was the reason that band members changed so often (even during the height of Change success). There are many stories of him being taken to court and/or physically threatened due to not paying the musicians involved.
Not only did he struggle with his business associates, controlling cash was a problem too and his connection with the underworld became quite well recognised, loaning money from them on a regular basis. In early 1979 he chose to open an office in New York and set up a production company there, seemingly without explanation. However there was logic in this move. Most of the music they created was already being mixed and mastered in NYC. He also had worldwide distribution deals with many of the major record companies based in the Big Apple, not to mention some of the world's finest musicians and singers.
In a finger snap, Petrus dropped all the Milan based musicians he had (quite literally) used to this point.
Step forward Jocelyn Brown (then known as Jocelyn Shaw) and Luther Vandross and host of seasoned session musicians.  The Glow of Love was conceived in Milan during the autumn of '79 and then Petrus and Malavasi flew to New York for the vocals and new instrumentalists to be added and give it that extra polish just before Christmas of that year.
And wow did it work!
As a 6 track album, to have half the cuts released and become multimillion selling hit singles….well, you just know it had to be pretty good. Italiano Disco had arrived. And it had really arrived in NYC! But who was funding the studio bills, the mastering costs and artists? At this moment we have to consider that Petrus (possibly unknown to Malavasi) had borrowed an awful lot of money to make his dream a reality. Not to mention annoying and upsetting an awful lot of people along the way. The record company was pushing for a live tour to promote the album, however Vandross and Brown it seemed, wanted no part of Change dispite of the brands huge success…and then there are the rumours of Mafia money laundering. Obviously this is difficult to prove and I probably wouldn't wish to. However , there are documented connections between Petrus and the Mafia stretching back to his time in Milan…there is no smoke without fire and at the time,  Change was hot, disco ruled the world, the use of cocaine was astonishing, corruption in NYC was rife and a lot of money was being made by a lot of unscrupulous people.
Unmistakably Malavasi and Petrus had made their mark though. They created more session bands in BB&Q Band and Hi Fashion and went onto remix and produce for others and 1981 delivered their 2nd Change album with James 'Crabs' Robinson on lead vocals (although the album credits include Vandross on backing vocals strangely). It was a strong album and Petrus put together a touring band to promote the album.  Paradise didn't have the outstanding commercial success of the debut Change album however they had created a special, unique sound and their imprint was to appear  on so many hits of the time.
But all good things come to an end!
By the time the 1983 Change of Heart album was released,  Malavasi and Petrus had gone their separate ways. Petrus enrolled the services of Jimmy Jam & Terry Lewis to produce this album in very short time and his instincts on creating a team struck gold once again.
There is so much more to this story that for a variety of reasons I have not included. But I'm certain if you've read this far, you can fill in the gaps. However, if you recognise from reading this piece that Petrus wasn't a particularly nice guy, you'd be right. If like in most of your favourite gritty, dark, TV drama's the bad guy gets a visit in the middle of the night, then this story is no different.
Having moved back to Guadeloupe, Petrus was murdered in the Spring of 1987 under mysterious circumstances. He was only 39 years old. The official version from the French police reported that Petrus had been shot at home by a Swiss man who had clashed with him earlier that night.
A story good enough to watch?