Following the news that one of the world's largest electronic music conferences and festivals, ADE [Amsterdam Dance Event], is going ahead this year, promoters DGTL have announced their (epic) lineup for the hotly anticipated gathering.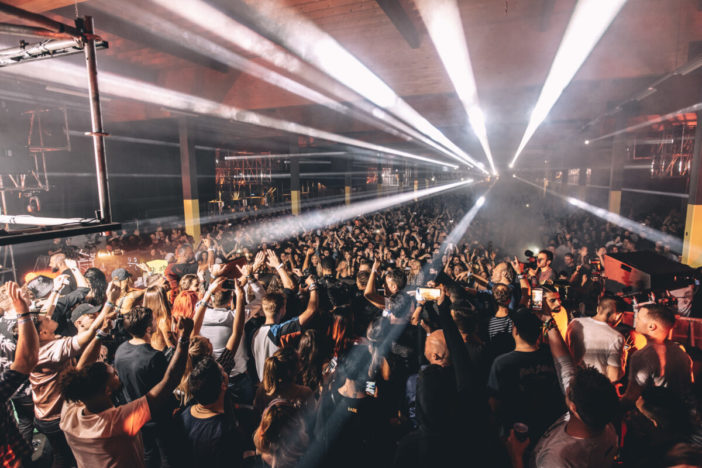 With ADE taking over the Dutch capital from October 13th to 17th 2021, DGTL has thrilled music lovers by announcing headline sets from the likes of Disclosure, The Blessed Madonna, Kölsch, Sven Väth, Dixon, Paula Temple, Honey Dijon, Jon Hopkins, Dax J, and many more. Who's ready?!
One of several big players who will be contributing to ADE's whirlwind of DJ sets and parties, DGTL will host four events over the course of three days on October 14th, 15th and 16th. For the first time in their ADE history, they have also added a daytime event to the DGTL roster. 
DGTL said, "More than a year without dancing called for a special celebration, so we went all-in with this year's program."
It's befitting the general excitement that surrounds this year's ADE, as the renowned industry event returns to the NDSM Docklands for its 25th anniversary after going online in 2020. 
Around 20,000 fans are expected to gather, party and witness the sun rise together as they celebrate their long-awaited return to the dancefloor in the heart of Amsterdam! 
Check out the full DGTL lineup here!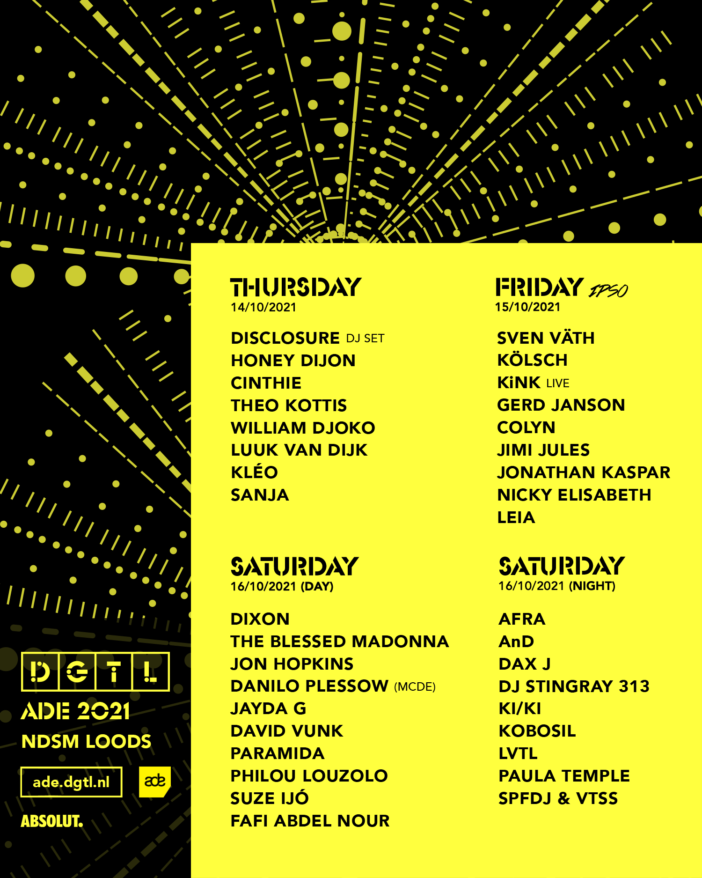 What to expect?
Thursday, October 14th | 23:00 – 07:00
UK duo Disclosure, who headline the bill alongside the legendary Honey Dijon, will play a special DJ set, looking to build on their iconic performance from DGTL AMS 2019. Cinthie, Theo Kottis, William Djoko, Luuk van Dijk, Kléo, and Sanja are among the names set to kick things off; squaring up to bring a significant dose of House and Techno to both stages.
Friday, October 15th | 23:00 – 07:00
Friday will be a night to remember as Kölsch joins forces with Sven Väth for his IPSO label showcase event. The event promises to be a true highlight of the ADE experience for any fan wanting their musical mind blown, with KiNK Live, Gerd Janson, Colyn, Jimi Jules, Jonathan Kaspar, Nicky Elisabeth, and LEIA all billed to perform.
Saturday, October 16th | 12:00 – 22:00
For the first time in history, DGTL will host an ADE daytime event. A festival atmosphere will be created with performances by Dixon, The Blessed Madonna, Jon Hopkins, Danilo Plessow (MCDE), Jayda G, David Vunk, Paramida, Philou Louzolo, Suze Ijó, and Fafi Abel Nour.
Saturday, October 16th | 23:00 – 07:00
The evening continues with an opportunity for attendees to indulge their love of dark and dirty Techno when the hardest of all four lineups finishes DGTL's ADE offering in spectacular fashion. The hard and deep Techno sounds of Afra, AnD, Dax J, DJ Stingray 313, KI/KI, Kobosil, LVTL, Paula Temple, and SPFDJ & VTSS are set to provide one of the most in-depth Techno experiences ever offered!
Get your tickets here.
Check out the official announcement below!
More Info: