Today Grammy Award winning producer Louie Vega releases his album 'Expansions In The NYC' via Nervous Records.
Ahead of today's release, Electric Mode was invited to a sneak peak of the album at Sweeties – The Standard, London. With a sweeping view of London's landmarks, we were given the first taste of Louie Vega's album. Wow, were we impressed. 
Vega draws in one of the most comprehensive lists of collaborators in recent memory. House heavyweights Honey Dijon, Joe Claussell, Moodymann, Kerri Chandler and Anané rub up against legendary vocalists Bernard Fowler, Cindy Mizelle, Lisa Fischer, Audrey Wheeler and Tony Momrelle. Gospel royalty BeBe Winans and Debbie Winans, pop icon Roby and rising star Karen Harding sit alongside disco-era champions Unlimited Touch, Cuban jazz pianist Axel Tosca, Nico Vega, Two Soul Fusion with Josh Milan and Vega and underground legend DJ Spinna. At the centre of it all, fingerprint on every beat, touch on every groove, sits a master at work, weaving the individual threads into a rich dance music tapestry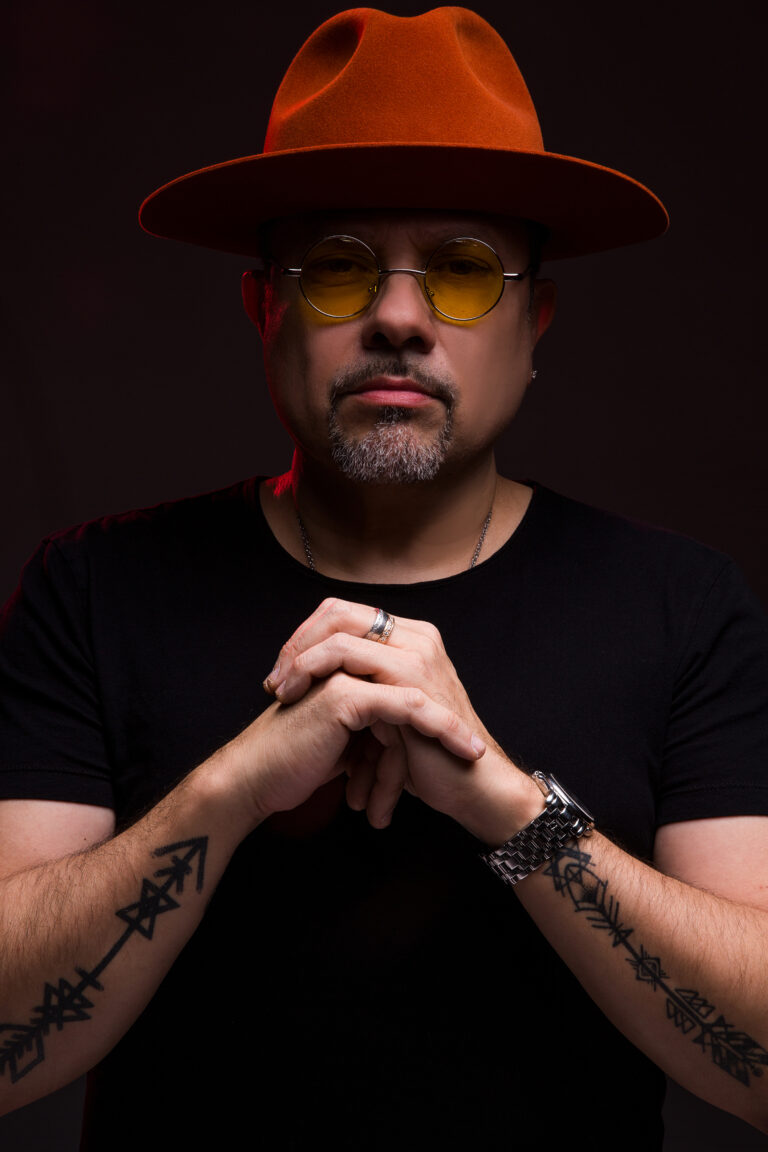 "In the past few years I've found new inspiration both from the musicians I'm working with and the audiences coming to see me at my DJ shows," Vega says." So for me this album represents new beginnings, bringing together a beautiful mosaic of artistic perspectives to express musically what we call Expansions In The NYC."
At its heart, Expansions In The NYC is a love letter to New York, as much as melting pot as the city it represents, the scope of its line-up possible only because of the influence and reference Vega the artist, the DJ, the producer, the curator. In creating this album, Louie Vega has once again utterly enriched the lives and libraries of music lovers the world over, far beyond the hustling streets of NYC that have so indelibly left their mark on his work. 
Electric Mode caught up with Louie Vega to learn more about 'Expansions In The NYC'
Introduce yourself in one paragraph
My Name is Louie Vega, I am a husband, father, DJ, producer, songwriter and Grammy Winner. I was born in the Bronx, and graduated from Monsignor Scanlan High School. I dedicated myself to music at a very young age and its been with me all my life. Music is my passion. Whether it's DJing, producing, or performing it live with my band Elements Of life its an emotional trip for me, I take it all seriously and at the same time have fun with it. I'm open minded to new sounds and embrace the youth.
Name 5 labels that have inspired you most?
Five Labels that inspired me the most : Philly International Records, Salsoul Records, Prelude Records, West End Records, Island Records.
Favourite club or festival and why?
Favorite Festival is Coachella. One of the early ones who really took attention to detail and gave you quality artists and djs.
Tell us more about your latest project…
My latest project is the new album "Expansions In The NYC", its' a huge ensemble of artists, djs, musicians, who are also friends who I've wanted work with for years. The album was inspired by a club night I had in 2019 for that year where I curated the night and played 6 hour sets, but at 3am I'd invite keyboard player Axel Tosca, guitarist Toni C. Percussionists Ritmo Y Tumbao and Sting Ray, Poet Sugah Lyrics, and we would jam out till closing. We would have musical journeys with a spiritual vibe and uplifting tones.
After recording all the sets I would listen at home and then got inspired to create some grooves in the studio. The poet Sugah Lyrics for one wrote the lyrics on "A Place Where We Can All Be Free", and there's one perfect example of an inspiration from the 3am jam session.
What really connected you to the label?
What connects me to Nervous Records is Mike Weiss. He is a friend of many years and a musical genius, he knows a good song or track and can foretell its future practically. His ear comes from his dad Sam Weiss who owned Sam Records. When I created about 50% of the album I reached out to him and said this album would be best on Nervous Records, so we partnered up on it. He believes in this project as much as I do!
Collaborations or flying solo – elaborate on this?
I love to collaborate, that has been my mantra for years. Kenny and I have been together with Masters At Work since 1991, so we sometimes venture to do our solo projects since we always had our solo careers. We know when to come back and when it's time to get on Masters At Work and Nuyorican Soul and we support each other with each one's solo project. We get the best of both worlds and most of all there is Trust between us.
What quote represents you best?
"The bridge between the Latin and African American Community at home in NYC, when it comes to House Music." This is a Tony Humphries quote.
One song you couldn't live without?
One song I couldn't live without is "Love Is The Message".
Name drop your top tunes, artists or DJs (past or present)
"The Star Of A Story" Featuring Lisa Fischer
"Deep Inside" Featuring Barbara Tucker
"All My Love" Featuring Robyn
"You Can Do It Baby" Nuyorican Soul Featuring George Benson
"Music Is My Life" Featuring Unlimited Touch
"It's Alright, I Feel It" Nuyorican Soul Featuring Jocelyn Brown "Shoutin' Out" Lood
"You Came Into My Life" Elements Of Life Featuring Anané "The Boss" The Braxtons
"Joy Universal' Featuring Two Soul Fusion
"What Would You Do" (Two Soul Fusion Remix) – Dames Brown "Time To Let Go Louie Vega Remix" – Mike Lindup
"Feel So Right" Featuring Honey Dijon
"Moonshine" (Masters At Work Remix) – Kenlou
"Canned Heat" (Maw Remix) – Jamiroquai
"How He Works" Featuring Nico Vega
Larry Levan
Frankie Knuckles
David Mancuso
Stevie Wonder
Quincy Jones
Kruanghbin
Walter Gibbons
Sault
Anane
Joe Claussell
Timmy Regisford
Kenny Dope
The Martinez Brothers
Black Coffee
Moodymann
Kerri Chandler
What was your first release?
My first release was a remix I did for the band Information Society entitled "Running" on Tommy Boy Records.

What's your next release?
Next release is my album on April 29, 2022 entitled "Expansions In the NYC" on Nervous Records.
Any worldly advice to share?
Worldly advice, learn to love yourself, love your family and others. Pray for this war to end. Pray for understanding.
Name an outlandish rider request?
Outlandish rider request I heard once someone wanted 20 buckets of fried chicken no matter where in the world it was.
Favourite clubbing memory?
Going to clubs in New York City in the early 80s as a teenager. It was like going to 20 Ministry of Sounds. The sound in New York City was unreal and you heard the best djs and music every weekend and even during the week.
Open plug …. Three things our audience should know
Ibiza is open for summer. Check out my album listening parties in a city near you at hi fi listening bars, these are exclusive. Look out for The Ritual With Anané & Louie Vega coming to a city near you.
Where can people find you?
Twitch | Facebook | Instagram | Website | Twitter
CONNECT W/ ELECTRIC MODE
INSTAGRAM | FACEBOOK
LOUIE VEGA 'EXPANSIONS IN THE NYC' IS OUT NOW VIA NERVOUS RECORDS
TRACKLISTING:
Igobolo (Feelin' Love) – Featuring Joe Claussell

Joy Universal – Featuring Two Soul Fusion

You Got me Dancing – Featuring Audrey Wheeler & Cindy Mizelle

All My Love – Featuring Robyn

Music Is My Life – Presents Unlimited Touch

Free To Love – Featuring Karen Harding

Seven Mile – Featuring Moodymann

Come Away – Featuring Kerri Chandler

Feel So Right – Featuring Honey Dijon

How He Works – Featuring Nico Vega

Atmosphere Strut – Featuring DJ Spinna

Cosmic Witch – Featuring Anané

Chimi

Love Has No Time Or Place

The Star Of A Story – Featuring Lisa Fischer

Change Your Mind – Featuring Bernard Fowler

It's All Good – Featuring Bebe Winans, Debbie Winans, Korean Soul

Dreaming – Featuring Cindy Mizelle

Deep Burnt – Featuring Axel Tosca

Another Day In My Life

I Hear Music In The Street – Presents Unlimited Touch

Touch The Sky – Featuring Tony Momrelle