Time to refuel the Electric Mode community with another prolific artist insight. With an aim to support and feature past, present and future talent our quick fire questions have become synonymous with engaging pieces and getting to know a little more about the people that drive the scene.
Artist name and location?
Pru Fiddy, Norfolk
Introduce yourself in one paragraph
Hi, I'm Pru Fiddy, house music producer, artist and DJ hailing originally from Cambridge. Basically old school raver who loves it all and just wants to make and play tunes for the dancefloor and beyond…maybe just doing the all-nighters in less doses that's all 🙂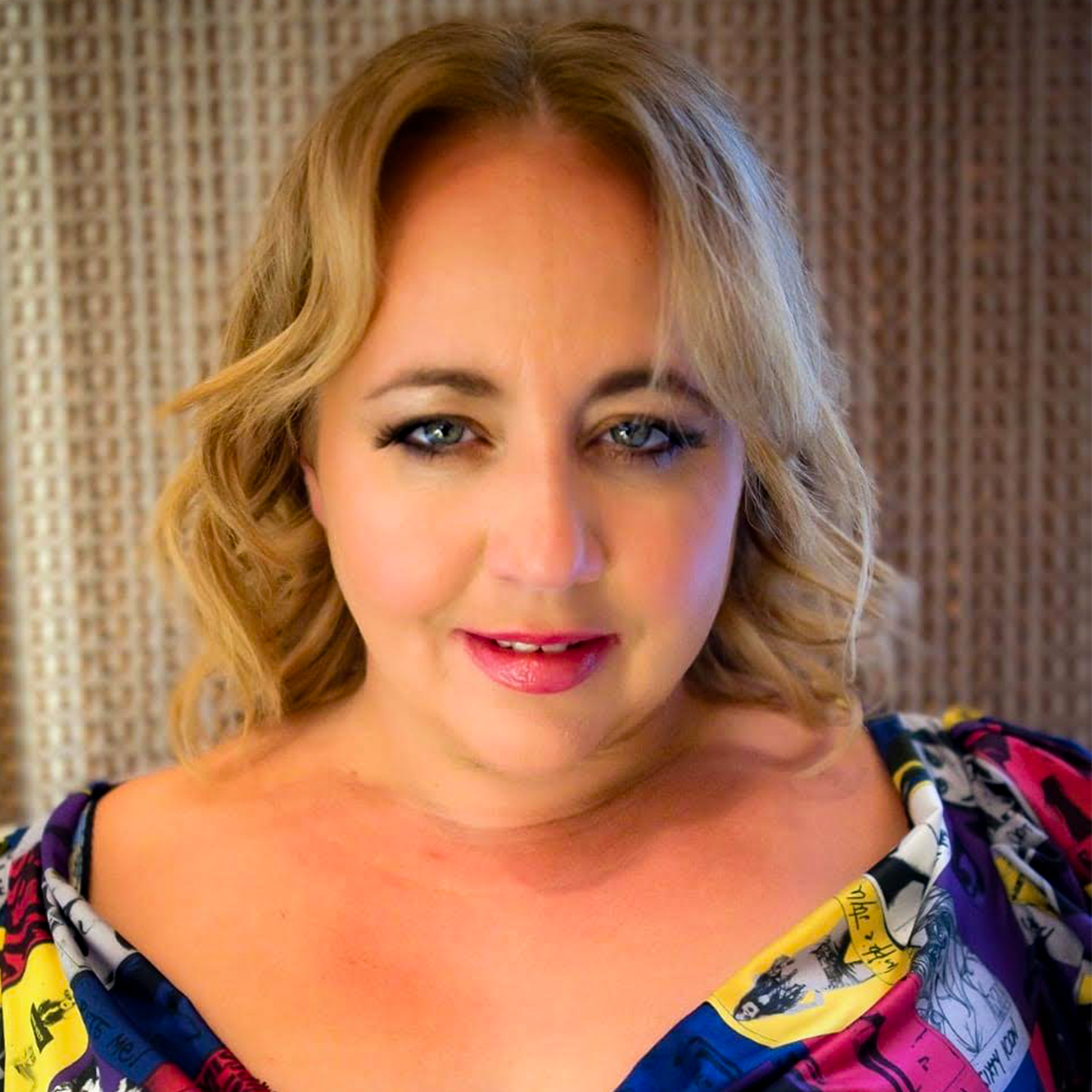 Were you connected with music from a young age, or anyone in particular inspired you?
Yes, my father was a composer so I have been in a very musical environment from day dot. I get the musicianship from my dad, and the soul from my Mum. She inspired me as a young girl playing lots of Motown: The Supremes, Smokey Robinson, all the soul favourites and not forgetting the odd bit of Barry Manilow. I do need to give a nod to my dad as he had some really cool Acid House compilations in the late 80s kicking around which I got into in my very early teens, and the first record I 'borrowed' from him was a Sylvester EP…firm grounding for any music baby!
Tell us a more about your industry roles and how it's led you to now?
Sorry for the mini essay on this – it's a bit of a long story! I've been on the the dance music scene for over 20 years now, in many different guises. I started out as a dance music journalist and photographer for iDJ Magazine, which saw me travelling up and down the country and abroad covering clubs, festivals, interviewing DJs and writing features. This is where I built my foundation of contacts, and got completely amongst the fabric of the dance music scene. Around 2005 I was a photographer and very much involved with top label and agency Mn2S, who at the time, were putting on their legendary parties at The End.
A couple of years later I became a presenter on Jazz FM which opened a lot of doors for me, and widened my musical palette of soul, jazz funk, disco, etc.. As well as my nightly show, I was travelling to International Jazz Festivals, I had a DJ residency at Ronnie Scotts, and was being booked to play main stage at Love Supreme Festival. Around this time I also got involved with Mi-Soul Radio, presenting a show and building great relationships with key people on the dance and soul scenes.
All these amazing opportunities have given me a really rich life in music and people. All those miles bobbing about on the club scene really set me up to become an artist, whether it's the people I've met or feelings I've had on the dance floor that I want to share in my music. Most importantly of course it was at an Mn2S party in Brighton that I first met Soul Central back in 2006!
How did you transfer from DJ to artist, and has it been an easy transition?
I've been a DJ on and off for many years, and I realised a couple of years ago that if I'm going to do this I need to make the music as well. There was no way forward otherwise for me really and I knew I had it inside of me, I just needed to finally produce it. As a lot of this happened during lockdown it gave me the space to concentrate on making music and as an artist now I know I'll always have my DJing by my side. It's what pushed me to do it!
What an epic collaboration landing alongside hit makers Soul Central. Any words you would share to encourage other artists?
I know! And I'm so excited about enjoying the process with Soul Central as our record takes off.
I think one of the barriers to me in the past was that I thought I had to do it all myself. That in itself can be scary and pushing through that fear and being open to work with others and appreciate what different creative minds can bring to the table has been a game changer. I was very lucky that as soon as Soul Central heard my original demo, they had the vision to make it into something that is even more incredibly special, and add their musical magic. Between us we made the perfect soup! Ultimately my advice is to be open, and you just never know what might happen..trust it!
Networking, consistency, character, polite approach… what and how do you initiate your
relationships?

I'm a people person by nature – I get it from my Dad he was the kind of guy who knew everyone in the pub and bought them a drink. My whole life I've met people from so many different warps of life, and I like to think I treat everyone the same, and always just being myself. I'm interested in people, and I think that really comes across, as well as having a natural magnetism with others who love this music. I'm the kinda gal who is always networking, I never miss a trick taking someones contact details! I also love to connect others too – I think this is really important.
Coming from a central point in the scene what doors has this opened or how has it helped you progress?
My dad always drilled in to me when I was younger 'use your contacts' and this was the best advice I could have been given. Keeping all those relationships alive all these years has meant now that I am doing what I love and making the music, it's all sat there ready and waiting.
Name 5 labels that have inspired you most?
King Street Records, Henry Street Records, West End Records, Acid Jazz, Strictly Rhythm
What
'

s your favourite piece of kit in the studio or the DJ booth?

I used to do a lot of bar gigs around East London for the Antic Group – I went everywhere with my Pioneer DDJ SR Controller I bought from West End DJs on Tottenham Court Road. Put it this way, it owes me nothing!
Your favourite club or festival and why?
I would have to say for festival, the North Sea Jazz festival which I am involved in and go to every year: it has such an incredible and diverse line up. I've seen everyone from from Mary J Blige to Snarky Puppy to Jamiroquai, to Knower and Anderson Paak. It's pretty special. Plus the after parties in Rotterdam are great, all the musicians having jams at the BIRD club, once I was in a bar and Quincy Jones was there sat with Rod Temperton and Nile Rodgers. Good Times. Club wise please take me back to Miss Moneypenny's in Birmingham!!
Name an outlandish rider request?
My personal rider would maybe just be something like Tequila, and has to be gold with fresh lime. Just to take the edge off you know? I did once work with a well known band who had carrots on their rider and I just felt that was just pushing things too far.
Favourite clubbing memory and who did it involve?
Bobby & Steve playing the Liquid People remix of Lucy Pearl's 'Without You' in the bar at Ministry of Sound on my 22nd Birthday. The whole room started sparkling and it's a moment and feeling I'll never forget.
What quote represents you best?
'The ship is safe in the harbour, but it's not what she was built for'
What connected you to the UK club scene?
I've always been a clubber really. I started out as a raver when I was 15 and then gradually got into house, and when I was in my late teens I worked with a bunch of girls at Jigsaw in Cambridge. They were a bit older than me and we used to go to all the fabulous clubs across the UK at the time (around 96) like Miss Moneypenny's and Malibu Stacey.
At University (in Birmingham as it goes!) I actually wrote my dissertation on club culture and I started to delve a lot deeper into the whole house music scene, and travelled the country meeting all the promoters and DJs and went to all these brilliant nights and wrote about them. I think this is where I was first really connected with the whole scene and it was the best apprenticeship for my move to the London club scene when I graduated.
Collaborations or flying solo – elaborate on this?
For me I hope to do a lot of both: the collaboration with Soul Central of course is my first one so I am very lucky and started at the top! It's got to be that connection with that artist (s). That they get where I am coming from. I am very open to letting others do their creative thing, and we meet in the middle and create a fantastic record. I do see myself ultimately as a solo artist, but I will always work with other producers engineers, musicians – I would love to put together a band to perform one day. I also want to write songs for other artists later on, which could end up as collaborations. I know that even flying solo I will always need my team!
One song you couldn
'

t live without?
Name drop your top tunes, artists or DJs (past or present)
DJs/producers Masters At Work, Dave Lee, Kerri Chandler, Norman Jay, Mr Fingers, Tony Humphries, Soul Central, Luke Solomon, Kenny Hawkes (RIP)
5 Classic Tracks That I'm loving in My DJ Sets Right Now!
Must Be The Music (The Disco Version) – Dave Lee
N Joi – 'Anthem'
Anne Consuelo ' See The Day'
Daft Punk 'Around The World'
Jamiroquai 'Space Cowboy'
What was your first release and did it fuel your fire?
My first release is a track called 'Always thinking of Ya' that featured on a So Sure Music compilation featuring the likes of Tony Humphries, Frankie Knuckles, Eric Kupper: I was already in very good company. The track is actually coming out again in late June as a B side to my next record, so I'm really looking forward to playing it again this summer, when everyone is out! This track was definitely a catalyst for me developing and actually realising my style of music, and there is no going back now!
Tell us more about your
forthcoming 'Rise Again' release

'Rise Again' is about a real life experience just being told in a really truthful, and, I hope, a way that really resonates with people. It's all lush deep minor chords laced with playful romantic piano and sexy electronic beats. It has those lovely early house elements and at the same time is brought bang up to date. This really is a record for everyone; and it's coming out at a time where the love of music and how it connects people couldn't be more important.
Any worldly advice to share?
I honestly believe, that eventually your true passion and calling will happen. And not necessarily by the age of 20 as we are often lead to believe. For me, I'm so glad in the end my music is happening now as I've got the confidence, the platform, the passion & pizzazz to really go for it: and enjoy the process…..Ultimately – never give up!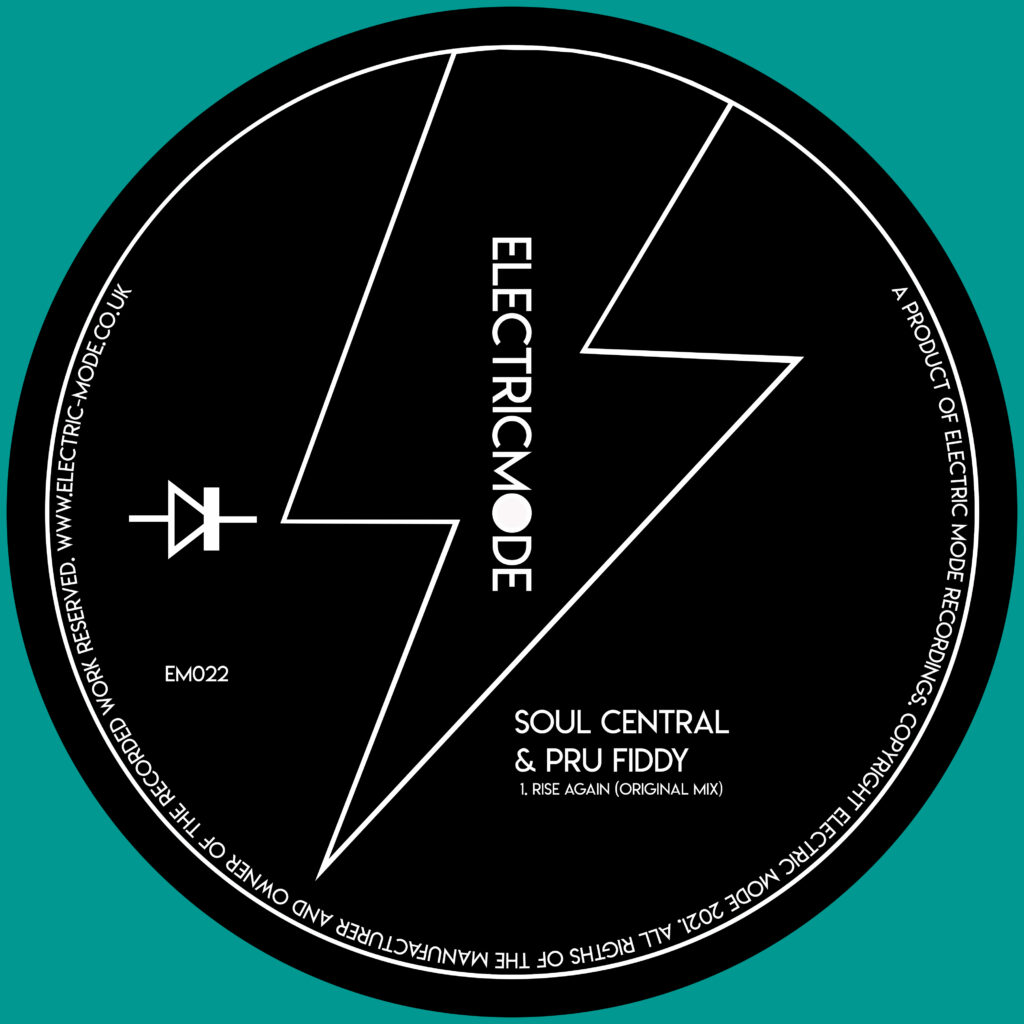 Soul Central & Pru Fiddy 'Rise Again' out on Electric Mode | 22/04/2022
One for the House heads, this collaboration is seriously going to make some waves. Taking in tones from the early Soulful scene, here you have a track that transcends across the Garage scene and deep into US territory. With all the largest names in the scene jumping all over this, you know it's going to become a modern day classic for those in the know.
Soul Central themselves need no real introduction, universally known as hit makers, their sound navigates from raw Disco through to straight up House numbers, this talented duo continue to remain prominent players in today's scene. Connecting with close friend Pru early last year, this track is destined to make a sizeable mark.
Over the past two decades Pru Fiddy has had many guises in the dance music scene as a DJ, radio presenter, booking agent; to writing for dance magazines International DJ and Mixmag, to photographing clubs and festivals across Europe – ultimately being a lover of the music and the people she's met along the way.
A true clubber and music baby in every sense, Pru making music has been a long time coming: but it's indeed worth the wait. A true artist, musician, and singer in her own right; Pru's music has already caught on, with her debut release 'Always Thinking of Ya' becoming a certified pool party and sunset classic and sitting alongside the likes of Tony Humphries, Frankie Knuckles and Eric Kupper. Her late 80's and early 90's house influences are clear with her deep progressive chords, sample style lyrics and lush bass-lines. In essence, Pru is putting the rush back onto the dance-floor.
Website / Social Links:
https://fanlink.to/electricmode
www.facebook.com/prufiddymusic