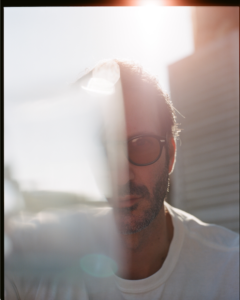 Electric Mode sits down with Paris based DJ and Producer KOBAIEN to talk about their debut single 'The Call'. Featuring guest vocals from Brume, this fantastic single pulsates and develops with masterful control. Inspired by Rampa and &ME and Jimi Jules, 'The Call' is all about the creation process and the atmosphere. "We recorded in real time with analog and vintage instruments" explains KOBAIEN making this an exciting and original release. KOBAIEN is bringing his all with his debut release, and we can't wait to see what is next for this emerging talent. 
Based in Paris, KOBAIEN has cut his chops DJing in clubs around the world. He is now bringing his deep melodic, dark and powerful sound to the clubs with his first track 'The Call' in collaboration with Brume on lead vocals. This mesmerizing track places KOBAIEN alongside the top composers and producers of his generation.
Artist name and location?
Hello, I'm Kobaien from Paris
Introduce yourself in one paragraph
I'm a DJ and music producer based in Paris. I am a DJ resident in many trendy clubs in Paris and I also produce music for myself and other artists.
Were you connected with music from a young age, or anyone in particular inspired you?My passion about House music started back in 1996 when my cousin invited me to a famous club called Le Palace in Paris. That night, I saw one of my favorite DJ : David Morales whose music inspired me since then. A few days later, I started producing my own house music tracks on my computer.
What first kickstarted your musical career?
I have produced music for a long time but my first project related to House Music was initiated in 1999 and was called "Friendship". Later on, my very good friend Gesaffelestein introduced me to "New Wave" and we decided to start a band called: "Flying Turns". When we decided to dissolve the band and work solo, I created my new project and music identity known as  "Kobaien"

Tell us a more about your sound and how it has evolved.
At the very beginning, I used to remix samples to create Funky House music. Later on, I decided to produce my own music using only analog synth. Indeed, I am passionate about old synth, a passion which I share with my dear friend Playtime.
Any words you want to share to encourage other artists and producers?
If you are passionate about music and live and breathe by it, then just go for it and live your dream.
Networking, consistency, character, approach… what and how do you initiate your Industry relationships?
Networking in this industry is key. I regularly meet new DJs and music producers and invite them to parties I organize in Paris. Building up new professional relationships by for example collaborating on new tracks is very Important to get known in this industry.
Is there anyone specific you'd like to thank that has helped you evolve and why?
My co-producer and friend Playtime has been essential in making this project happen.
Name 3 albums or labels that have inspired you the most.
Daft Punk : Homework
Daniel Avery : Drone Logic
And the label Gigolo Record

What's your favourite piece of studio equipment or software?
My Pro One from Sequential Circuit. I include it in all the tracks I produce.
Name your favourite club or festival in the world, and how does it make you feel?
My friend's club "MIRAGE" in Paris is very unique as this was the first club which focused on playing exclusively deep house music. The resident DJs there are very talented. What makes this place unique is also the people visiting the club as they are all passionate about deep house music which makes the atmosphere very special.
Name an outlandish rider request?
I don't recall any specific request but when I am provided with four turntables, I make miracles!
Favourite clubbing memory, who or what did it involve?
My favorite clubbing memory was when I organized my first party at le Rouge Pigalle in Paris. Even though I was very stressed on that occasion, I was also very excited by the  enthusiasm of the crowd as I mixed there for 7 hours. The atmosphere on that night was insane.
What quote represents you best?
Sky is the limit!
If you could play any venue, where would it be and why?
Coachella without hesitation. I can't imagine how people must feel on that particular stage. 
Music is….. (explain more)
What I think about day and night.
One song you really couldn't live without?
The only song I play on every dj set is I FEEL LOVE by Donna Summer and Giorgio Moroder
Name drop your favourite tunes, artists or DJs (past or present)
Daft Punk, Artbat , Daniel Avery , Nirvana , Queen , Beatles.
What was your first music opportunity and how did it fuel your fire?
It was when I signed up my first contract with EMI on my first project "Friendship". When I listened to my music on the radio and saw the vinyl in the music store, I knew at that moment that I was born to be a music producer!
Tell us more about your plans for the future.
I am constantly working on new tracks and collaborations and even more so, since my last music release called "THE CALL" produced by "Giving Records". I hope I will keep on expanding and consolidating my good reputation in the industry by releasing new tracks and working on interesting collaborations.
Any worldly advice you'd like to share?
Find what you are passionate about and work hard to make it happen
Keep up to date with the latest music news from Electric Mode – follow us at Instagram | Facebook | Twitter