December heats up with the latest Sgt Slick and John Course cut. The two Australian dance music masters continue to impact clubland with "Love Vision" their latest single. Taking things back to House music fundamentals, this one slowly builds into a deep, moody, emotion filled number that cuts through with a classic edge.
Lifting with a Disco inspired string arrangement, and providing epic melodic moments throughout, "Love Vision" exudes class. Without the reliance upon the usual Diva led vocal, here you'll find a solid instrumental club cut designed for discerning floors. Signing off 2021 for these two prolific producers, it's been another successful year with poignant collaborations and self penned releases and remixes.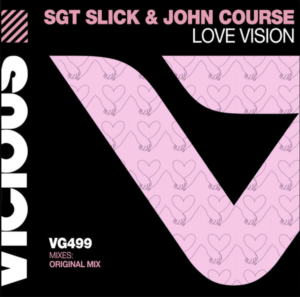 With the likes of Heidi, Freejak, Clavette, KPD, Soul Central, Tommie Sunshine, NYC House Radio, Brandon Block, Henry Hacking all in support, this timely release is starting to take shape, aptly hitting the airwaves, whilst weaving its way across dance floors. Sgt Slick's almighty Gimme! Gimme! Gimme! remains a top selling anthem in the Nu Disco arena, recently receiving a John Course dub re-rub, following a run of hits, including after combined success with the summer anthem "Love Is"…. if you don't know these two heavyweights it's time you plug in fast as their impact has continued to help clubland thrive over the past few decades, and they still have the very same ethos at heart…. To make you dance! DJ's grab your copy in the lead into NYE and kickstart the celebrations early.
Purchase Here
https://www.traxsource.com/track/9449522/love-vision-original-mix
More Info
https://www.instagram.com/johncourse/
https://www.instagram.com/sgt_slick/