Noisily is a festival that builds, cultivates and nurtures a family community, and is a main reason why so many of its vistors become humbled regular inhabitants year after year.  It's a similar case for myself – Noisily welcomed me 3-years-ago and has been a focality of my summers since.
Many people ask why, and it's down to the zealous team Noisily has behind it. Everything is conscientiously constructed, poised and orchestrated, in order to create a concealed microcosm, for like-minded people to live connectedly for 4-days.
Initially, a psy-tranced focused festival, yet the weekend consisted of a diverse mixture of music from psy-trance, to techno, progressive, breakbeat and drum & bass – dissimilar to any small UK festival I can think of. Yet, music is only one part of Noisily. Tucked away from the hustle and bustle of main stages there was the Mind, Body and Soul Area. Settled in its own untroubled commune environment, filled with individually decorated teepees, adorned with beautiful fabrics and a pace conducted by its innate serenity. It was delicate, thoughtful and extremely welcoming. The area aimed to expand individuals' collective consciousness through holistic practices, circles, and workshops.
Visual production across the entire site was flawless, featuring spellbinding light installations. A charismatic tree particularly stood out, dressed in fiber optic strands of light, reminiscent of friendly luminous snakes, the kind that would glow fervently in a magic kingdom. A troop of large disco balls utilised their being, ensuring to hit each light that surrounded them, drawing beautiful patterns around themselves and across the dancefloor of the Parliament of Funk Stage. Spotlights enhanced surroundings, rather than transforming them, brushing through the tops of trees, swilling in and out, uncovering the trees from the darkness.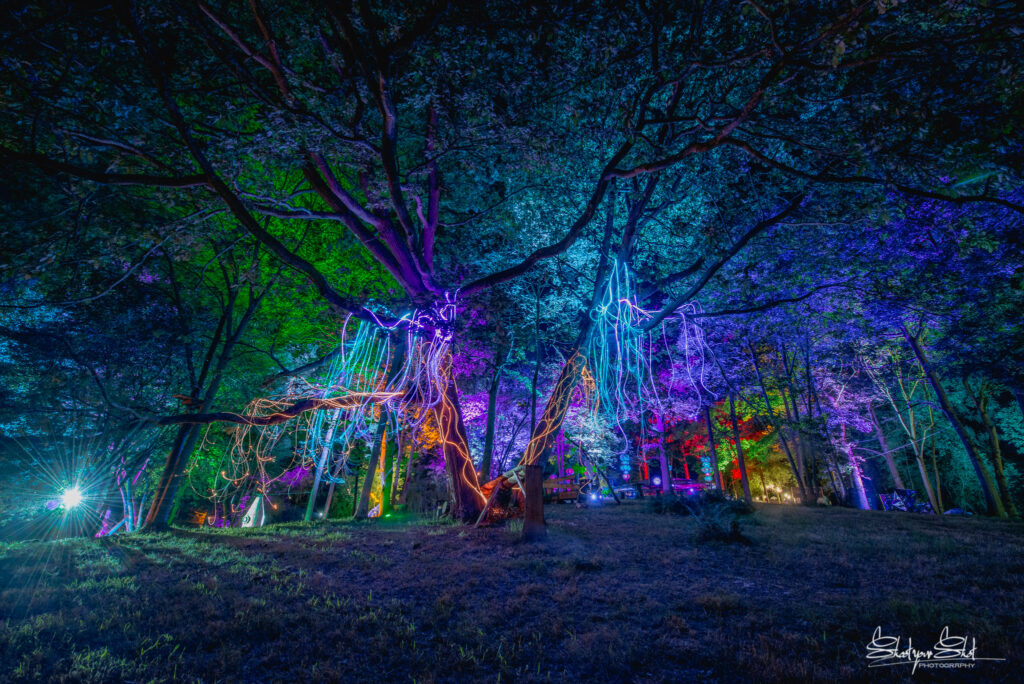 The Stage production was the most impressive part of the weekend. Stage areas had been uniquely constructed, crafted and tailored – each seemed to have a purpose. The Liquid Stage, at night, resembled an other-worldly, parallel land. I found myself disconnecting from everything external. It was stunning, with the centrepoint circled by giant-shaped hexagons. which illuminated right down to the bottom of the stage area (around 30 metres). The Noisily Stage, a champion in its own right, curated the perfect dancefloor experience. Here, impressive structures of carpentered triangular frames were accurately placed around the outskirts of the floor, each containing a sound system, which allowed for sound to incubate the entire area. Both stages meaning serious business, setting the bar very high for other small festivals.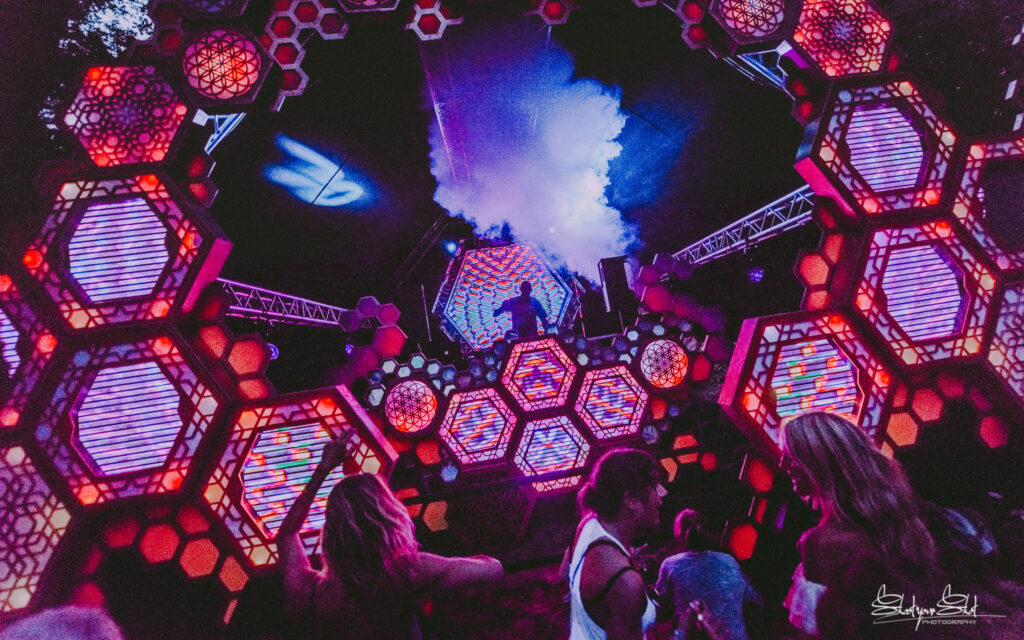 Friday began on the Noisily Stage with Aiden Doherty, curator of the London party, Warm Up, who surprised me with the wells of energy he poured onto the crowd through his suspending drops of hip-shaking, progressive techno. The dark soon drew in, the dancefloor filled, and Audio Anonymous set the tone, speeding it up and dropping it deeper. John OO Fleming submitted a more kick-drum heavy energy that Hatzler was able to maintain for hours afterwards.
Within the top area of the site, planted were numerous micro stages. On Saturday afternoon, London brand, African Beats and Nice Vibes posed an exclusive 6-hour party, compiled of residents and friends. Managing to catch the latter half, it seemed the promoter had steered away from their usual worldly textures, instead, providing a rippling of gorgeous, deep hypnotic techno.
Sunday saw Patrice Baumel, D-Nox and Beckers and Oliver Koletzki all out in full force, not shy of throwing down deep rollers on this fourth day in. Playing tunes like Reiner Zonneveld's "Speacedge" and Kasper Koman's "March", all accompanied by the Noisily Stage's masterful light display of barons of un-shy lasers and modest hazers; hats off to the light technicians, who were superb throughout the entire weekend. The chosen finale song was at first a confusing moment, soon turned into a sentimental one as John Farnham's "I Believe" played on every sound system across the site. It gave time for a moment of appreciation for Noisily's shining heart, as well as for each others.