DJ Mixes & Compilations are the lifeblood of clubland. These collections often highlight memorable tracks that have become a staple diet for DJs or sometimes overlooked gems for future circulation. Thankfully for this package we have Aussie stalwarts John Course and Super Disco Club on mix duties so you know instantly it's a series not to be missed.
Vicious OPEN is the latest collection of club hits from long running dance music imprint Vicious Recordings. Supporting the UK club scene following recent delays in re-opening, here they showcase the label's recent releases. Based in Australia, Vicious were part of the first territories that was first released from lockdowns and clubs open to service. Throughout this period, they have continued to release a mountain of incredible club music and influence the international market keeping things upbeat.
A Little Taste Of What OPEN Offers
Modern Music That Moves You
Here we have legendary label bosses John Course and Andy Van (under his Super Disco Club moniker), presenting two super hot mixes from the labels current catalogue …plus, individual downloads of everything so it's an instant package of dance floor focussed bombs. With a positive twist on recent restrictions, Vicious sends a voice of unity for their UK counterparts, and sending a resounding message to the world… "It's time to OPEN" and return to a social setting with freedom to dance once again.
OPEN includes exciting remixes and original tracks from Sgt Slick, The Cube Guys, Mighty Mouse, Tommie Sunshine & Disco Fries, Gerd Janson, Mind Electric, Spencer Parker, Kondo, The Journey & Quench, Friendless, and also label heads John Course & Super Disco Club, plus many more. As we request the world's clubs and festivals to forge forward, we collectively announce …It's time to be "OPEN" again! Let's repave the future, and vote with our voices and our feet firmly on the dance floor.
Time to Tune in, Turn on, and freak out.
TRACKLISTING:
Super Disco Club Mix:
Super Disco Club – We Are One (Original Mix)
Elektrik Disco -Tell Me Why (Original Mix)
Sgt Slick – The Night (Original Mix)
Sgt Slick – Gimme! Gimme! Gimme! (Original Mix)
Flash – B.Y.O.B. (Mark James Remix)
James Ash – Malibu Shadows (Alaia & Gallo Remix)
Tommie Sunshine & Disco Fries – Don't Look Back (Sgt Slick Discotizer Extended)
Jared Marston – Lets Rock (Original Mix)
Kondo – Grade A (Original Mix)
John Course Mix:
James Ash – Malibu Shadows (John Course Piano Dub)
Mind Electric – Party People (Mighty Mouse Remix)
Whisper Machine – Miss U (Original Mix)
Sgt Slick & John Course – Love Is (VIP Edit)
Sgt Slick – The Night The Lights Went Out (Cube Guys Club Remix)
John Course – Just A Little (Original Mix)
Friendless – Lay Low (Original Mix)
James Alexandr – Testify (In My Body) (Original Mix)
Dubbel Drop – Mighty Knight (Spencer Parker Works Harder Remix)
Tommie Sunshine & Disco Fries – Don't Look Back (Gerd Janson Vocal Mix)
Andy Murphy – Nobody Listens to Techno (Kondo Remix)
The Journey & Quench – Dreams (Original Mix)
Thirty Years At The Forefront
Vicious are recognised as Australia's No.1 Dance Music label and continue to impact the global scene with their annual stream of hits. Home to numerous chart topping acts including Madison Avenue, SGT Slick, John Course, Potbelleez and many more, their finger remains firmly on the pulse breaking acts that evolve into global stars, including their release of Avicci's very first record many years ago.
Checkout their abundant catalogue and you'll be sure to recognise and also discover the tracks that have defined our generation 'Vicious Recordings, on the dance floor with you since 92'.
Vicious constantly accrue top positions including over 4 million Spotify streams for their last Sgt Slick 'Gimme Gimme Gimme release, included in OPEN. They are now celebrating 30 years of the brand and are inviting new talent to the mix. Recent remixers on the label include Alaia & Gallo, Birdee, The Cube Guys, Mighty Mouse, Earth N Days, Spencer Parker, Patrick Topping, Soul Central, Harry Romero and more.
John Course (Electro Funk Lovers / JARC)
The Vicious Label Manager and globally recognised DJ & Producer.Originally a DMC mix competition winner, John is considered one of the leading personalities in Australian dance music culture. Having been part of the house music revolution John has mixed over 17 compilations including multiple Vicious Cuts, Ministry Of Sound's Sessions 1,2 3 and 4, One Love, The 10 Year Annual plus a huge six renditions of Ministry's yearly "Annual" selling over one million CD's to date.
Andy Van (Madison Avenue / Super Disco Club)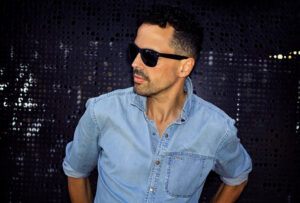 Andy Van first started as a DJ before his Madison Avenue project catapulted him to international acclaim. 'Don't Call Me Baby' remains a certified club classic and returned to number one worldwide with Mousse T remix in 2019. Since then, Andy has remained firmly implanted within the electronic music scene, releasing music for longer than many of today's leading producers. Now launching his new act Super Disco Club garnering widespread Media and DJ support.
Join the Vicious Army Below
Follow & stay updated…. Instagram | Facebook