Credited with helping break numerous music styles via his DJ sets including electro, boogie, hip-hop, jazz-funk and latterly house music, Paul 'Trouble' Anderson will go down in history as one of the pioneers of House and Garage music in the UK.
Born 28th September 1959 in East London, Anderson had a difficult childhood growing up in children's homes all over England. Sport was one of his first loves with him playing for Charlton youth, Tottenham youth, Middlesex County and if that wasn't enough he also ran for Haringey. It's clear to see that before he even touched the decks he was a natural born athlete.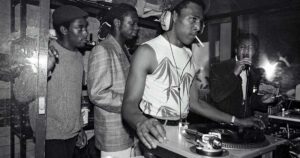 Dance was another one of his passions which saw Anderson expressing himself physically in the pre-mixing days, sometimes with roller-skates, sometimes without! Anderson had energy and talent in abundance but he was just scratching the surface – his DJ career was set to take him to new heights.
The Sound System days saw the birth of his spinning talent and as well as a DJ he was a sound man too. During the early eighties he met George Power, one of the founders of Kiss FM, who asked him to warm up DJ at several venues. This relationship soon led to the birth of Kiss FM as a pirate radio station and by the late '80s it had become the number one station in London, outgunning even legal entities like Radio 1 and Capital. After it went legal in 1990, Anderson took over Kiss's Saturday evening slot and held it for eight years, helping to break countless records over its long reign.
Whenever I made a record you felt inside, you'd reach out and give props. I knew the record would be a smash, you are an impeccable taste maker. You could smell a hit a mile away. If Paul likes it, it meant something special and I respected your words.

Louie Vega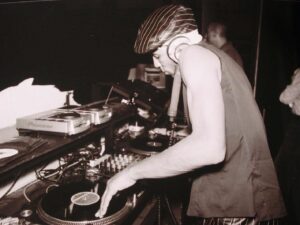 Trouble was instrumental in the London music scene and at a time when there was still a lot of discrimination he was one of the first black DJs to regularly get booked at places like Crackers, Spats, The Embassy, Global Village and Electric Ballroom. His talent and energy as a DJ helped make these clubs legendary. A tribute from Trevor Nelson only confirms this:
The 1st club I went to at 15 was called Crackers in Wardour st.The 1st club I went to regularly was the Electric Ballroom in Camden Town.The Dj was Paul Anderson, who in his heyday was one of the best ever.R.i.p 'Trouble'.
Paul also found time for the studio, remixing Nomad's number 1 hit "Devotion" as well as Byron Stingly's "Get Up (Everybody)" and Thelma Houstan's "All Of That". At his own night "Troubles House" at Legend's, many big names came to guest including Todd Terry and David Morales whilst his midweek Loft Parties in Camden attracted names like Kerri Chandler and Masters At Work.
Take a listen to Glitterbox's Radio Show below – a Paul 'Trouble' Anderson special…
Paul 'Trouble' Anderson was much loved by his peers with tributes commenting not only on his talent but his huge heart, positive energy and loving smile. We say goodbye to a true legend who has left us far too soon – he will be missed by many.