Making music to move to, Sebastian Crane is back with a brand new album. 'Aboveground (Deluxe Mix Edition)' features seven remixes of released tracks, and four brand new songs. 

The tracks on this album follow each other seamlessly 

without pause, 

giving you a feel for what Crane's live shows are like. Filled with pulsating rhythms that you won't be able to resist, 'Aboveground (Deluxe Mix Edition)' is about to become your new party playlist essential.
OUT NOW
Since his debut in late 2021, Sebastian Crane has slowly revealed his talent as a DJ track by track, gradually unveiling his live set. This has all been leading to the release of his debut album 'Aboveground (Deluxe Mix Edition)'. In the past Crane produced numerous tracks that were well received in the underground Techno scene. His bootleg of Truncate's 'Dial' got massive response and was played by Sluwe Vos as closing track on Strafwerk Festival. Spinning records quickly brought him to local A-league clubs in Haarlem and his hometown of Amsterdam, playing alongside big shots like Michel de Hey, Lucky Charmes and Gregor Salto. Backed by degrees in Electronic Music Production, Sound Engineering and currently studying at the Conservatory in Haarlem, Crane combines technical knowledge and musicality to create his raw and uplifting soundscapes.
Getting To Know Sebastian Crane
Artist name and location?
Sebastian Crane, The Netherlands, Amsterdam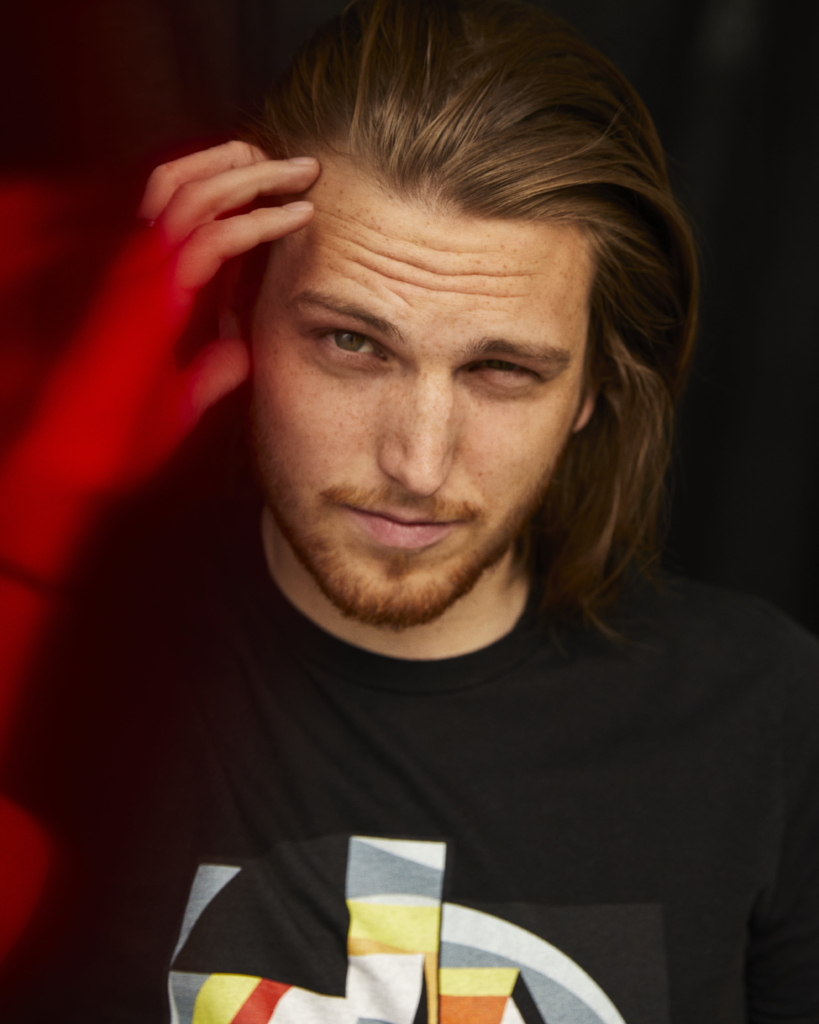 Introduce yourself in one paragraph:
I've always enjoyed creating (electronic) noise and music since I can remember. Slamming the piano, making weird noises with my mouth, drumming on kitchen appliances.  I was never particularly good or talented, but I kept at it. After being rejected by a lot of schools for electronic music I became skilled by learning and studying things from courses such as how a compressor works and how to play the piano. Becoming skilled made me enjoy making music even more, but the love for sounds was always there.
Were you connected with music from a young age, or anyone in particular inspired you?
Definitely, my mom sang in a choir and always played piano and my dad played guitar and had a big bookcase full of cd's with all kinds of music. I would wake up in the mornings entering the living room with Tango, Jazz, Folk, Pop or Salsa playing. Then I'd return in the afternoon and Mozart or the Beastie Boys was on. It was always a surprise. My dad was basically Spotify on shuffle with an even broader selection, before Spotify existed. So I got a lot of inspiration from a lot of musical sources that way.
What first kickstarted your musical career?
Discovering Garageband on my dads Mac when I was 11. On there I could mess around with loops, synths and FX, creating something that wasn't there before. It was like discovering a big box full of LEGO, but with sounds. From that day on I was hooked and I came back messing around every day and decided that making music was my calling in life (maybe not in those exact words because I was young, but the feeling was clear)
Tell us a more about your sound and how it has evolved.
Over the years I've experimented with creating a lot of genres. Some Dirty House, Dubstep Hardstyle, Hip-Hop, Ambient anything I thought sounds cool really. Throughout the years I've narrowed it down to Techno and House because I feel these genres give me the most room to experiment. I can take anything from any genre and implement it in my songs as long as the song I make is around 120-130 bpm with a four to the floor feeling (which I love the most). I experience this level of freedom the most within Techno and House so that's what I create.
Any words you want to share to encourage other artists and producers?
I was rejected for a few music schools three years in a row. Some said I wasn't skilled enough and some even claimed my ambition was lacking. I knew they were wrong on that last part. My advice would be that no one besides you can decide your level of ambition. Sound and skills you can, and should always work on. Ambition comes from within you and you alone. Some days are easier, some days are harder. Just keep going and focus on creating a finished production. Don't let your demo's waste away inside your computer, that's a disservice to the world. Finish them into 'good enough' production, that way you can share them with other people. Creating finished songs and sharing them brought me the most enjoyment out of all the things I tried in the music business.
Networking, consistency, character, approach… what and how do you initiate your Industry relationships?
There is this saying we have in the Netherlands that goes: 'Networking is just like working'.
I absolutely despise that saying. To me, my network consists of people I actually enjoy spending time with. Anyone else doesn't really matter, no matter how cool of a connection they might be in the 'industry'. To me the saying should be 'Networking is NOT working'. If I like to hang out with someone outside of work and they happen to also be interested in a facet of the music industry, then we can work on something together. Otherwise it's just not worth my time. This approach eliminates a lot of opportunity but it also eliminates a lot of fake people that I don't want to be spending time with anyway. My industry relationships are valuable relationships. The personal connection comes first. And if there is an industry connection, that's just an added bonus.
Is there anyone specific you'd like to thank that has helped you evolve and why?
So many people. You can learn something from everyone if you open your mind. Practically speaking that means that I'm always trying to find at least one thing that someone else is telling me that I didn't know before. You'd be surprised how many things you didn't know yet if you try this. People will tell you a lot if you learn how to listen. This way everyone I met has helped me evolve in one way or another.
Name 3 albums or labels that have inspired you the most.
A State Of Trance 2008,
The Growing Process by Dizzy Wright (Or anything from Dizzy Wright actually)
and more recently all the mix albums from Anjunadeep
What's your favourite piece of studio equipment or software?
My mouse. Without it I would be nowhere. I had the privilege of trying out a lot of studio gear while working in the DJ-store 'Tonecontrol', but the mouse is by far my most used instrument as an electronic music producer. I prefer tweaking parameters with my mouse over tweaking them with knobs sometimes and in some cases its a faster workflow for me.
Name your favourite club or festival in the world, and how does it makes you feel?
Defqon 1. My brother took me there a few years ago. All the people there are so peaceful and friendly (before and after they take drugs as well). It's a beautiful contrast with the raw and aggressive sound of Hardstyle and Hardcore music itself. There is no room for hate against each other when you're raging as one big group against the blasting kick drums.
Name an outlandish rider request?
If I name it, will it be arranged? Please get the sound and light engineers whatever they desire plus 'Stroopwafels' and for me a whiskey plus five smart supermodels that like to share memes.
Favourite clubbing memory, who or what did it involve?
First time Dj'ing at a high school party with my best friend. We had no idea how to beat-match and there was regret in the eyes of the DJ that put us in the line up as soon as he found out. But we had passion, a great selection of tracks and an excited group of friends, so the evening turned out great haha.
What quote represents you best?
The master has failed more times than the beginner has even tried.
I need to fail a lot more still haha
If you could play any venue, where would it be and why?
Burning man. I've read about it in a book called 'DJ' by Dutch writer 'Kluun' and it sounds like a beautiful experience to play there.
Music is….. (explain more)
Sound structured into meaning by consciousness. I often think of dance as the first movements we as Sapiens performed with our bodies. A movement with a conscious pattern in mind that where outside of our instincts and the function that movement is supposed to have on a basic level. Music could have evolved the same way, were instead of just instinctively creating sounds with our mouths to alert fellow sapiens, we started consciously creating sounds and bringing structure to the whole proces creating something bigger than ourselves.
One song you really couldn't live without?
Another Day On The Terrace by Sunlounger. I've had it as my alarm clock for years and it still 'fucking slaps', as the cool kids would say
Name drop your favourite tunes, artists or DJs (past or present)
Gregor Salto (Toys are Nuts and/or Mexer)
Deadmau5 (Alone with you)
Armin Van Buuren (Imagine)
Dizzy Wright (Killem with Kindness and/or Train your Mind)
Hopsin (Alone with Me and/or Nocturnal Rainbows)
Post Malone (Leave and/or Wrapped Around Your Finger)
Arcando (Don't Say That and/or Still Be Friends)
Sam Cartier (Snøfall øyer and/or Polar Glow)
John Williams (Hedwig's Theme)
Childish Gambino (Feels Like Summer)
Christopher Larkin (Greenpath)
Kendrick Lamar (Sing About Me, I'm Dying of Thirst)
Eminem (Fall)
Flairck (De Vlinder)
What was your first music opportunity and how did it fuel your fire?
Dj'ing with my best friend at the main party of our high school when we were 14. This started an unstoppable desire to keep Dj'ing at more and more party's until it almost burned me out when I was 22. Now I only DJ when I want to, my main profession is producing music.
Tell us more about your plans for the future.
I'm planning to make some trips to friends that live outside the Netherlands and recording small live sets with my OP-1 synthesizer. Besides that I'm planning to release songs on a consistent basis (preferably every month) with a dj-mix album after every seven months. Besides that I don't plan much for the future because plans always seem to turn out different. In a good way.
Any worldly advice you'd like to share?
My grandpa used to say: 'je krijgt het nooit zoals je het hebben wilt'. Which means as much as: you'll never get it the exact way that you want it.
I'd like to add to that, that you might just sometimes get exactly what you need from life.
Support Sebastian Crane on Social Media 
Listen to more of Sebastian Crane