Dropping some super charged Disco this breakthrough act are fast taking place at the top end of the global club charts. Landing with their debut single Super Disco Club 'We Are One' it's time to turn up the volume and find out a little more about this dynamic duo from Melbourne, Australia. Commonly known as SDC, the brand is the hot new project of DJ Producer Andy Van and Singer/ Songwriter Cassie Van. Under this moniker, the profile pairing have been delivering a run of underground hits, supported by tastemakers and DJ's in the know.
First appearing on the commercial hit 'Don't Call Me Baby' which returned to dominate the charts once again early 2019, alongside Mousse T, Patrick Topping and Spencer Parker on remix duty, their impact made an instant mark upon the industry. If you were to champion the vibe that Super Disco Club encapsulate, we'd suggest you think back to the glory days of Disco, craftily merged with the modern House movement.
Stepping beyond the current flavour of cut and paste reworks, Super Disco Club proudly present a production prowess that's been meticulously honed over many years. Not only fanatical about quality, but professionals that actually like to let loose and dance. The act provides a creative outlet for the duo, merged with the unadulterated enjoyment electronic music offers. Tune in below and learn some insider knowledge courtesy of the Electric Mode team.
Artist name and location?
Super Disco Club from Melbourne, Australia
Introduce yourself in one paragraph:
We are an Electronic Dance act who love Club music, Disco House, Italo House & especially that wonderful period from the late 70s to 80s & even a little early 90s. Everything from Ghettoblasters, Keyboards, Mirrorballs & Platform Shoes.

Current release and why this name?
It's called "We Are One" & it's basically about the awesome community of Clubbers, Nightclubs & all those that love House music, …it was actually written way before the pandemic, and delayed till clubs re-open and now as Clubs & Festivals are starting up again it's more relevant than ever.
What's your favourite fashion accessory?
Anything that has sequins or glitter on it.
What does this Super Disco Club mean to you?
It's an awesome place, where it's all about good disco house, positive vibes & catchy vocals & melodic hooks.
Name 5 tunes that have inspired you?
One song you couldn't live without?
One More Time – Daft Punk
Favourite club and why?
Sorry way too hard to answer,
Name an outlandish rider request?
We are actually pretty tame, Red Bull & French Champagne
Funniest clubbing memory?
We did a gig in Texas once that the crowd was so into they left the bar empty so they could come and dance. The promoter kicked us off because he wasn't making any money from the bar!
The industry is changing, what's your take on it?
I think musically it's very similar, it's still super hard for tracks & new artists to get noticed, either by a label, radio or now by Spotify, but luckily the age old rule of : a good song will always get noticed still applies,..luckily now Social Media is even more powerful than it ever was, so that's a fantastic avenue for exposure.
What famous quote represents you best?
Cassie – Give a girl the right pair of shoes and she'll conquer the world. Marilyn Monroe.
Favourite movie?
Andy: gotta be Blade Runner
Cassie: Flashdance
Complete the sentence… People who __ always __
People who challenge life, always find life challenging.
Children are the future, how?
Because they hopefully will look after this planet way better than the current / past generations. And also will be way more accepting of diversity.
Name drop artist, tunes and people that deserve some props and why….
My 2 local Studio friends John Course – check out his track Love Is
And Sgt Slick check out his tracks Gimme Gimme & a heap of great Bootlegs
What was your first release as SDC?
We did a Remix of Don't Call Me Baby – which was super hard as it's a track that i was so personally connected to in it's original form.
What's your next release?
It's a collab with a very big 80s artist, cant quite leak more details yet.
Any worldly advice to share?
If you have a creative desire, especially if it's in music / the artist, then don't let anyone tell you can't pursue it, follow your dreams & passions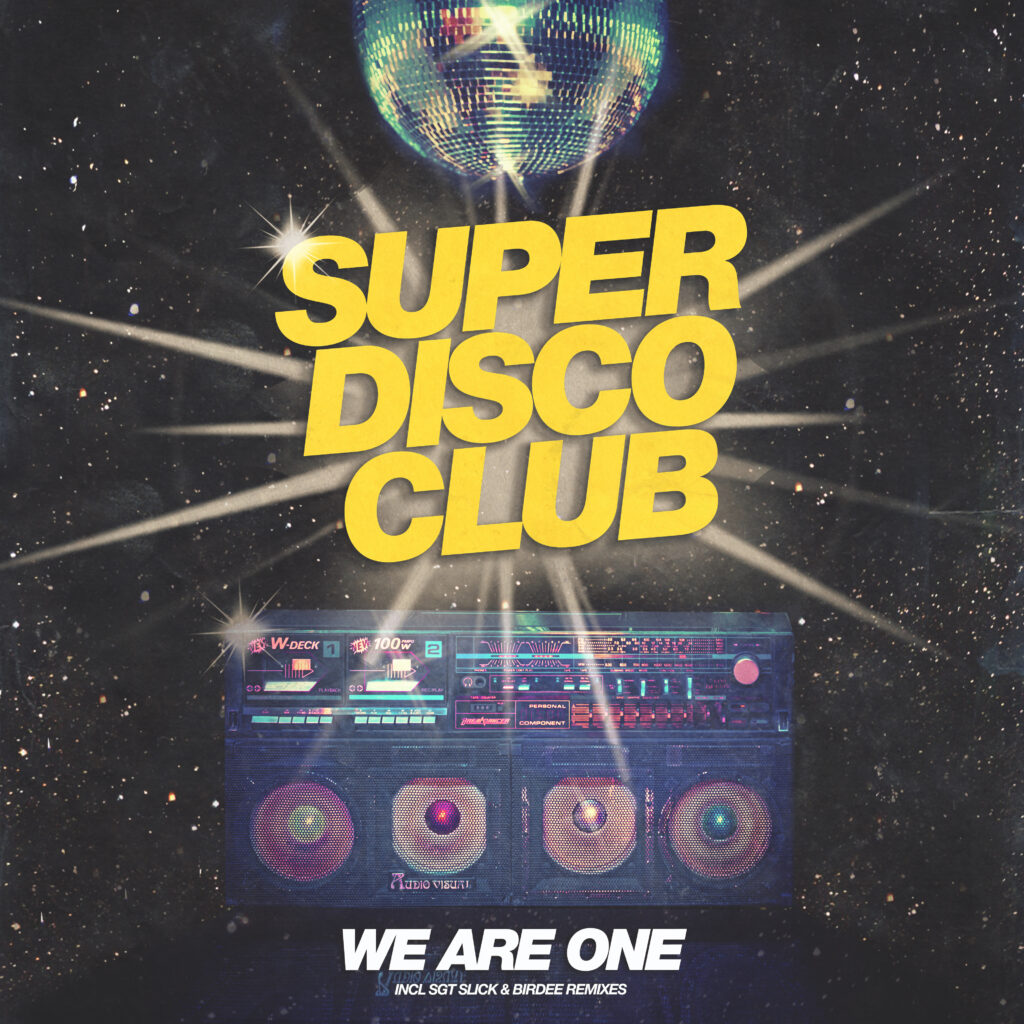 Super Disco Club 'We Are One' (Original / Sgt Slick's Melbourne Recut, Birdee Remix)
RELEASE DATE 2021-04-22 | LABEL Vicious Recordings | CATALOG VG12450II

Follow & Connect:
TIK TOK | INSTAGRAM | FACEBOOK
http://viciousrecordings.com/