Everybody loves good music and the anticipation of key events on the annual calendar always brings a great mix of people, clued up clubbers and hardcore party heads to join in the experience. This week we witness the showcase and re-introduction of one of the most unique clubbing spaces in the Midlands with their most notorious night VOID. 
It was only a few weeks ago that the hot news of the legendary night hit social media after being teased for some time. The event is set to reignite the local Birmingham scene and will attract people from across the UK for its 30th March relaunch. To earmark the DJ led event returning to its spiritual home at The Monastery in Digbeth, the venue is extending a Free Party to welcome back its loyal crowd and introduce new customers to the significant changes to the clubs layout and production.
So far this year, the location has continued to become a hot destination for music fans offering a more underground electronic fix through their multiple rooms and genres, serving up quality House, Deep, Tech and Minimal alongside some more experimental styles. Part of their recent transformation incorporates a new chill-out smoking area on their taxi terrace with some additional elements that will be unveiled at the new Void launch party this weekend.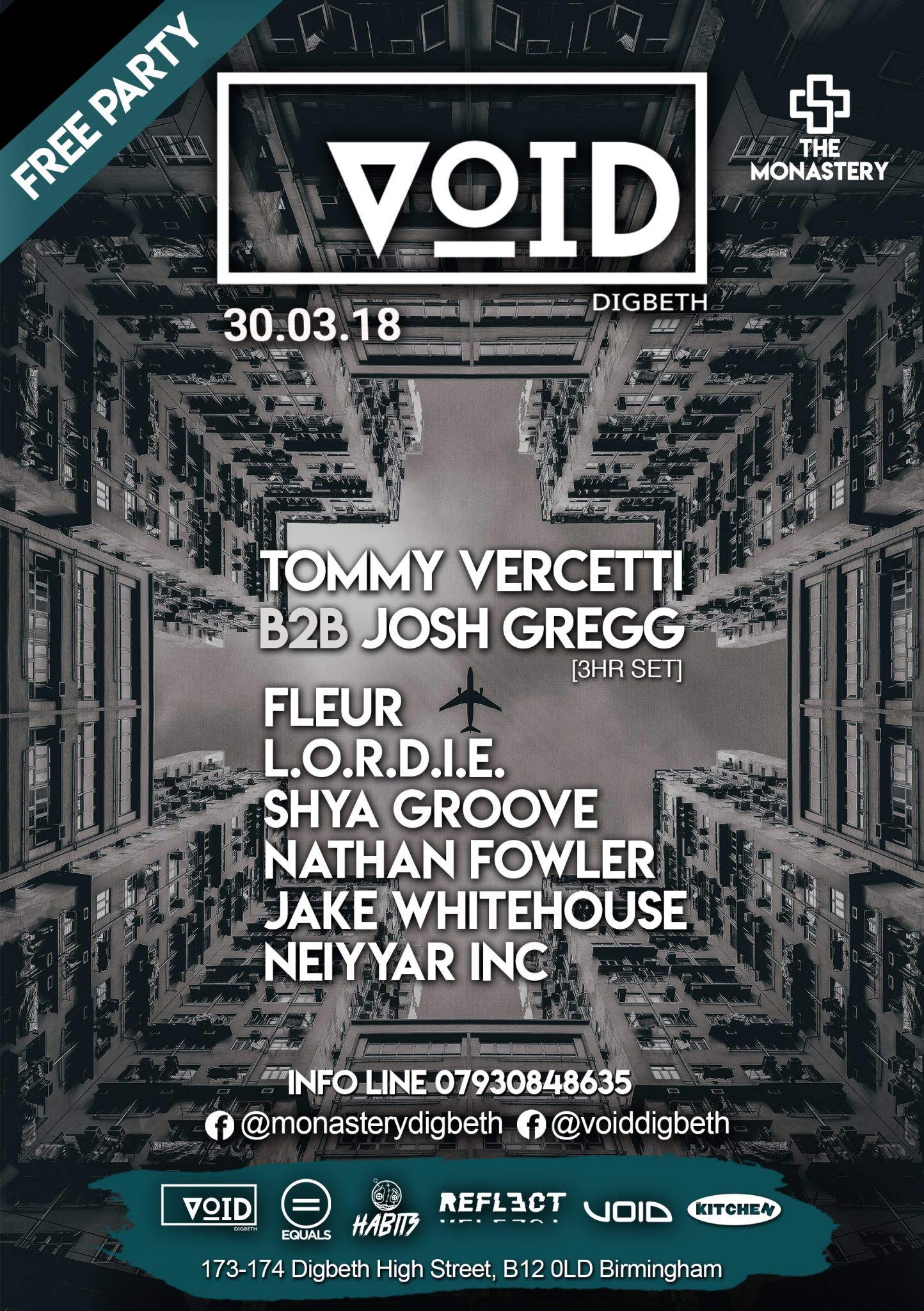 TICKETS: https://www.skiddle.com/whats-on/Birmingham/Monastery-/Void-Returns/13173413/
The brand is going to be supported with local DJs and a selection of Birmingham's best residents including Josh Gregg B2B Tommy Vercetti, Jordan Dempsey, L.O.R.D.I.E, Shya Groove, Fowler, Neiyyar inc, Fluer Shore and more for the inhouse brand, alongside Luke Fitzpatrick, Jack Pritchard and Andrew Taylor-Ray as ATR & Jackard, Billy Rath from Habits Records crew, and Reflect Records figureheads after providing the last few months consistent sell outs.
Welcoming back many of their original DJs who helped build the brand into it's iconic name, we will see many of their newfound residents and guest performers actively cutting through the scene. Void always delivers a major party with a difference, building on a trademark based with presenting something fresh to keep it ever evolving, and a super talented team behind the scenes. Over the solid summer ahead, expect to see a selection of special guests from the international circuit, some one-off 'pop-up' parties in unique and previously unused spaces all complimented by the introduction of top local brands and some of their new identities Equals and UKG One that firmly making a mark. In case you didn't already know Equals will be providing the follow up after-party this weekend with a priority access to all VOID ticket holders https://www.facebook.com/events/169574720520124/  
If you cant make this event then it's well worth a social share to inform your friends that VOID is back and you can have a taste of the new Monastery at their infamous weekly Afterparty Found, but we'd firmly suggest you drop everything to make this event, the free ticket registration is filling fast. For a round of lucky punters their will be exclusive VOID packs available to reward their prompt support. We suggest you register for their priority updates and the limited guestlist https://www.skiddle.com/whats-on/Birmingham/Monastery-/Void-Returns/13173413/.
The Monastery is based in Birmingham and is a champion of the local scene, keeping the underground scene thriving, supporting breakthrough artists and showcasing a selection of the world's best brands. First launched in 2015, VOID instantly became their premier night attracting a healthy mix of music heads from across the UK. Clearly known for their underground musical ethos and an unparalleled vibe built upon the viewpoint of a venue for clubbers made by clubbers.
See you this Friday!